These Are the 10 Most Ejected NBA Players in History
During heated NBA contests, emotions run high. Players are trying their hardest to make an impact for their team, and that could lead to heated play and disagreements between players and referees. When things get out of control the refs can ultimately decide to toss a player, which puts his team in a tough position. That's something the 10 most ejected players in NBA history know all too well.
Paul Pierce — 10 ejections
Paul "The Truth" Pierce was one of the best players ever to put on a Boston Celtics uniform, helping them win an NBA championship during his time with the team. His fiery passion also led to 10 ejections, including two in the playoffs.
Shaquille O'Neal — 10 ejections
Shaq's presence on a basketball court was unrivaled during his time in the league. The "Hack-a-Shaq" rules allowed teams to pretty much maul the behemoth on the court. One incident with Brad Miller almost resulted in a lengthy suspension, but thankfully for Miller, Shaq didn't connect with his target. He finished his career with 10 ejections and an amazing 171 technical fouls.
Stephen Jackson — 11 ejections
This list wouldn't be complete without one of the toughest guys the NBA has seen over the last two decades. Jackson has always been a hard-nosed take no prisoners type of player, and he has 11 ejections in his NBA career. He was involved in the "Malice at the Palace" that saw a number of ejections and suspensions, as the Pacers fought with fans in Detroit.
Gary Payton — 11 ejections
The "Glove" Gary Payton was known for his intense man to man defense. Dibblers couldn't cross the half court mark without Payton getting into their grill and being a menace for 24 seconds. His intensity and appeal for trash talk resulted in 11 ejections, and his 278 technical fouls are the third-most in league history.
Metta World Peace (Ron Artest) — 11 ejections
As we mentioned earlier, the Malice at the Palace was a black eye for the NBA. Artest going into the stands to fight a fan led to a season-long suspension, and his tough inner-city attitude led to him receiving 11 ejections and five suspensions from the league during his career.
Matt Barnes — 12 ejections
Always down for a fight, Barnes is one of the premier tough guys in the NBA. He once allegedly went to fight Derek Fisher while Fisher was the coach of a team because of a personal dispute, and infamously tried to rattle Kobe Bryant by feigning a pass into his face. These types of antics resulted in Barnes getting ejected 12 times, and he also finished his career with 32 flagrant fouls.
Reggie Miller — 12 ejections
One of the most decorated shooters in NBA history was also a supreme agitator. Reggie Miller could knock down a shot from anywhere on the floor, but he also had the ability to get under the skin of some of the league's greatest players, including a few dustups with Michael Jordan. He finished his career with 12 ejections and 175 technical fouls as the result of trash talking to his opponents.
Kenyon Martin — 12 ejections
Kenyon Martin came out of Cincinnati and quickly made a name for himself with the New Jersey Nets. His ability to throw down tremendous dunks made him a household favorite. His fiery attitude also rubbed referees and opponents the wrong way. Constant jawing at refs earned him 12 ejections in his underrated NBA career, to go along with 130 technical fouls. Like Miller and Barnes, Martin is among the most ejected NBA players ever.
DeMarcus Cousins — 14 ejections
Demarcus Cousins has always been an emotional competitor, even during his lone season at Kentucky. During his time in Sacramento, New Orleans, and Golden State, he has received 14 ejections from NBA games. He even received an ejection from the bench during a Warriors game against the Knicks in October 2018 (in street clothes!). He may not reach the number one spot on this list, but it's fair to say Cousins will be a firm number two among the most ejected NBA players for a long time.
Rasheed Wallace- 29 ejections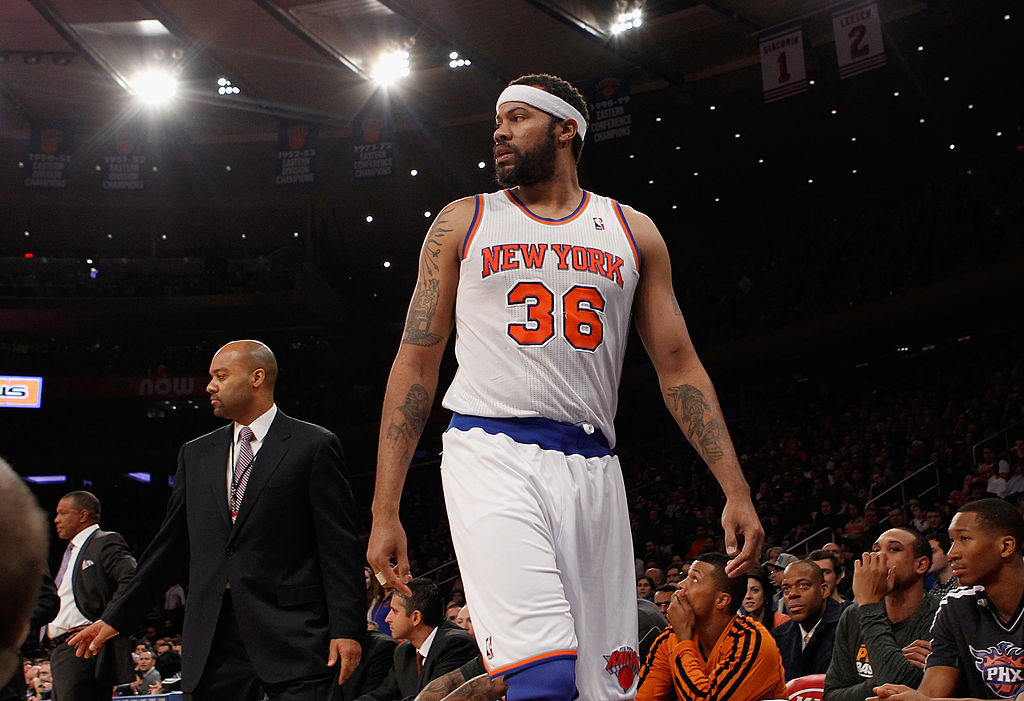 Rasheed Wallace was always a fierce competitor. He constantly argued with officials when he felt the call was wrong, including his Ball Don't Lie moment. He won an NBA championship with the Pistons, but he also was consistently in the crosshairs of referees. Wallace finished his career with 29 ejections, 373 technical fouls, and the record for the most techs in a season (41).
Who do you think can make this list?
Going through this list of the most ejected NBA players, you see a common theme — their fierce competitive nature on the court. Do you see any other active players making this list?