5 of the Most Embarrassing Teammate-on-Teammate Fights in NBA History
The NBA world was shocked when footage emerged of Golden State Warriors player Draymond Green punching his teammate, Jordan Poole, in the face during practice. That being said, it's not uncommon for teammates to fight amongst themselves in basketball and sports overall.
The NBA has witnessed many notorious teammate-on-teammate fights even before the Green-Poole incident. Here's a look at five of the most embarrassing teammate-on-teammate fights in league history.
Kobe Bryant and Shaquille O'Neal
Kobe Bryant and Shaquille O'Neal won three championships together. But the iconic Lakers players didn't always get along. One time, things got so heated during practice that they threw down. O'Neal threw the first punch at Bryant, who dodged it.
Bryant returned fire with a punch of his own, but the height and reach difference between the two Lakers stars proved too great. The Black Mamba couldn't reach O'Neal. Almost as quickly as it started, it ended. The rest of the team separated them.
This incident wasn't considered especially serious as Shaq and Kobe kept playing the practice game. However, it certainly added to their legendary and contentious relationship.
Michael Jordan fought Steve Kerr, Will Perdue, and many others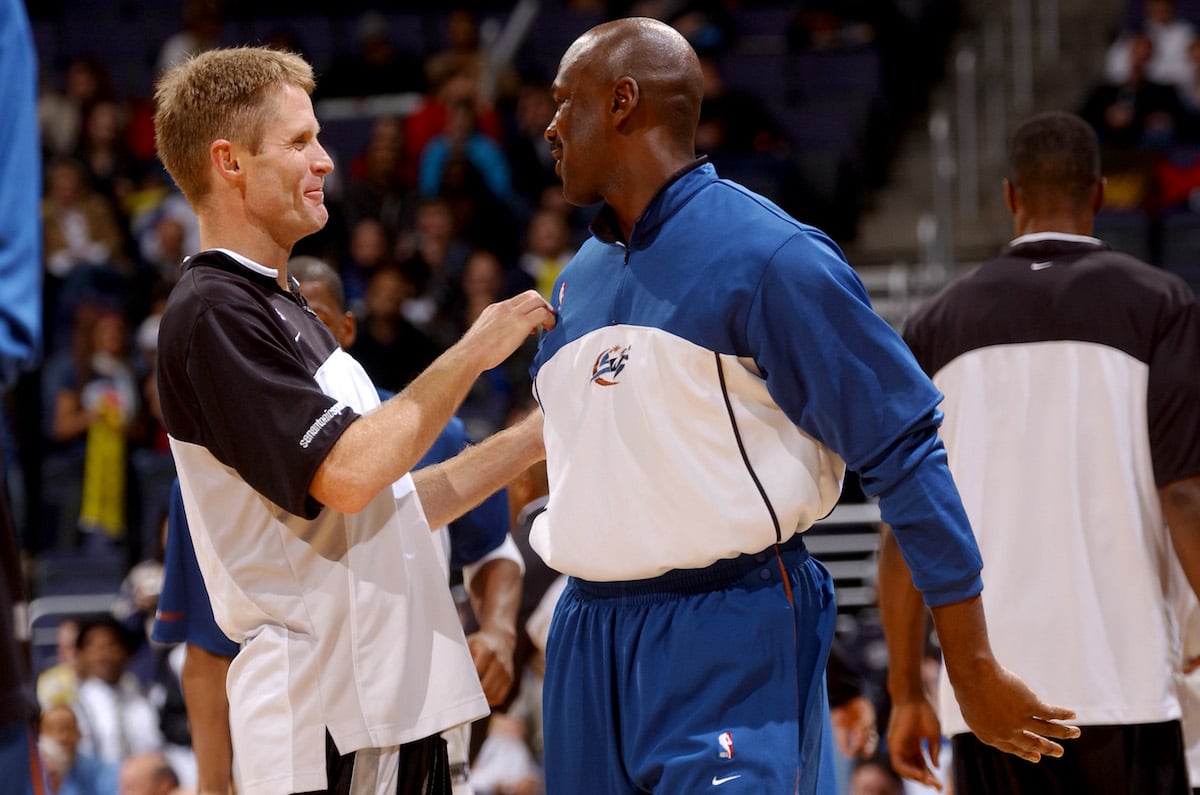 Jordan is the undeniable GOAT. His personality on the court, both in practice and in competition, was notoriously intense. Jordan got into quite a few fights and altercations with his teammates, including with Will Perdue and Steve Kerr.
One time, at practice, Jordan got into a brawl with Kerr with the two Bulls teammates exchanging multiple punches over His Airness's trash talk. In Perdue's case, Jordan was the only one doing the punching, which also happened at practice.
While running drills, Johnny Bach, an assistant coach for the Bulls, told Perdue to hit Jordan again, even after Jordan said he'd "make you pay for it." Surely enough, Perdue hit him. After Jordan got up, he punched Perdue before the two were separated.
Zach Randolph sucker punched Ruben Patterson
A serious incident happened in the Portland Trail Blazers' locker room. Ruben Patterson was arguing with Qyntel Woods. Zach Randolph decided to get involved and sucker-punched Patterson.
The hit fractured Patterson's eye socket. The two-time All-Star hid somewhere for a few days because he feared that Patterson would retaliate by shooting him. Randolph was suspended for two games and received a $100,000 fine.
Bobby Portis and Nikola Mirotic had a serious fight at practice
Another infamous fight in Chicago was between Bobby Portis and Nikola Mirotic. Mirotic charged at Portis twice before Portis threw a punch that knocked Mirotic down.
That punch gave Mirotic a concussion and broke his orbital bone. As a result, he was out for 23 games, and the Bulls decided to suspend Portis for eight games. Portis did apologize to Mirotic, who accepted his apology.
Javaris Crittenton and Gilbert Arenas
One of the most heated incidents between NBA teammates happened to the Washington Wizards' Javaris Crittenton and Gilbert Arenas. This incident stemmed from Crittenton losing a card game to fellow player JaVale McGee. Arenas got involved in the argument, which spiraled to the point where Crittenton threatened to shoot Arenas.
According to NY Daily News, Arenas responded by bringing four unloaded guns to the locker room with a note asking Crittenton to pick one. Instead, Crittenton brought out his own loaded gun.
Fortunately, the situation was de-escalated, and no one was shot. That said, both players were suspended for the rest of the season. Crittenton later received a 23-year jail sentence for manslaughter.
RELATED: Michael Strahan Once Admitted That He 'Could've Killed' His Giants Teammate During an Intense Fight in His Career