The Most Expensive Derek Jeter Trading Card Ever Sold
Derek Jeter has been retired from baseball for several years now. But for a long time, he was the most popular athlete on one of MLB's most popular teams, the New York Yankees. It makes sense that Jeter memorabilia is still in high demand from baseball fans everywhere. 
One of Jeter's rookie cards ranks as one of the costliest baseball cards ever. Here's the story of the most expensive Derek Jeter trading card ever sold, including how much it went for and why it sold for so much.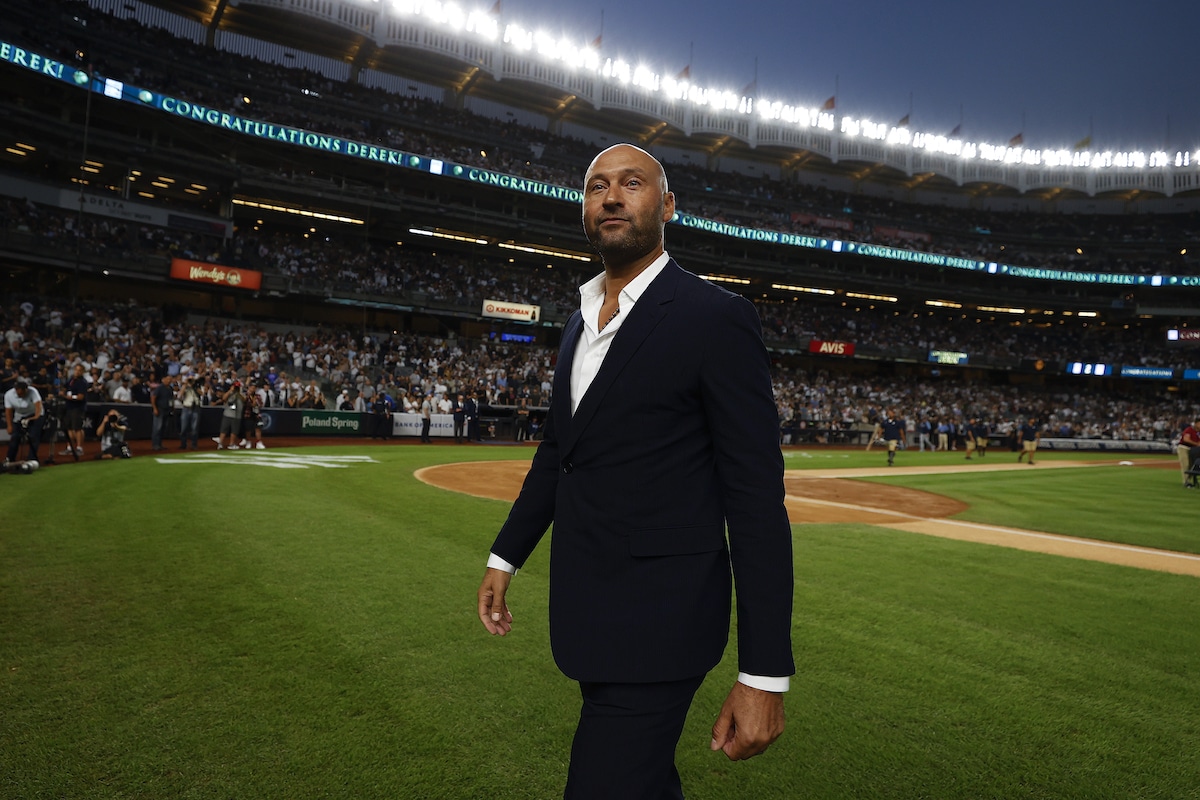 Derek Jeter knows the trading card game
First off, Jeter is no stranger to trading cards. Alongside entrepreneur Brian Lee, the former shortstop has launched a trading card company that focuses on the digital aspect of trading cards. Arena Club has over $9 million in startup funds from a venture capital firm. The company showcases cards in "digital showrooms" where collectors can inspect and verify cards before purchase. 
The memorabilia business is rife with fraud and deception. Jeter and Lee hope to instill more confidence in trading card collectors with enhanced digital authentication features. It's a bold play from Jeter as he continues to innovate in his post-MLB career. 
But while Jeter's company looks toward the future of trading cards, his most expensive cards give fans of the former superstar a window into his illustrious past. His most costly card provides a snapshot of when Jeter had yet to blossom into the star he'd become. 
The most expensive Derek Jeter card ever sold
According to Old Sports Cards, the most expensive Derek Jeter baseball card ever sold is a 1993 SP Foil Derek Jeter PSA 10 Gem Mint for $99,100. The card was graded by Professional Sports Authenticator (PSA), whose experts have certified more than 2 million cards since 1999. The card's current value is estimated to be around $70,000.
The card features a photo of the New York Yankees' shortstop before he'd been officially promoted to the big league club, and it has an exclusive foil front design known as "SP Foil." It also has a serial number of 18/50; only 50 of these cards were made.
Rookie cards, particularly for accomplished players, tend to fetch a lot of money on the open market. These cards often highlight famous or Hall of Fame players before they make it big.
This card is rare because it was issued before Jeter officially joined the team. In 1993, he was toiling away in the Yankees' minor league system after being the team's first-round pick. While Jeter first cracked the bigs in 1995, he didn't get enough plate appearances to qualify for rookie status until 1996. An injury to then-Yankees shortstop Tony Fernandez in spring training paved the way for the future star to slide into the starting lineup, and history was made soon after. 
Other valuable Derek Jeter cards on the market
Of course, while that card of the Captain's is the priciest, it isn't the only one with a lot of value. There are several other valuable Derek Jeter baseball cards available to collectors and investors, including:
1992 Little Sun High School Prospects Auto (estimated value: $5,000)
1993 Upper Deck #449 Gold Hologram (estimated value: $4,000)
1992 Front Row Gold #55 (estimated value: $1,300)
It's no surprise why Jeter cards are so valuable. He was immensely popular during his career and remains popular even in retirement. After Jeter's recent Hall of Fame induction, it seems as if the value of this card won't drop too much anytime soon — even if it isn't the most expensive card ever.
RELATED: Derek Jeter Feared He Wouldn't Make the Yankees in 1996 After Joe Torre Called Him Out During Spring Training