The Most Important Thing for Luka Doncic's Career, According to Mavs Coach Rick Carlisle
Luka Doncic is one of the most promising new players in the NBA — there's no question about that. At only 20 years old, he already boasts some pretty impressive stats, and surely the Dallas Mavericks know just how lucky they are to have him on their team. He has been nothing but spectacular on the court, and it is hard to believe that he was only drafted a year ago. He's already a star player, and Doncic continues to work his magic at every game.

In a short time, Doncic has already helped the Mavs turn it around from being an afterthought to a playoff contender, and we can only expect more of that in the future. It is pretty safe to say that he has a great career ahead of him in professional basketball, and it is really exciting to see what the future holds. So, what is the most important thing for Luka Doncic's career, according to the Mavericks' coach Rick Carlisle? Let's find out.

Luka Doncic's entry into the NBA
Being drafted into the NBA is a dream for millions of basketball players, and for Doncic, that dream became a reality in 2018. Doncic is already one of the best European players ever to step foot on the court, and it definitely shows. To say that he is a rising star of basketball is a huge understatement.

Luka Doncic was the top prospect in the 2018 draft, according to ESPN insider Jonathan Givony's board. He was a top pick and racked up huge points throughout the season, proving that he was a hands-down choice to be drafted.

Although it wasn't definite that Doncic would be coming to the United States to play, rumors were swirling, and fans wanted answers. Memphis seemed a likely destination, but on the day of the draft, the Hawks drafted and then immediately traded Doncic's draft rights to the Mavericks. Afterward, the young star expressed his happiness in a broadcast, saying how excited he was just to be in the NBA.

Doncic's Rookie of the Year campaign
With his excellent skills, it is not too surprising that Doncic was Rookie of the Year for the 2018-19 season. His campaign was absolutely unbelievable, and he received 98 out of 100 votes for the title. With averages of 20 points, 7.8 rebounds, and six assists per game, he was one of the best players in the NBA, rookie or otherwise.

Doncic was pretty much in competition with Trae Young for the Rookie of the Year award throughout the season. Young also had a pretty good shot to win, but when it came time to vote, the numbers spoke for themselves. Doncic continued to make history when he received the honor and was the second European player in history to be crowned Rookie of the Year.

Rick Carlisle spotlights the most important thing for Luka Doncic
Doncic has a great future ahead of him, but what is most important for his career? It depends on who you ask.

Steve Kerr calls Luka Doncic a "cornerstone" player who's important to the league as a whole because of his youth, talent, and passion for the game, according to ESPN. Doncic has set records even LeBron James can't touch, and he's already been compared to all-time greats Larry Bird and Magic Johnson.

Meanwhile, Mavericks' head coach Rick Carlisle understands why Luka Doncic is compared with NBA legends, but that doesn't mean he likes it. He'd prefer to see fans and analysts let Doncic carve out his own niche.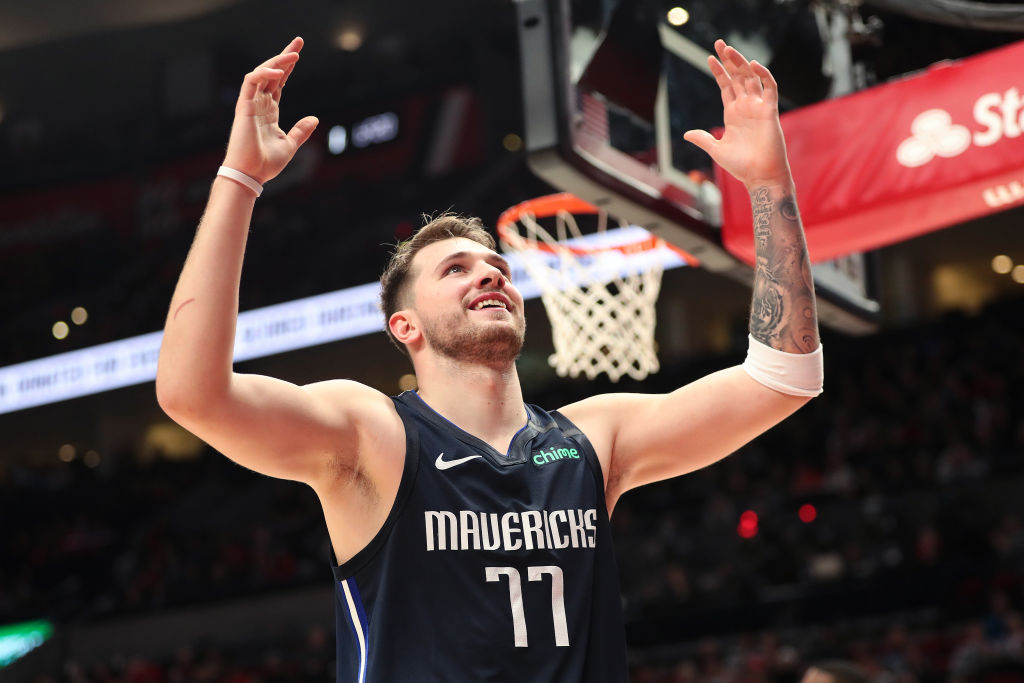 "I stay away from the comparison game because I think it's important that this kid is his own player. And he truly is," Carlisle said (per ESPN). "So look, each month he continues to develop and learn more and hones certain skills even more, so it's pretty exciting. A very exciting player to watch. I understand the hype."

So, in short, Carlisle thinks the best thing for Luka Doncic (and the NBA) is just to let him play his game and appreciate his talent without feeling obligated to compare him to past greats. It's easier said than done in the NBA, though. Current stars are almost always compared to standout players from the past. Doncic and Carlisle might have to hear about those comparisons for years to come, but at some point, Doncic be the player the next generation is compared to.