Carolina vs. Duke Rivalry: 10 Events Fans Will Never Forget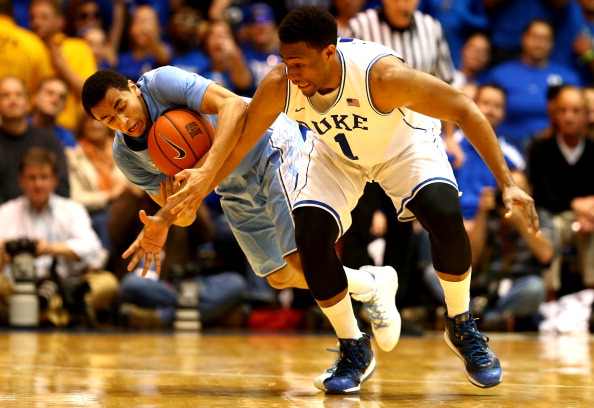 We're not messing around when we call this showdown a war. This is more than just a college basketball game; it's a battle for state supremacy. With just a small stretch of Tobacco Road separating the two schools, there is no love lost between Duke and UNC — a major rivalry that, for the most part, needs no introduction.
Whenever these blue bloods take the floor against each other, they're going to bring their best. It's what is expected, and it's what these athletes look forward to from the moment they sign their letters of intent.
History shows that on any given night, a Duke/UNC clash has the potential for fireworks. So in honor of this historic matchup, we present our list of the 10 most memorable moments of the Duke/North Carolina rivalry.
1. Austin Rivers shoots his way into history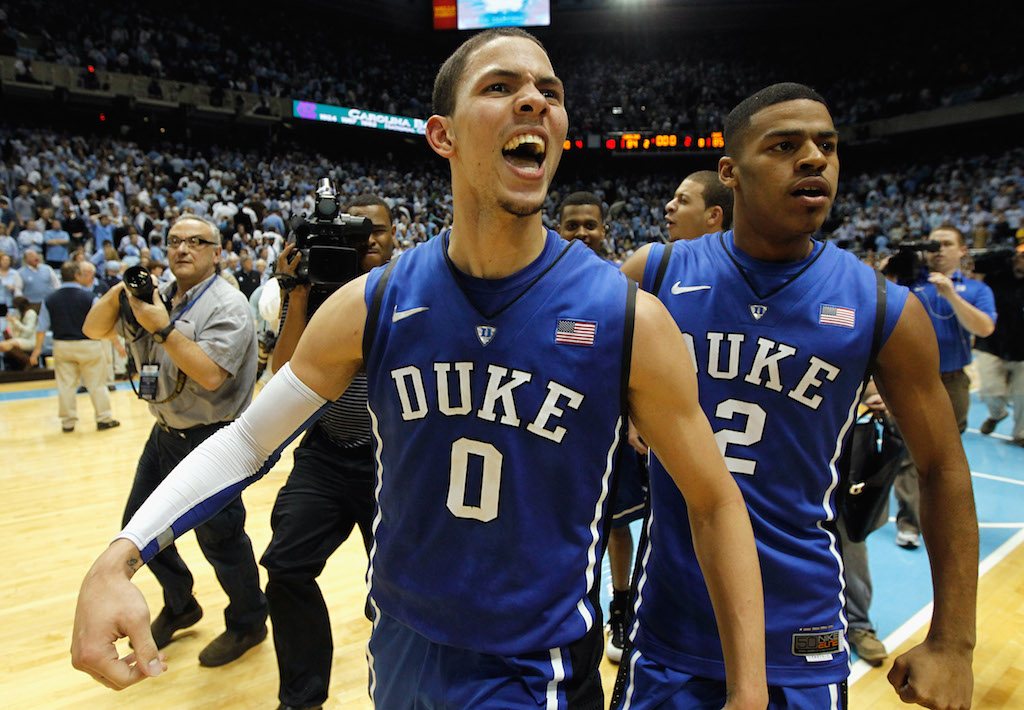 Date: February 8, 2012
Final score: Duke 85, UNC 84
Duke had no business winning this game at the Dean E. Smith Center on February 8. But North Carolina couldn't put away the Duke Blue Devils, and Austin Rivers made them pay for it. The freshman's three-pointer at the buzzer was among the greatest single shots in the history of the rivalry. Not only did this moment manage to turn a kid into a Duke legend for all of eternity, but it singlehandedly crushed the spirits of an entire fanbase. Not bad for his first game against North Carolina.
2. North Carolina drops eight points in 17 seconds
Date: March 2, 1974
Final score: UNC 96, Duke 92 (OT)
North Carolina trailed Duke by eight points with 17 seconds left on the clock. It was safe to say this game was pretty much over. Then, all of a sudden, it wasn't. Courtesy of some fortuitous bounces, stingy defense, and pressuring the inbounds presser, UNC found itself within a bucket of tying the score. And that's when Tar Heel Walter Davis banked in an improbable 30-footer at the horn. This miracle shot sent the game into overtime, and North Carolina was able to complete its masterful comeback.
3. Jerry Stackhouse with authority
Date: February 2, 1995
Final score: UNC 102, Duke 100 (2OT)
Announcer Dick Vitale couldn't keep his emotions in check after superstar Jerry Stackhouse threw down this ridiculous dunk at Cameron Indoor Stadium. Not only was this flushed with incredible authority, but Stackhouse was fouled on the play. The result, a 102-100 double-overtime victory for the Tar Heels, made the moment only that much more incredible.
4. Shane Battier's block from behind
Date: March 4, 2001
Final score: Duke 95, UNC 81
There are no "gimmies" when Duke and North Carolina get together. Just ask former Duke standout Shane Battier. Tar Heel Joe Forte thought he had a clear path for an easy dunk, but Duke's renowned "glue guy" tracked him down for the block from behind. This great individual effort triggered a five-point swing for the Blue Devils. It's a play that epitomizes the essence of this classic rivalry: No one ever quits.
5. You won't like Tyler Hansbrough when he's angry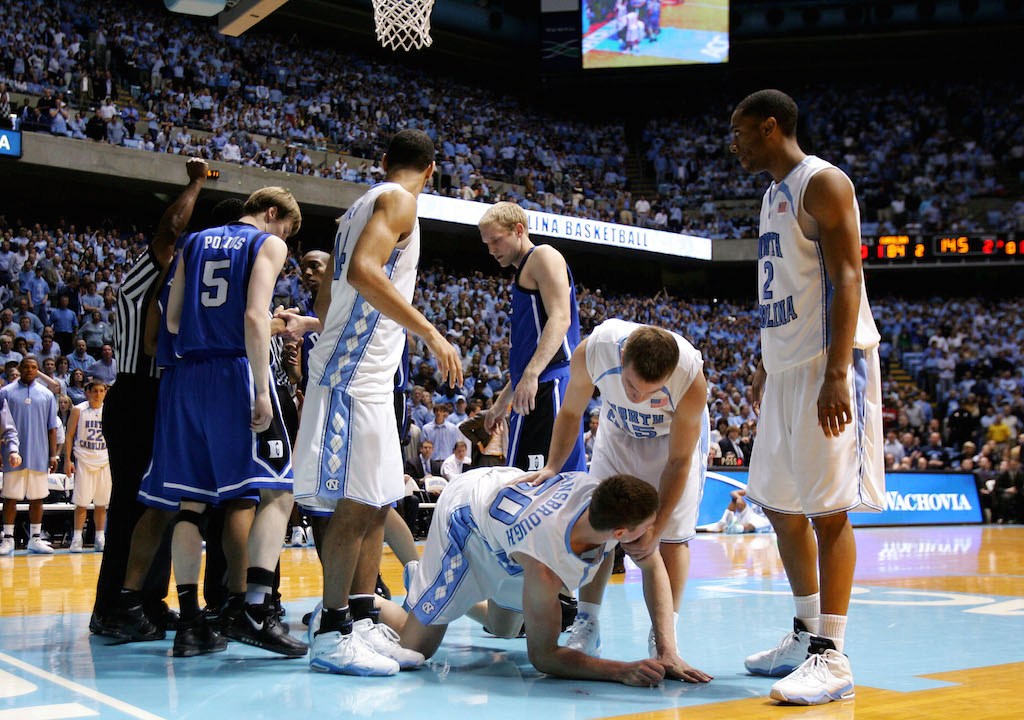 Date: March 4, 2007
Final score: UNC 86, Duke 72
You can't mention the battles of Duke and North Carolina without bringing up Tyler Hansbrough. This All-American has Carolina blue running through his veins and always took his intensity up a notch whenever these two teams met. It was no more evident then when Gerald Henderson hit Hansbrough across the face with a flagrant foul at the end of this 2007 contest.
The outcome of the game may have already been in hand, but you would not have known it from the rage on Hansbrough's bloody face. They don't call him Psycho T for nothing.
6. A little blood won't stop Eric Montross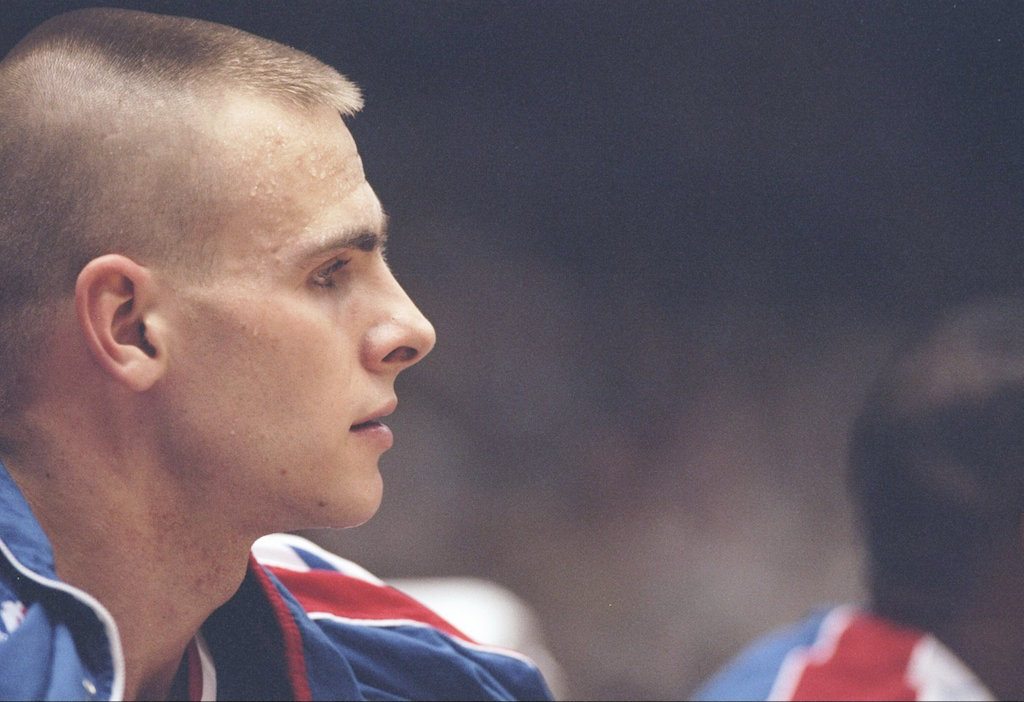 Date: February 5, 1992
Final score: UNC 75, Duke 73
The bad blood between these programs continues with what is considered the lasting image from this 1992 matchup: Eric Montross shooting free-throws with blood dripping down his face. When Duke and North Carolina get together, you can expect a battle. There is an intense animosity between these schools, and they let it all out on the hardwood. Sometimes things can get a bit physical. But when it comes to this rivalry, no one really minds.
7. Jeff Capel launches a prayer…
Date: February 2, 1995
Final score: UNC 102, Duke 100 (2OT)
Duke may have lost this game to North Carolina, but the only thing people tend to remember is the shot that sent this game into double overtime. Jeff Capel's unbelievable 37-foot prayer is the type of shot every basketball player hopes to one day hit. It's easily the greatest shot in the history of this storied rivalry, and one that may never be eclipsed.
8. Duke's youth movement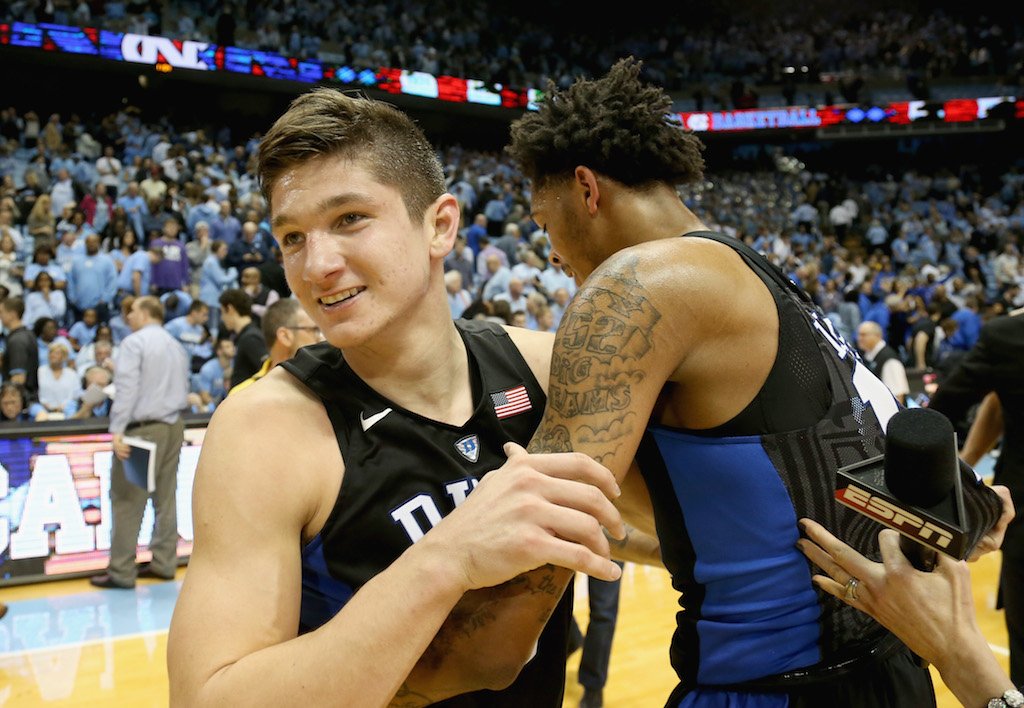 Date: February 17, 2016
Final score: Duke 74, UNC 73
The Tar Heels should've won this contest. The No. 5 team in the country, Roy Williams' group was deep, experienced, and had the advantage of playing in front of their loyal fans at Dean Smith Center. But when it comes to this series, as we've seen before, anything is possible. Coach K's young and depleted squad were up for the challenge. Behind 23 points from Grayson Allen and a big-time block from point Derryck Thornton on the final play of the game, the Blue Devils pulled off an unlikely 74-73 win against their heated rival.
9. Carolina comes back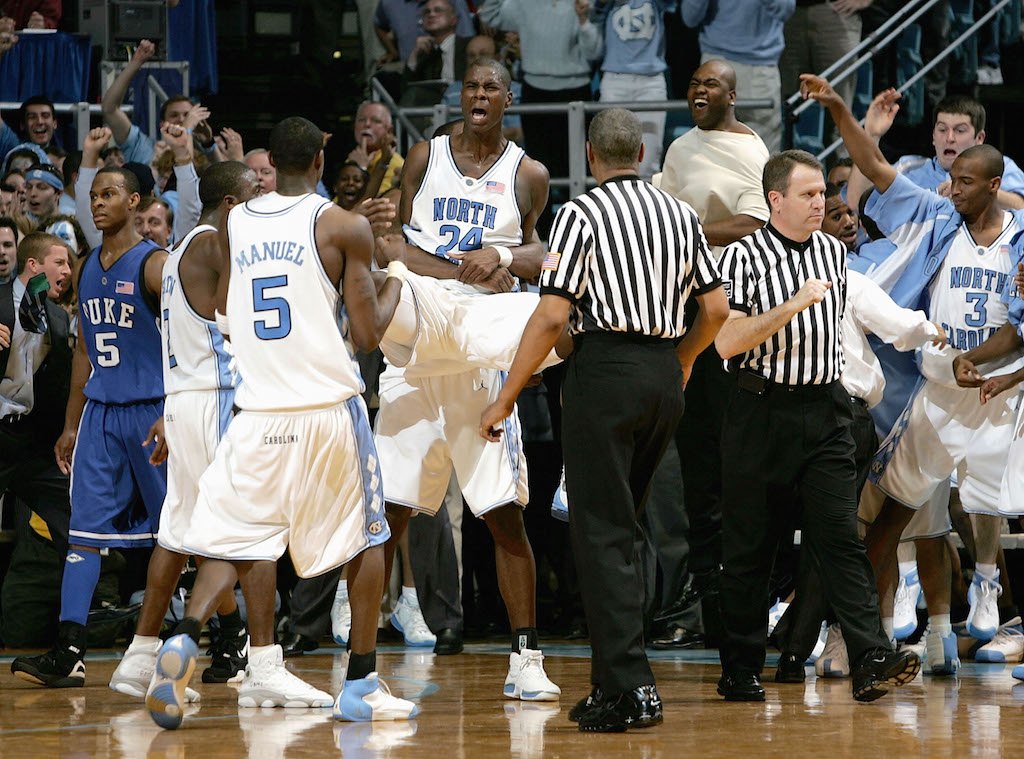 Date: March 6, 2005
Final score: UNC 75, Duke 73
With a little over three minutes left to play, the No. 2-ranked Tar Heels trailed the No. 6-ranked Blue Devils 73-64. However, instead of panicking in the face of such a monumental deficit, North Carolina stayed calm, regrouped, and went on the offensive. The Tar Heels finished the game on an 11-0 run, including an and-one putback by Marvin Williams, which, ultimately, allowed UNC to take the lead. Comebacks don't get much sweeter than that.
10. Duhon does it for Duke
Date: February 4, 2004
Final score: Duke 83, UNC 81 (OT)
On February 4, 2004, the North Carolina Tar Heels gave the No. 1-ranked Blue Devils all they could handle. On two separate occasions, first at the end of regulation and second with around 15 seconds left in overtime, the Tar Heels connected from beyond the three-point arc to tie the score. Unfortunately, the Dukies got the last laugh, as point guard Chris Duhon's layup put them up 83-81 with seconds left to play in OT.
As you can see, there's never a dull moment when these two programs take the floor.
Statistics courtesy of SR/College Basketball.