Familiar Contending Faces are Rapidly Losing Grip on NASCAR Cup Series Race
One by one, NASCAR Cup Series playoff contenders fell by the wayside.
For the first 300 rotations of the 334-lap Round of 8 event at Texas Motor Speedway on Oct. 17, the circuit's top drivers rode on without much difficulty.
The good fortune, however, didn't last.
Sans dominating race winner Kyle Larson, most of the playoff pilots suffered setbacks to their chase for the Final Four.
Here's a look at how the top eight drivers fared during the NASCAR Autotrader EchoPark Automotive 500.
Joey Logano, Martin Truex Jr. skid down NASCAR Cup Series driver standings
Driver Joey Logano was the first to go down. Logano's engine blew with 34 laps remaining, forcing the No. 22 Ford into a 30th-place finish. He is now 43 points below the NASCAR cut line and could be the first to be eliminated.
"(The engine) just kind of let go," Logano said after the race, as noted by motorsport.com. "It is one of those days when nothing went right. It was a grind.
"We have to move on. It is what it is now. We can't change it. Not many points today, so that is a bummer. We will be fighting from here."
The Cup Series rolls on to the Kansas Speedway for the Hollywood Casino 400 on Oct. 24.
Martin Truex Jr. was the next playoff contender to suffer a setback at Texas. After Logano fell off, Truex joined him over the wall. On the ensuing restart, Truex was struck from behind, forcing the No. 19 Toyota into a spin before it hit the outside retaining wall. His machine could not be fixed, registering a 25th-place finish.
He is 22 points in the red.
Denny Hamlin's team suffers two wrecks, 'just weren't ourselves'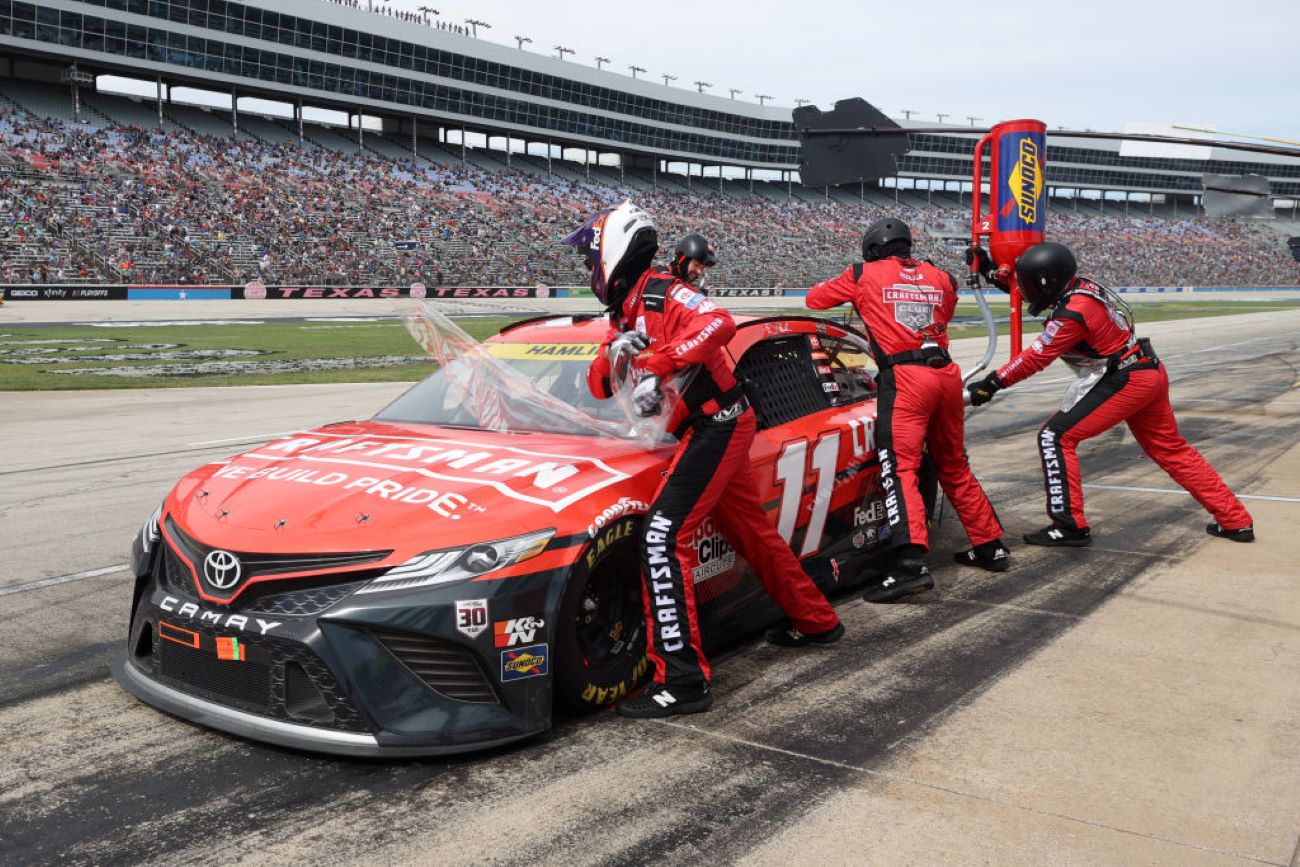 Fifth-ranked Brad Keselowski, who placed fourth at Texas, remains 15 points behind the pace. No. 6 Chase Elliott, forced to drop to the rear of the starting field because his team failed two prerace inspections, placed seventh and remains eight points behind fourth-ranked Kyle Busch, who endured an interesting ride.
Barely escaping the Bubba Watson-induced 15-car pileup early on, Busch won a pit-stop gamble and claimed the Stage 1 flag and 10 extra NASCAR points.
Meanwhile, No. 3 Denny Hamlin's troubles started when he suffered a tire rub after hitting No. 2 Ryan Blaney's car while engaged in three-wide racing. Hamlin's tire started smoking and quickly gave out, forcing Hamlin into a spin down the backstretch, eventually striking the inside wall.
Hamlin returned and found more obstacles. He couldn't avoid the race's final accident when Chase Briscoe and Chris Buescher crashed coming off Turn 2. Despite front-end damage, Hamlin finished running and placed 11th. He remained nine points ahead of the cut line.
"Just weren't ourselves … and then obviously getting in two wrecks at the end didn't help," Hamlin said. "But the fact that there was a lot of attrition and the fact that the team did a phenomenal job fixing the car got us back up to P11."
Blaney placed sixth and, at plus-17 points, looks to lock in a trip to the Final Four at Kansas.
Larson, Hamlin look to continue winning streaks at Kansas
Then there's Larson, the first driver to qualify for NASCAR Cup Series Championship 4 at Phoenix Raceway on Nov. 7. Collecting his eighth win of the season, Larson led 255 of 334 laps.
It was his first victory at the site.
Hamlin called the Texas race pure "insanity" and expects the tough restarts and hard-driving final laps to continue at Kansas.
With three overall wins at the track and back-to-back victories (fall 2019 and spring 2020), Hamlin has dominated the 15-mile speedway recently.
If he can make it three in a row, he's bound for Phoenix.
RELATED: NASCAR Cup Series Driver Anthony Alfredo Escapes Another Fiery Crash at Texas Motor Speedway