We're Swearing Off Sports If They Don't Stop Playing These 10 Annoying Songs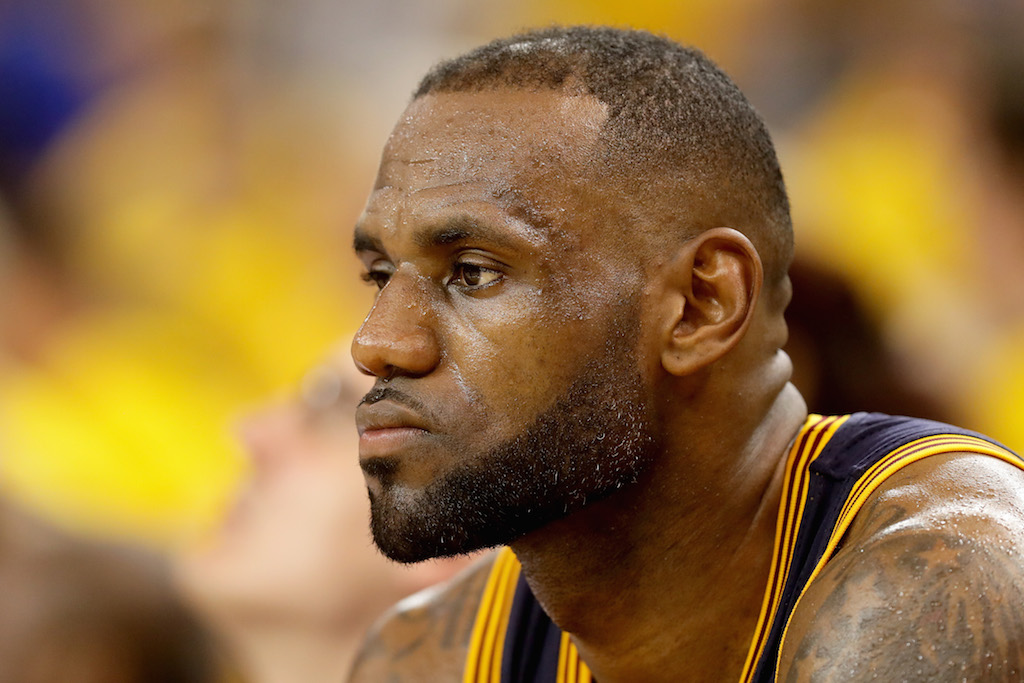 The use of music at sporting events can be traced back to the first Olympic games. Even a bunch of ancient dudes running around in towels needed hype tunes in the background.
Nowadays the spectacle of in-game sports has evolved from the occasional play of the organ to whole soundtracks being synced to LED wristbands. Some popular tracks find their way onto the game time playlist during the course of a season, while other mainstays have graced in-game sound systems for years now.
Not all songs are created equal, however. While certain tunes are a widely-beloved fixtures, others have worn out their welcome. Here is, in no particular order, the 10 most overplayed songs at sporting events, plus a bonus that we're not quite sure counts as a song yet.
1. 'Turn Down for What' by DJ Snake and Lil Jon

It's pretty incredible how quickly this song was hammered into the ground. At first, a 10-second snippet served as a pretty good hype song. Once Lil Jon's inebriated yell came over the PA system the crowd would go into a frenzy. But after a year of the same snippet playing at every sporting event under the sun, the party song began to have a less powerful effect. What's worse is the impression we get from in-game music recently; unless Lil Jon does something to get the song banned, it won't go away any time soon.
2. 'Rock & Roll 
Part 

2′ by Gary Glitter


No, it's official name is not "The Hey Song." But apparently it doesn't matter to the millions of people who have heard this '70s tune blaring through the speakers at arenas from coast to coast.

The catchy hook maintained regular play for a couple decades; it was the San Jose Sharks goal song up until a couple seasons ago. It became heavily overused with time both at games and in many sports movies. But it quickly began to lose its appeal when the artist Gary Glitter was found guilty of pedophilia and could potentially spend the rest of his life in prison. (He is currently serving a 16-year sentence.)

Even with knowledge of the claims against Glitter the song continued to get some airplay, making it both overplayed and, well, pretty creepy. We should note though that the song hasn't been heard as much over the last year and a half, and that the Sharks changed their goal song at the beginning at the 2015–16 season.
3. 'Seven Nation Army' by The White Stripes

Talk about overexposure ruining a good song. The White Stripes' 2003 LP "Elephant" contained a plethora of good guitar licks, but this Guitar Hero-friendly riff really caught on. While Jack White went on to create more musical fusion, the hook from "Seven Nation Army" lingers at the sports venues.
What really pushed this track into overplayed territory was that college bands started playing the chorus at football games. And if there's one way to assuredly kill a song, it is to have half of the college marching bands across the country two counts of eight from its chorus at every game for the next decade.
4. 'Chelsea Dagger' by The Fratellis

This is a bit of a niche pick, for regional reasons. But you don't have to be a hockey fan outside of the greater Chicago fanbase to be tired of this pop-infused 2006 indie cut.
The Blackhawks adopted the incredibly catchy and wordless chorus as their goal song during the 2010 season, which started their run of winning three Stanley Cups over the next five years. In all honesty, it could be that the rest of the hockey world is tired of the song because they are tired of the Blackhawks scoring so many goals — maybe they would dislike any song that Chicago uses as their goal song. Or it could be that United Center plays the chorus on an extra-long loop and it gets stuck in your head way too easily.
5. 'Sweet Caroline' by Neil Diamond

Surely there are Boston Red Sox fans who will see this and want to rip it off the screen. But karaoke has pretty much killed Neil Diamond's 1969 track, and it can be found on many top-10 lists of songs that the radio drove into the ground.
The song did get some well-liked play following the Boston Marathon bombing, when ballparks across the country played the song to show support for those affected by the terrible event. Since then a sporting event or two has tried to use it to engage crowds in sing-song, only to be met with a lack of interest. Unless it is the eighth inning at Fenway, "Sweet Caroline" will be seen as a pain.
6. 'My Songs Know What You Did in the Dark (Light Em Up)' by Fall Out Boy

We don't know what it is about Fall Out Boy songs that make them get stuck in your head so easily. And nothing lodges in the brain quite like The Tune Commonly Known As "Light Em Up."
Band bassist and poster boy for the scene, Pete Wentz, said in a 2014 interview with ESPN that the emo-pop band "had a sense that 'Light Em Up' would be a kind of sports song when we were writing it." Indeed the track was used during 2013 in conjunction with the NBA All-Star Game, the Stanley Cup playoffs coverage, the MLB postseason… the list goes on.
But instead of keeping the song in 2013–14, the sports world manages to resurrect every couple of games, no matter what sport it is. And if you are someone who didn't like Fall Out Boy to begin with and wanted nothing to do with their return to the airwaves in 2013 — raises hand — then you certainly cringe every time you hear it. To this person, "Light 'Em Up" perfectly encompasses the guy at your party who you didn't actually invite but he is still the last one to leave and is finishing all of the beer other people bought.
Also, "mup" is not a word. Stop that.
7. 'Can't Hold Us' by Macklemore

In 2013, Macklemore busted onto the radio in his 99-cent leopard mink and velcro Pro Wings and got the kids dancing. When he and his broken keyboard went on a brief hiatus to create new music, we were stuck with "Can't Hold Us," which has since overstayed its welcome.
To be fair, "Can't Hold Us" had plenty of appeal when it first started getting airplay. Plus, it has been overplayed by outlets outside of sports — and continues to be overplayed, for that matter — so it was only a matter of time before sports fans got tired of it. That being said, it is still a track that needs to retired. At least until Macklemore drops a new catchy beat for arenas to ruin.
8. 'Cotton Eye Joe' by Rednex
Long before this quirky remix of the country carol made for comic relief on "How To Get Away With Murder" it was seeping its way into ballparks and stadiums across the country. But it is probably most synonymous with being played at Yankee Stadium since the late '90s.
Of course, playing a song regularly over about two decades allows the song to take on a mind of its own, complete with dancing Cowboy "Joe" in the control room. Although reportedly, most Yankees fans have grown tired of the practice of hearing the song after the seventh-inning stretch. One of my Cheat Sheet colleagues, a Yankees Stadium regular, explained that fans in attendance get awkward and embarrassed when the song starts playing. Probably not a vibe that any sports' arena wants to project. Perhaps other in-game music gurus should take it as a sign that this song is long overdue for retirement.
9. 'YMCA' by Village People (and any other song with dance moves)
https://www.youtube.com/watch?v=CcKW2xDcxLM
Songs with coordinating dance moves have a pretty short lifespan in the allure department. (And we use the term "dance moves" loosely here.) They all get a ton of airplay before they make their way onto the in-game setlist and get played to death, only to be scrapped and replaced by the next annoying dance craze.
But the Village People's disco ditty doesn't play by the same rules as say, "The Macarena," or in recent years (gulp), "Gangnam Style." The YMCA has the same effect as a Cher Comeback Tour, as it keeps reviving itself and infecting the airwaves all over again, getting stuck in a new generation's heads. It's a scary thought, but the "YMCA" may never, ever go away.
10. 'Sandstorm' by Darude
There is no track more overplayed than this overblown electronic nightmare. How it hasn't ever been outlawed is beyond me. A meteor could crash into Earth and wipe out civilization, and the only things that would survive would be cockroaches and "Sandstorm." (And maybe Ozzy Osbourne, because that guy can outlive just about everything.)
Multiple college teams have used it as a rally song, while others banned it. Yes that's right, banned. The K-State athletic department yanked the Darude single from it's setlist after it reportedly brought on bad behavior from fans. Texas A&M's Kyle Field had to be refurbished after the frequency of the song caused the stands in the south end zone to shift. And that's just college sports. That doesn't even get into the number of professional sports contests it has polluted.
And a bonus song for good measure …
Bonus: 'Monster Block'

The newest addition to the list, yet every bit as obnoxious. Missed it at the last Summer Olympics? Watch at your own caution. This excuse of a song and even bigger excuse of a dance has made it to an arena near you.