The 11 Most Overrated Players in the NFL
The saying, "one man's trash is another man's treasure," has a lot of validity in the National Football League. We regularly see situations where one franchise will cut ties with a player who will ultimately go on to reach superstar status with one of the other franchises around the league. However several NFL players are flat-out, undeniably, overrated.
When it comes down to it, players typically fall into the overrated category due to unwarranted hype or undeserved contracts. Players often enter the NFL after having legendary careers at the college level. And as we all know, success in college doesn't necessarily equate to success at the professional level. When it comes to contracts, teams often pay players based on potential and regularly get burned when their investments don't pan out.
There will always be a fair amount of subjectivity involved when evaluating players in the NFL. To make this list as objective as possible, we considered the player grades from Pro Football Focus, more general on-field statistics, and the monetary value of each player's contract when making our decisions. Now, without further delay, here is a look at the five most overrated players in the NFL based on their performances during the 2015 season.
1. Joe Flacco, QB, Baltimore Ravens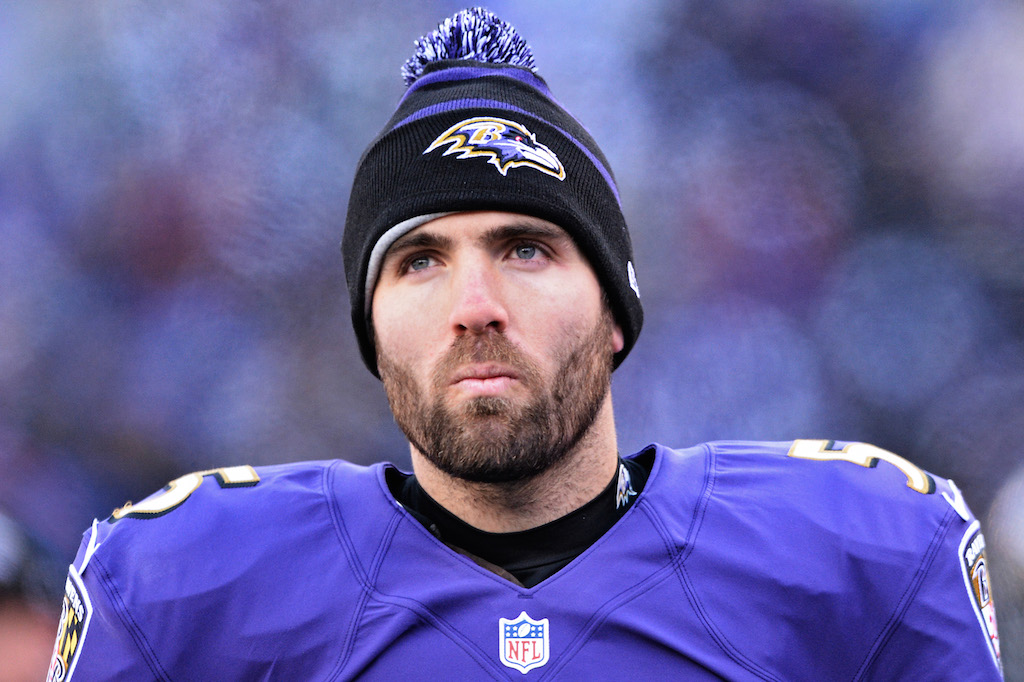 PFF Grade:  71.3
PFF Position Rank:  26
2016 Salary Cap Hit:  $22.55 million
Average Annual Salary:  $22.13 million
Yes, Joe Flacco does have a Super Bowl ring. So do guys like Trent Dilfer, Brad Johnson, and Doug Williams. In actuality, outside of his run of fantastic play throughout the 2012–13 postseason (resulting in him landing a massive contract extension, by the way), Flacco has been incredibly average throughout his eight-year NFL career.
He still doesn't a season of 30 or more touchdown passes on his resume, and it's becoming more and more clear that the success Flacco enjoyed early in his career was a direct result of having an excellent supporting cast. He is now the fourth-highest-paid signal caller in the league in terms of average annual salary. In our eyes, paying a guy who has graded out as the 26th-best quarterback in the league that kind of money will continue to prevent the Ravens from truly rebuilding and becoming a Super Bowl-caliber team anytime soon.
2. Demaryius Thomas, WR, Denver Broncos
PFF Grade:  80.1
PFF Position Rank:  23
2016 Salary Cap Hit:  $15.2 million
Average Annual Salary:  $14.0 million
There is no arguing that Demaryius Thomas is one of the most physically talented wide receivers in the National Football League. His combination of size, speed, agility, and game-breaking ability is extremely rare. With that being said, Thomas still found his way on our list thanks to his wildly inconsistent play.
If you look solely at his statistics over the last two years (188 catches for 2,320 yards and 11 touchdowns), it looks like Thomas has lived up to the contract he signed in July 2015. In reality those numbers could be (and should be) much better. He is one of the league-leaders in dropped passes over the last two seasons, while struggling to come down with 50-50 passes and make clutch plays in critical situations.
While the Broncos rewarded Thomas with a contract that paid him like one of the league's top-five wide receivers last offseason, the former Georgia Tech standout paid his team back by turning in a performance that led PFF to rank him as the 49th-best wideout in the league in 2015 and the 23rd best in 2016.
3. Julius Thomas, TE, Jacksonville Jaguars
PFF Grade:  66.6
PFF Position Rank:  30
2016 Salary Cap Hit:  $7.3 million
Average Annual Salary:  $9.2 million
Julius Thomas is an immensely gifted athlete, but up to this point in his NFL career, the former college basketball player has been a disappointment. During his time with the Denver Broncos, Julius proved that he can be a game-changer in the passing game, and the Jaguars paid him big money to pack his bags and take his talents to Jacksonville.
And as was the case when he was in Denver, Julius proved to be a major liability as a blocker and continued to miss extensive action due to health issues throughout his first two seasons in Jacksonville. He is now the fourth-highest-paid tight end in the league, yet PFF graded him out as the 30th-best player in the game at his position.
4. Brandon Carr, CB, Dallas Cowboys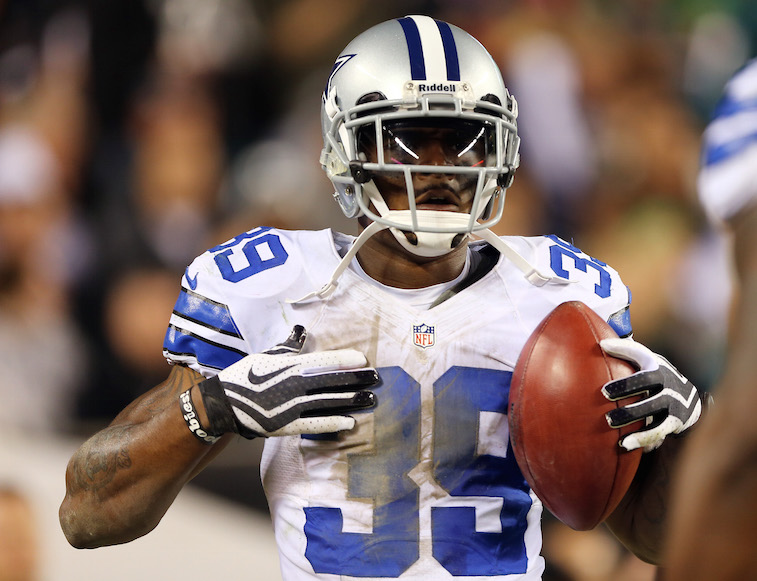 PFF Grade:  69.4
PFF Position Rank:  78
2016 Salary Cap Hit:  $10.217 million
Average Annual Salary:  $10.02 million
Brandon Carr has restructured his contract twice (once in 2013 and again last offseason), yet he remains one of the most overpaid players in the game. The 30-year-old cornerback has been a solid contributor at times for the Cowboys, but there is no denying that he simply hasn't lived up to the five-year, $50.1 million deal he signed with the team in 2012 (he is the 11th-highest paid corner in the game and has graded out as the league's 78th best player at the position in 2016).
The Cowboys have essentially been married to Carr because of his contract, but will be able to move on in 2017 if they so desire for a minimal dead money salary cap hit of $2.717 million.
5. Jonathan Stewart, RB, Carolina Panthers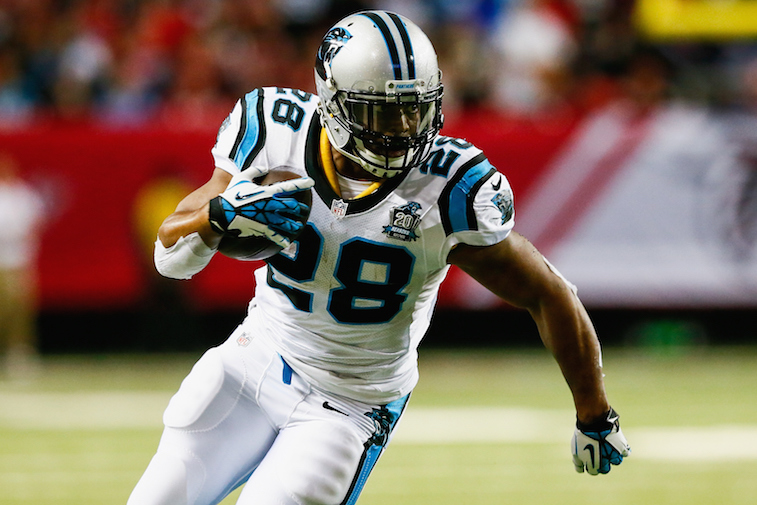 PFF Grade:  78.2
PFF Position Rank:  9
2016 Salary Cap Hit:  $9.55 million
Average Annual Salary:  $7.3 million
Jonathan Stewart has been a solid performer for the Panthers throughout his nine-year career with the franchise. But with only one 1,000-yard season on his resume, it's hard to justify his standing as the fourth-highest-paid running back in the league. Furthermore, Stewart is rapidly approaching his 30th birthday and has struggled to stay healthy in recent seasons.
When the dust settles on his career, Stewart simply won't be remembered as one of the all-time greats, even though he was paid like one.
6. Darrelle Revis, CB, New York Jets
PFF Grade:  70.8
PFF Position Rank:  76
2016 Salary Cap Hit:  $17 million
Average Annual Salary:  $14,024,212
Regardless of how the rest of his career plays out, Darrelle Revis is a lock to be inducted into the Pro Football Hall of Fame — possibly in his first year of eligibility. That said, the four-time All-Pro simply isn't the player he was earlier in his career. He has undoubtedly lost a step, and is no longer capable of consistently shutting down an elite wide receiver for an entire game.
Revis is the second-highest-paid cornerback in the game (behind Josh Norman), and ranks as the 76th-best corner in the NFL according to PFF.
7. Brock Osweiler, QB, Houston Texans
PFF Grade:  40.9
PFF Position Rank:  35
2016 Salary Cap Hit:  $12 million
Average Annual Salary:  $18 million
Where should we start with this one? Not only is Brock Osweiler overrated (by any possible metric), he also may be the worst free-agent signing in NFL history. The Texans have already benched the 26-year-old quarterback less than one full season into the four-year, $72 million deal they gave him last offseason, and to us, that speaks volumes about how bad Osweiler has been in 2016.
This one can be chalked up to the Texans front office (their head coach, Bill O'Brien, gets a pass here) buying into the unwarranted hype of a player who benefitted from playing alongside one of the greatest defenses in NFL history with the Denver Broncos in 2015.
8. Muhammad Wilkerson, DE, New York Jets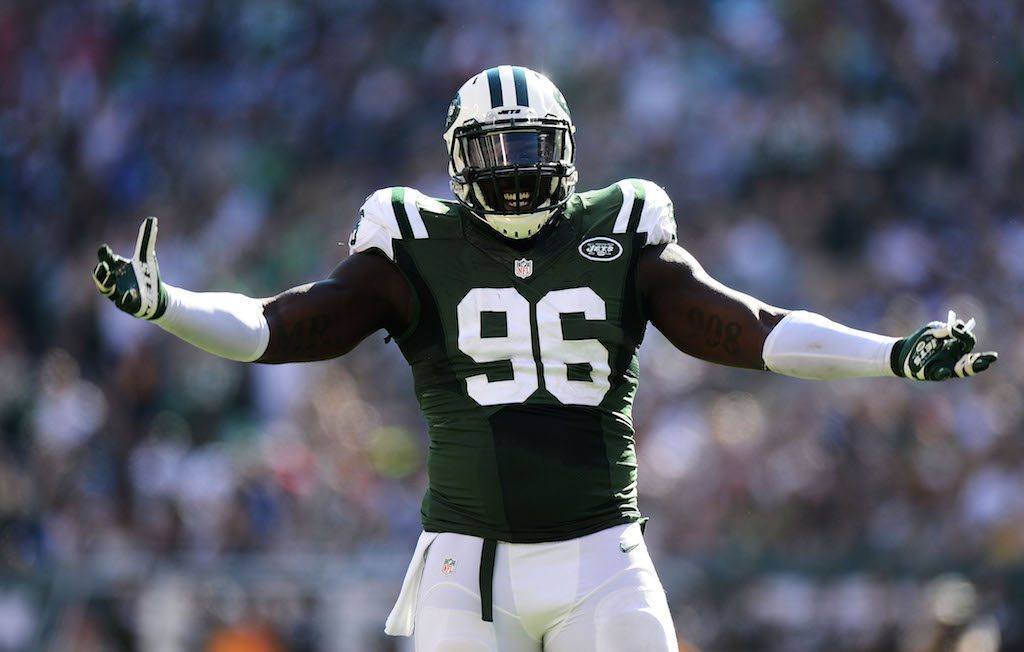 PFF Grade:  40.9
PFF Position Rank:  117
2016 Salary Cap Hit:  $10 million
Average Annual Salary:  $17.2 million
When Muhammad Wilkerson is focused and playing with something to prove, he is hands down one of the best defensive linemen in the entire league. Unfortunately, it looks as though the former Temple Owl has lost some of his drive and determination since landing a five-year, $86 million deal from the Jets last offseason.
Wilkerson has recorded only 2.5 sacks and 48 total tackles in 2016, and has been far from the disruptive force that he was in seasons past. The Jets made him the highest-paid defensive end in the league, and Wilkerson has paid them back with an effort resulting in him being graded out as the 117th-best player at his position in the NFL.
9. Randall Cobb, WR, Green Bay Packers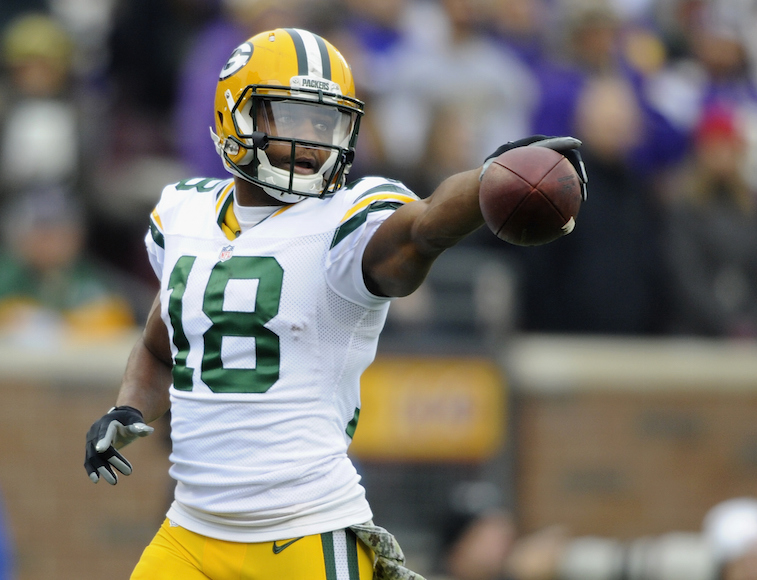 PFF Grade:  77.5
PFF Position Rank:  32
2016 Salary Cap Hit:  $9.15 million
Average Annual Salary:  $10 million
After his performance in 2015, this much is clear: Randall Cobb is not a No. 1 NFL wide receiver. With Jordy Nelson out for the year with a torn ACL, we expected a wildly productive season out of Cobb in 2015.  Instead, he responded to his increased role by posting 79 catches for 829 yards and six touchdowns. Those aren't terrible numbers, but they also aren't acceptable considering what the Packers are paying him.
In 2016, Cobb is on a similar pace. Through 13 games, he has caught 60 passes for 610 yards and four touchdowns. Again, those types of numbers make him vastly overpaid. With an average annual salary of $10 million, Cobb is making more money than guys like Antonio Brown, Golden Tate, and Brandon Marshall.
10. Mario Williams, DE, Miami Dolphins
PFF Grade:  73.2
PFF Position Rank:  58
2016 Salary Cap Hit:  $6.5 million
Average Annual Salary:  $8.5 million
Just a few years ago, Mario Williams was arguably the best defensive player in the National Football League. However, he just hasn't been the same since the 2014 season. Part of it could be his age (he'll turn 32 in January); part of it could be due to a change in scheme during his final season with the Buffalo Bills. Either way, there is no denying that Williams is severely overrated at this point in his career — something the Dolphins have learned firsthand throughout the 2016 season.
11. Jairus Byrd, S, New Orleans Saints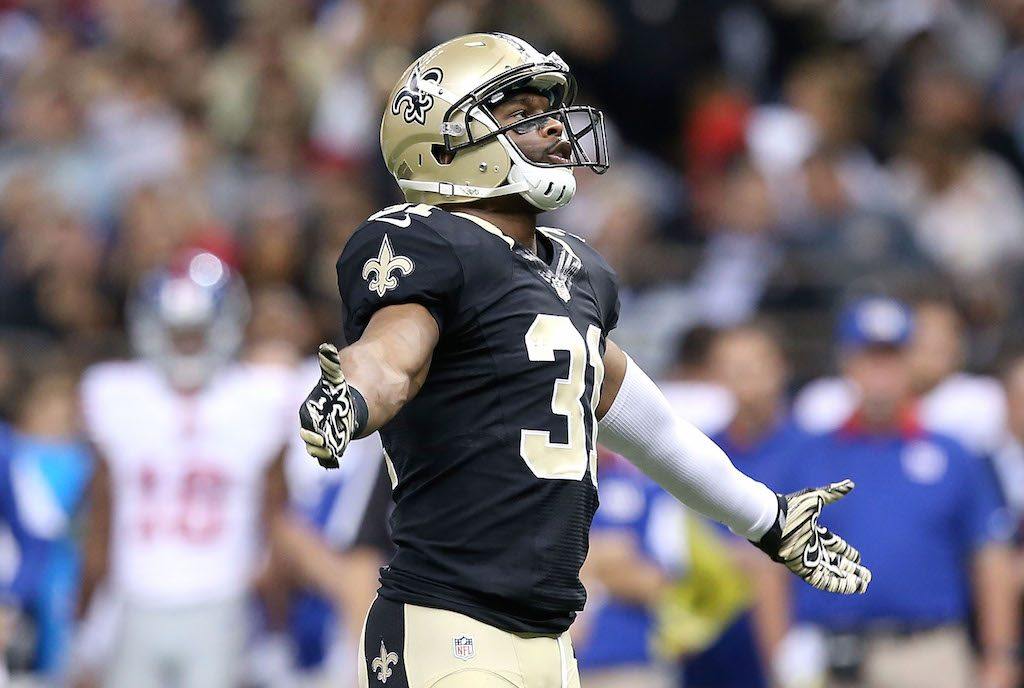 PFF Grade:  77.1
PFF Position Rank:  48
2016 Salary Cap Hit:  $10.9 million
Average Annual Salary:  $9 million
The Saints signed Jairus Byrd to a massive contract (six years, $54 million) back in 2014, and needless to say, they have gotten little return on their investment up to this point. To be fair, Byrd can't really do anything about the injuries he's suffered since signing with New Orleans, but even when he has been on the field, the former Oregon safety has had a very minimal impact on the Saints' defense.
Byrd is currently the sixth-highest-paid safety in the league, while grading out at the 48th-best safety in the NFL.
Statistics courtesy of Pro-Football-Reference. Contract data courtesy of Spotrac.