5 Moves the St. Louis Cardinals Need to Make
The St. Louis Cardinals came into 2016 with 100 wins last season and three straight NL Central division titles. With a roster featuring aging veterans mixed with a young core of hitters and pitchers, there was a good chance that some turnover might be necessary to help the team to remain competitive. The Chicago Cubs taking the division — and the world — by storm this year leaves St. Louis far out of first place and scrapping to grab a wild-card spot.
But how can they continue to fix things for the better? With the Cubs' young core, it seems like the Cardinals have a tough sparring partner in the division for years to come. These are five things the St. Louis Cardinals must do to ensure a more competitive season in 2017.
1. Fix the bullpen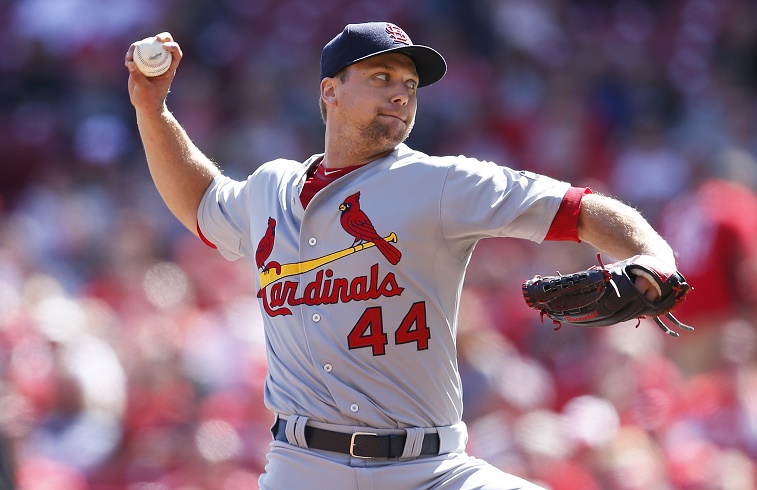 This season, the St. Louis Cardinals' bullpen has a 3.72 ERA and, in general, walked far too many batters to be successful. That might be one of the biggest concerns heading into next season. While the contenders around Major League Baseball have (by and large) at least one or two shutdown arms at the end of the bullpen, the Cardinals struggled to consistently find one. Seung-hwan Oh performed well as the closer, but St. Louis only thrust him into that role because of Trevor Rosenthal's inconsistency.
Kevin Siegrist is a decent left-handed reliever, but he walks far too many batters and allows too many home runs. Beyond that, there really isn't much in the Cardinals 'pen. Jonathan Broxton, Dean Kiekhefer, Matthew Bowman, and Tyler Lyons are middle relievers at best. Whether it is through internal improvement, trades, or looking into the free-agent market, the St. Louis Cardinals need to go into the 2017 season with a few more trustworthy relievers than they will finish with in 2016.
2. Reconfigure the infield
Matt Carpenter is the Cardinals' best offensive player, but they don't seem committed to him positionally. In fact, the entire infield was thrown into flux this last year. To improve, they must get players to positions where they are set up for success. Carpenter is defensively poor at second base and slightly below average at third base. But he's been fairly competent as a defender at first base, which Matt Adams and Brandon Moss primarily handled this season.
Heading into 2017, the Cardinals should move Carpenter to first base full time. This leaves second base, once thought to be the future for Kolten Wong, completely open. They could give Wong the opportunity to win back a job or simply go with current shortstop Aledmys Diaz at second. Diaz is a butcher in the field at shortstop, with a lack of range that hurts his overall value. At second base, everyone would likely consider him one of the best in the game at his position.
This leaves a spot at shortstop, which the team could attempt to fill via trade or simply by committing to backup infielder Greg Garcia on a more full-time basis. Then, Jedd Gyorko would have third base; he experienced a coming out party of sorts with the bat this season by clubbing 27 home runs.
3. Trade Jhonny Peralta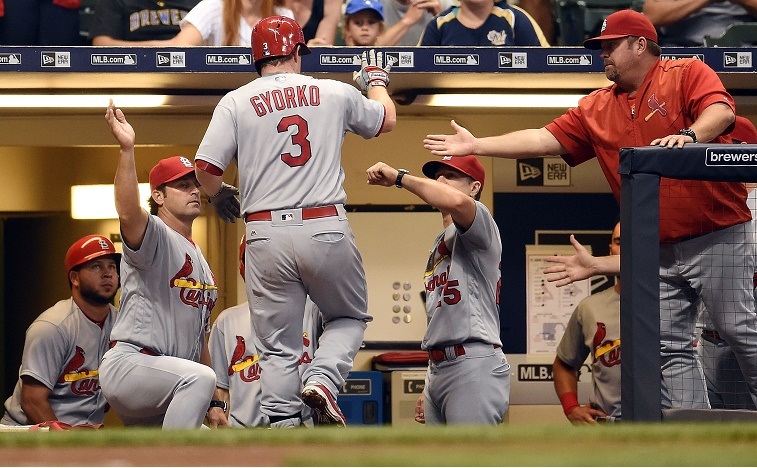 You might notice a name that's not mentioned regarding the infield: Jhonny Peralta. The soon-to-be 35-year-old was once a shortstop but now realistically could only play there sparingly. Peralta needs to be in a position where he can play primarily the corner infield spots, or even be a designated hitter. This isn't a fit with the Cardinals, who have a much younger and better hitter in Gyorko, who should replace Peralta.
Peralta is signed for one more season at $10 million, which means that to move him in a deal might include paying out some money. But a team looking for a veteran bat might give up something somewhat useful. For the Cardinals, this means bullpen arms and positional prospects — specifically, a catcher to take over once Yadier Molina is gone.
2. Sign a new outfielder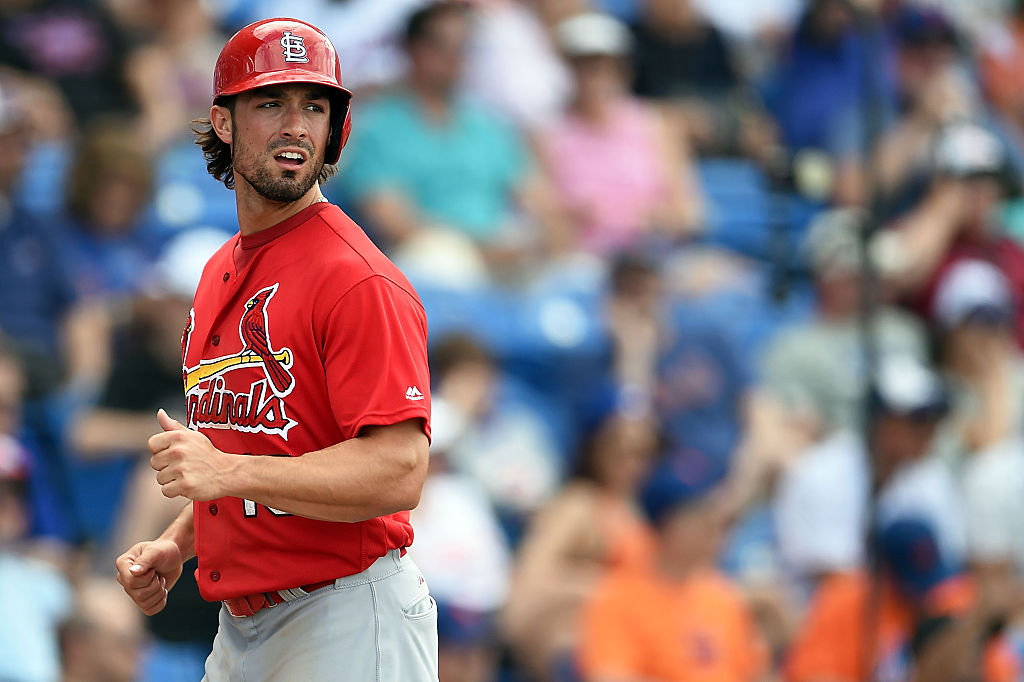 The three-man outfield of Matt Holliday, Randal Grichuk, and Stephen Piscotty was good in spots, but as a group they were pretty poor this season. Holliday faced an injury for a chunk of the season — not exactly unusual for him — while St. Louis sent Grichuk down to Triple-A due to poor performance. As a group, the three outfielders have posted just 5.3 WAR this season.
You'd think that Piscotty will likely return to right field next season, while left field will be vacated with the exit of Holliday. Grichuk is a relatively poor defensive center fielder, and would likely be better off with a shift toward left field. This would leave center as the spot they need to fill; they'd need to go after one of the many center fielders available in free agency. This list may include Dexter Fowler, Michael Saunders, and even Yoenis Cespedes. The Cards should have plenty of money to spend after offering Jason Heyward 10 years, $200 million last offseason only to see him leave for Chicago.
1. Trade Michael Wacha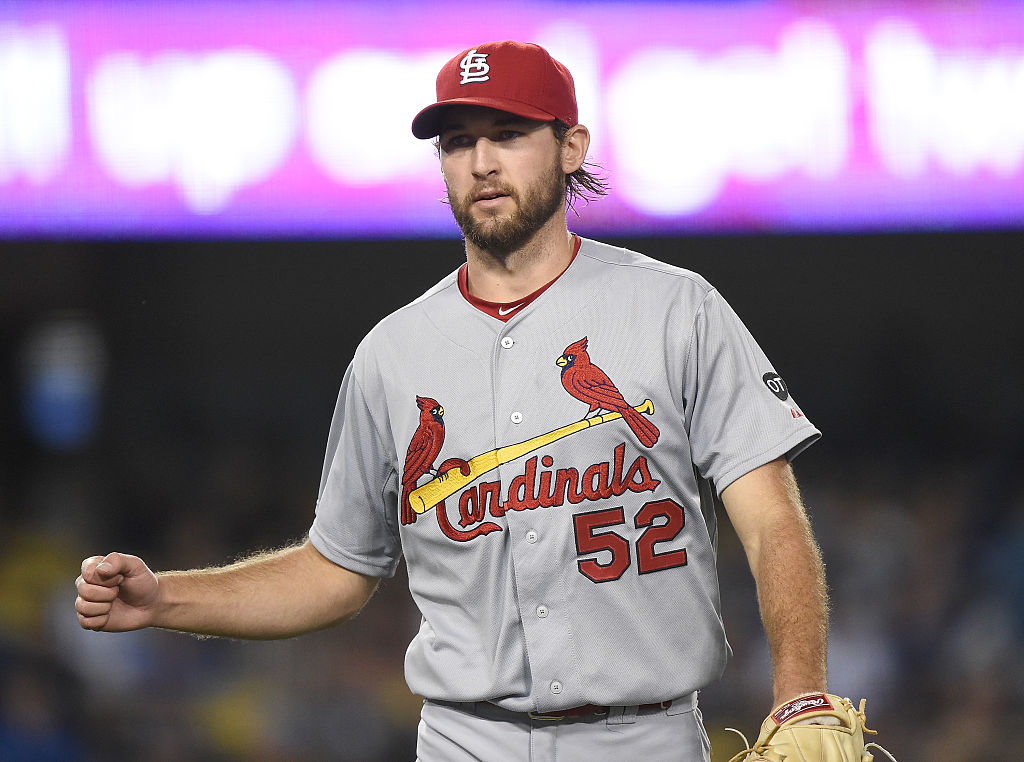 The starting rotation is a big part of the problem for the Cardinals this season. However, the good news for St. Louis is that they have some building blocks. Carlos Martinez is a fine starting pitcher; Alex Reyes and Luke Weaver seem worthy of spots going into next season, too. Adam Wainwright, who showed his age this year, will still be around in a rotation role next year. And Lance Lynn should be fully recovered from Tommy John Surgery.
Jaime Garcia performed poorly in the second half this year and will be a free agent, meaning it's likely he's thrown his last baseball in a Cardinals uniform. Mike Leake performed below expectations in his first season with the team, but he is under contract and will likely return. For the Cards to have their best starting rotation next season, it will probably mean Michael Wacha isn't included. He had a poor season, which resulted in shoulder trouble. He may be more headaches than he's worth.
Since the start of September of 2015, Wacha has thrown 161 innings with a 5.37 ERA. At this point, you might not be able to get a massive return for him in the way of prospects, but somebody will take a chance on a young, cheap starting pitcher with a good fastball and a history of success.
Statistics courtesy of ESPN and Baseball-Reference.