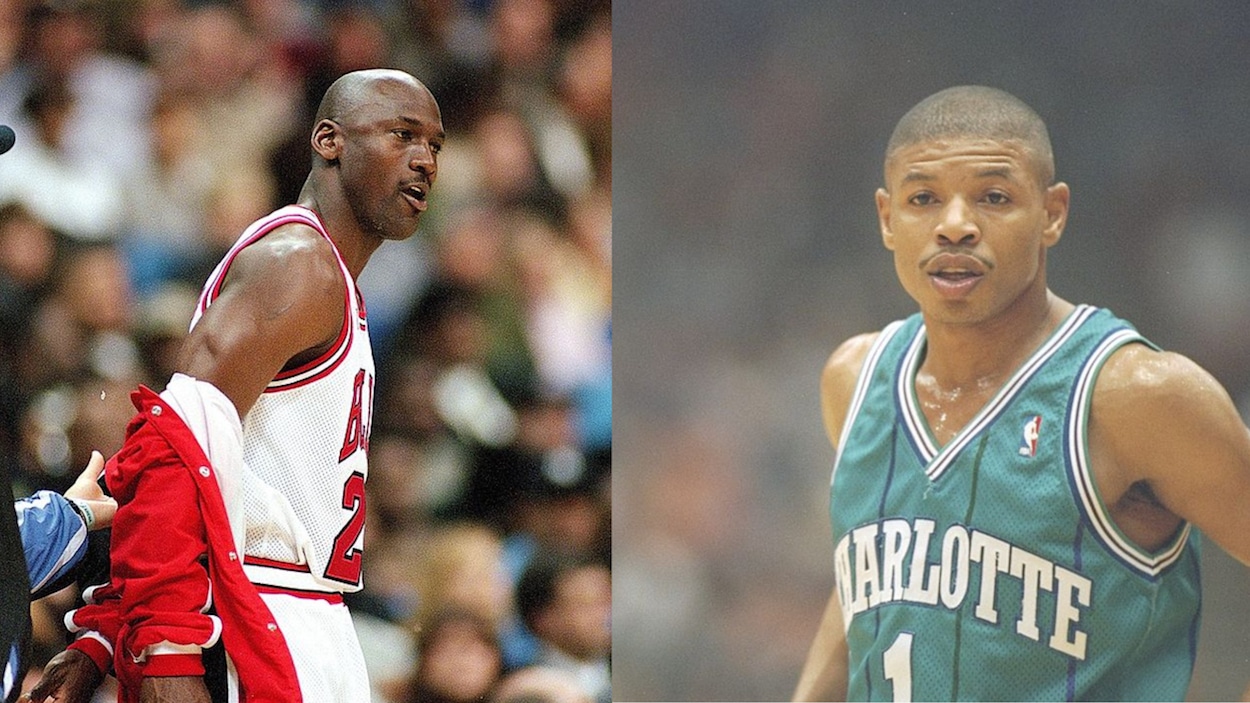 Muggsy Bogues Revealed How Michael Jordan Actually Insulted Him on the Court
Michael Jordan wasn't afraid to trash-talk anyone, as Muggsy Bogues can confirm. But what did His Airness actually say on the hardwood?
Over the years, Michael Jordan talked trash to countless NBA players. Whether Airness was calling out his own teammate during practice or trying to get inside an opponent's head before the game even tipped off, he was a master of verbal warfare. Just ask Muggsy Bogues about that.
As the story goes, Jordan's Bulls met Bogues' Hornets during the 1995 NBA Playoffs. During that series, MJ supposedly called the Charlotte guard a derogatory term alluding to his height, which ruined his career forever.
There's only one problem with that story, though. Bogues denies that Jordan ever called him that name.
Michael Jordan talked trash to Muggsy Bogues, but the Internet legend of what was said is inaccurate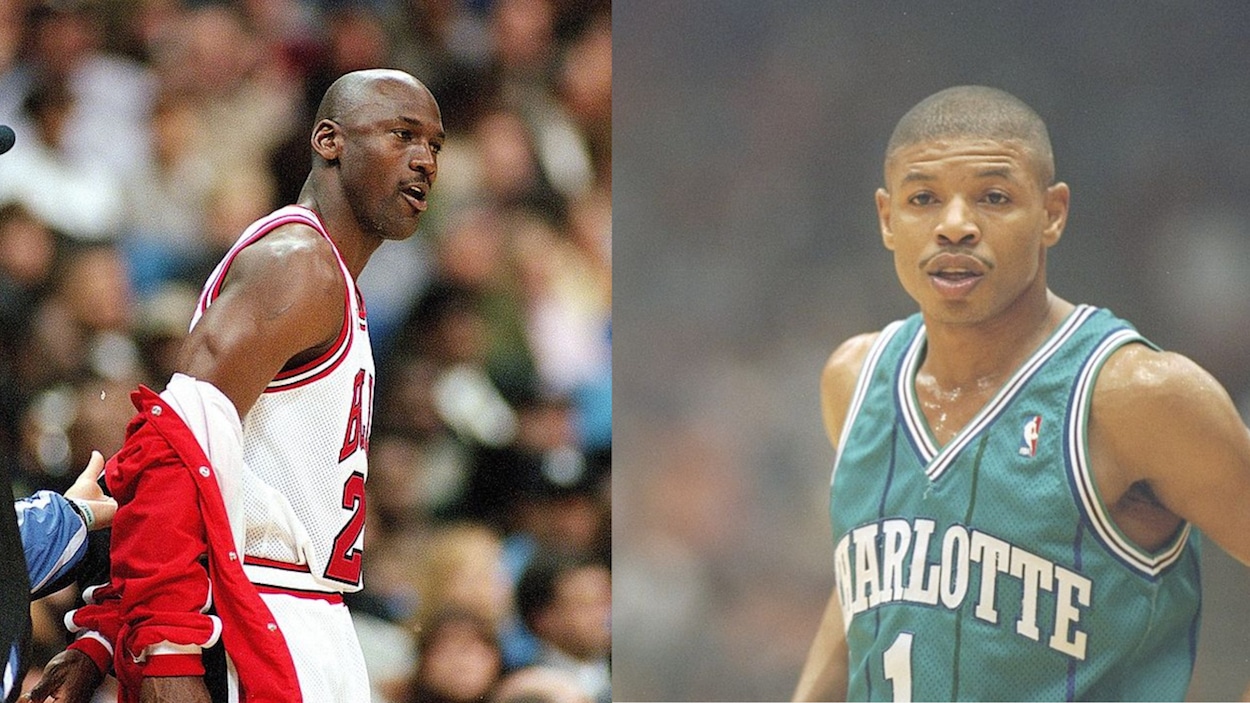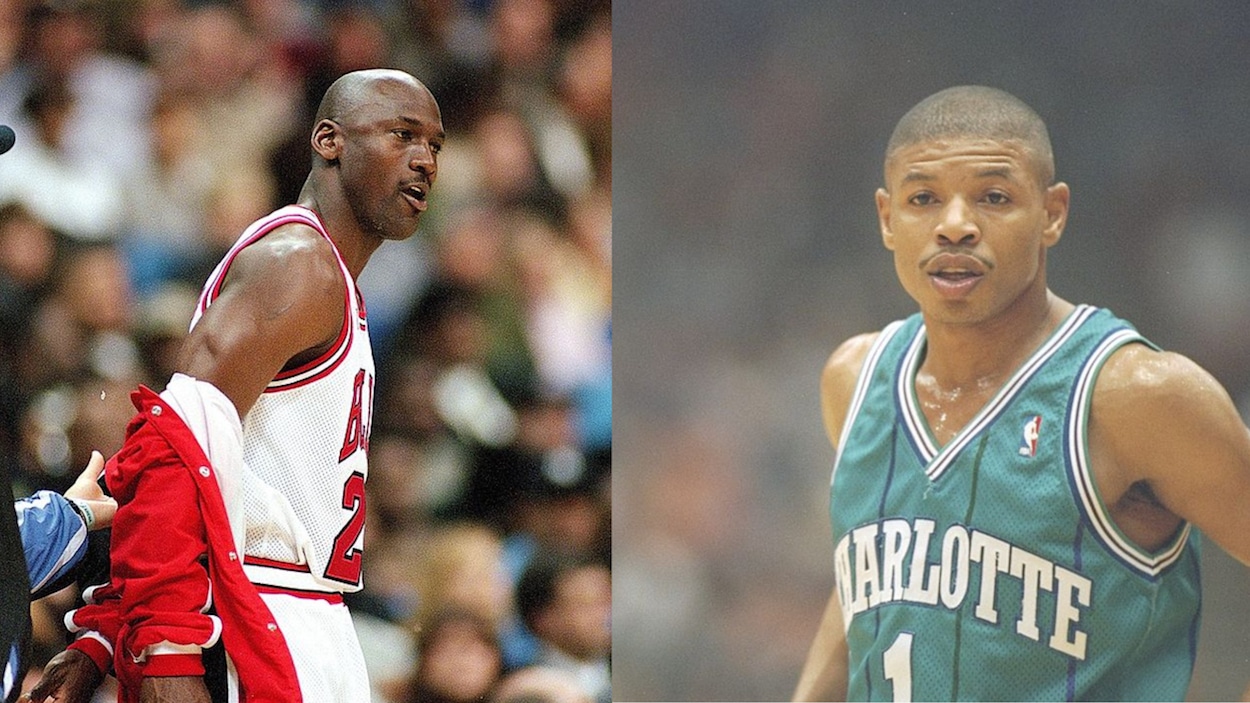 While things have evolved over the years to take advantage of new forms of communication, stories still tend to get embellished over time. One of those tall tales, it seems, was an encounter between Jordan and Bogues in 1995.
As mentioned above, the Bulls and Hornets met in the first round of that year's postseason. Chicago comfortably won the series, and as the legend goes, MJ crushed Muggsy Bogues along the way.
As documented in an old Bleacher Report list, Bulls assistant coach Johnny Bach said that Jordan dared Bogues to shoot at a clutch moment using some choice words about his height. The guard missed and was never the same.
During a 2022 appearance on the All the Smoke podcast, though, the Baltimore native told a different story.
"Well, MJ, he always liked to … he always liked to f*** with me," the former Hornet recalled. "That's just who we are with one another when we come in contact. I mean, even off the court to this day, you know, walking around, he'll put his hand up high trying, you know, for me to give him a high five. And I'll put my hand down low. 'You come down here and give me a low five.' So, it's just the way we compete against one another."
Then, Bogues addressed that story about that comment from 1995. He insisted that while Jordan talked trash, he never went that far.
"There was some stuff going around on the internet," Muggsy continued, "…which is not true. And they felt like he had some kind of impact, which is not true. He always called me short. Little fella … little ass. He was always calling me "Little ass" and that short stuff."
If anything, Jordan probably had a respect for Muggsy Bogues
Without sitting courtside on that night in 1995, it's impossible to know what was or was not said. If we take Bogues at his word, though, the pieces of the puzzle start to fit together.
Based on what we know of Michael Jordan, two seemingly conflicting realities seem to co-exist. The living NBA legend knew how to talk trash and was never afraid to challenge any opponent, but he also respected those who could hold their own. Take, for example, Kobe Bryant. MJ initially challenged the upstart guard but came to recognize Kobe's drive and eventually let him in.
While Bogues' resume was never anywhere near Bryant's, it's quite possible that His Airness still respected the guard. The two men overlapped in both the ACC and the NBA, giving Jordan plenty of opportunities to see the guard up close. And while Muggsy was never a game-breaker, he was a capable defender and possessed legitimate talent. Playing pro basketball at 5-foot-3 takes genuine skill, after all, and it's quite possible that Jordan recognized that.
If you combine that with the fact that the two men still joke around to this day, not to mention the fact that Bogues' decline likely had to do with injuries, seems to confirm the Internet legend is just that: a tall tale.