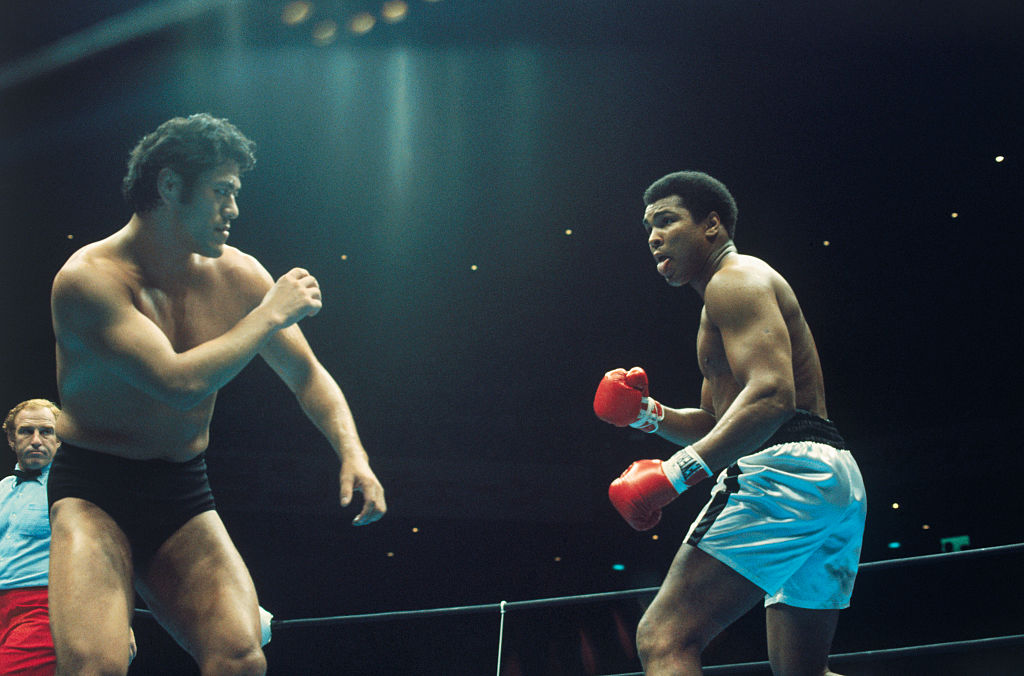 Muhammad Ali Nearly Lost His Leg After His Fight With WWE Hall of Famer Antonio Inoki
A look back at the 1976 bout between heavyweight boxing champ Muhammad Ali and professional wrestler and WWE Hall of Famer Antonio Inoki.
Of all the legendary fights Muhammad Ali took part in over the years, it's safe to say that none were as strange as his 1976 bout with professional wrestler Antonio Inoki, the founder of New Japan Pro Wrestling that would later be inducted into the WWE Hall of Fame.
The boxer vs. wrestler fight, one of the first of its kind that actually helped pave the way for MMA, took place on June 26, 1976, less than a year after Ali's famous "Thrilla in Manila" bout with Joe Frazier, the final fight in arguably the best boxing trilogy of all time. Ali had met the president of the Japan Amateur Wrestling Association at a party and, in typical Ali fashion, boasted that there was no Oriental fighter that could touch him, offering up a million bucks if one could beat him.
While it seemed like a joke at the time, Antonio Inoki wasn't laughing. A longtime student of various styles of fighting, Inoki, who had founded New Japan Pro Wrestling four years earlier, had heard of the challenge and actually wrote to "The Greatest" that he would have him sleeping on the canvas in 10 minutes if the two ever stepped in the ring together. In addition, he was willing to offer Ali $6 million to make the fight a reality. And there was no way that Ali was turning that down. It just turned out to be something completely different than what he was expecting and it nearly cost him his leg.
Muhammad Ali wasn't expecting a real fight but Antonio Inoki was
Upon his arrival in Japan, Muhammad Ali was completely unaware that Antonio Inoki was preparing for an actual fight. Ali was under the impression that he was coming for an exhibition bout in which the two would choreograph the fight and the winner would be predetermined, the same as it is in pro wrestling. What he thought was happening was that he would "accidentally" knock out the referee and while he was checking on the official, Inoki would kick him in the head and knock him out. The referee would wake up and count him out, giving Inoki the win in his home country but saving face since he was being noble in trying to help the fallen ref.
But when Ali got to the airport and asked what time rehearsals were, he was told that this wasn't an exhibition. Antonio Inoki was preparing for a real fight and Muhammad Ali and his camp had to scramble. A meeting was arranged at a nearby hotel to set the rules of the fight, which clearly favored Ali. Inoki was not allowed to throw or tackle Ali. He was also not allowed to throw any kicks while standing on two feet. He either had to have one knee on the mat or be on his back. Ali's camp also didn't want the rules to be made public. With things now figured out, it was time to fight…sort of.
The fight itself was very strange and nearly cost "The Greatest" his leg
While officially billed as a fight, it certainly wasn't what people were expecting. With over a billion people tuning in worldwide, the bell rang and Antonio Inoki slid in and kicked Muhammad Ali in the leg. He got on his back and pretty much stayed there for the entirety of the fight, which was a full 15 rounds. Ali was visibly upset, continuously taunting Inoki and screaming at him to get up. But Inoki was content to stay on the ground, away from Ali's punches as he landed kick after kick to Ali's legs, knocking Ali down in the fifth.
In the sixth round, Inoki caught Ali with an elbow, which got him a warning. But Ali got a warning of his own as he joined in the kick party while holding onto the ropes, which was against the rules. By the seventh, Ali's left leg was bloodied, concerning his corner. But it was iced and the fight continued. Ali finally starting throwing a few punches, but that just sent Inoki back to the canvas to continue his attack on Ali's legs. The crowd was visibly upset by this time and booed mercilessly. Inoki hit Ali with several low blows, resulting in point deductions, and it looked as if Ali was going to quit in the 13th but was convinced to continue.
It seemed as if there was going to be a bit more action in the final two rounds but it really never came. Inoki hit more kicks while Ali hit a few jabs (Ali threw six punches the entire fight). The final bell sounded, the two embraced, and the fight was called a draw, essentially so both men could save face. While certainly a very strange fight that didn't really have that much action, both men suffered brutal injuries. Landing as many kicks as he had, Inoki had broken his foot while Ali had sustained major damage to his left leg, developing two blood clots that would affect the rest of his boxing career. Ali's promoter, Bob Arum, later told The Guardian that the fight nearly cost "The Greatest" his leg.
"So fine, OK. It was terrible, it was embarrassing. But Ali is bleeding from the legs. He gets an infection in his legs; almost has to have an amputation. Not only the [Ken] Norton fight would've been not happening, but Ali could've been a cripple for the rest of his life."

Bob Arum
Ali would go on to defeat Ken Norton three months later at Yankee Stadium but his footwork was never the same.
Muhammad Ali and Antonio Inoki became great friends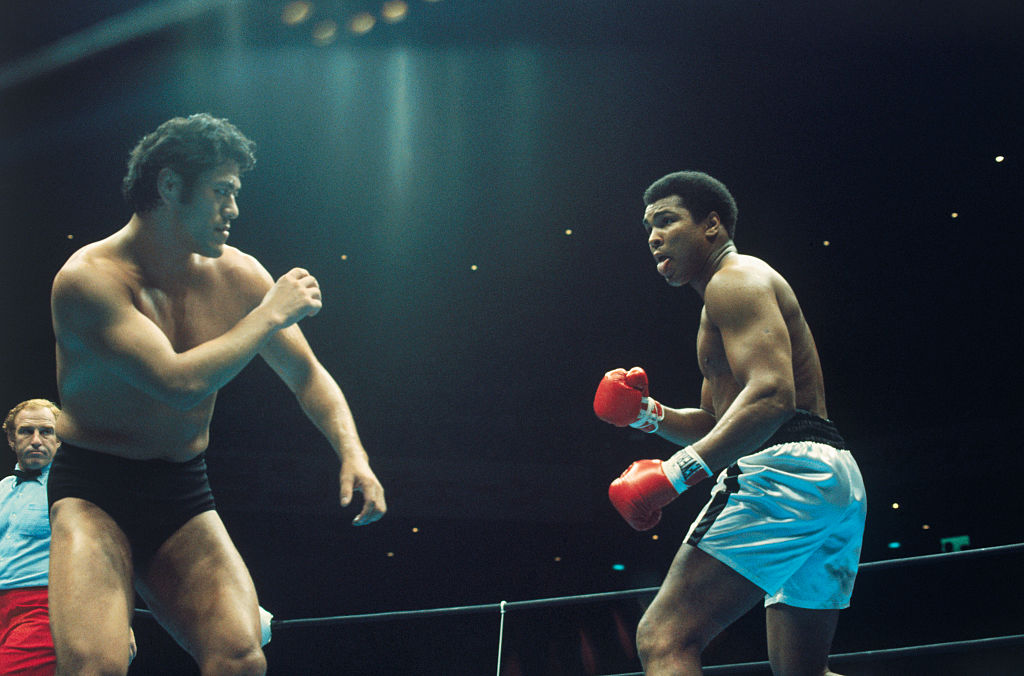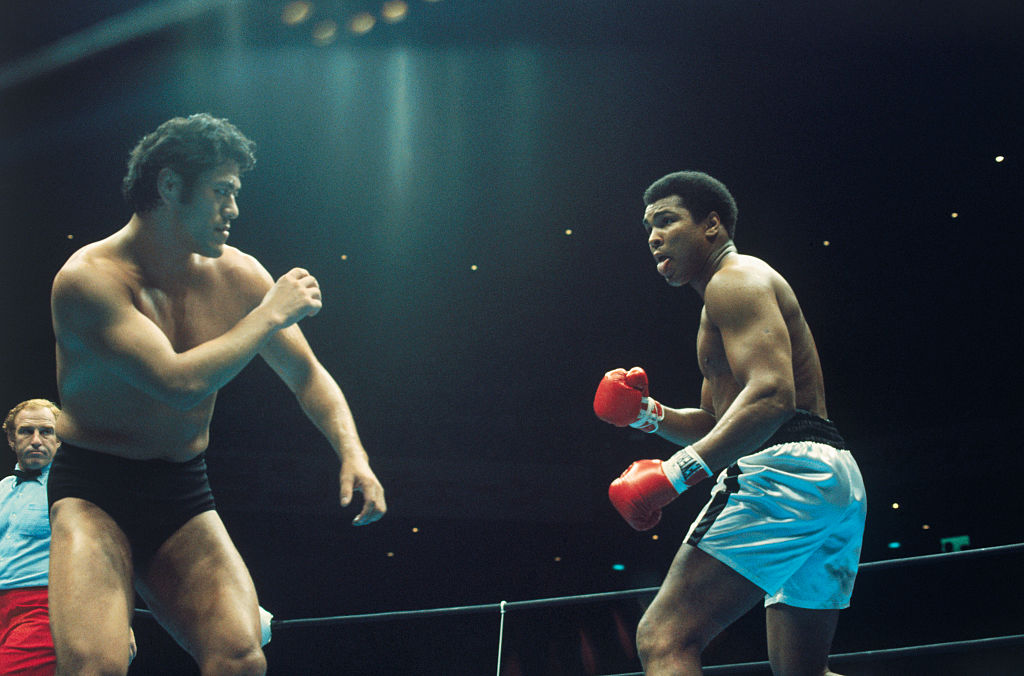 Nearly a year after the fight, Muhammad Ali invited Antonio Inoki to his wedding and the two became great friends. They discussed a rematch that thankfully never materialized. When Inoki retired from professional wrestling in 1998, Ali was right there in the front row for his final match and even presented his one-time foe with a bouquet of flowers when it was over. The two remained friends until Ali's death in 2016.