What More Must Matthew Stafford Do to Enter the Pro Football Hall of Fame?
Article Highlights:
According to Pro Scout Inc, Los Angeles Rams quarterback Matthew Stafford is still short of reaching the Pro Football Hall of Fame.
PSI's advanced metrics showed the veteran signal-caller still needs more individual accolades
Would Stafford need the accolades if he wins another Super Bowl? The answer there is complicated
In an era of instant gratification, celebrating Los Angeles Rams quarterback Matthew Stafford as a Super Bowl champion isn't enough. Instead, the football world needed to immediately ask if the 34-year-old had done enough to reach the Pro Football Hall of Fame.
A year ago, that question would have been an easy no, especially considering Stafford didn't win a single playoff game in 12 seasons with the Detroit Lions. However, four postseason wins in one year, coupled with a Super Bowl victory, can apparently go a long way toward guaranteeing a quarterback's eventual enshrinement.
Sometimes, questions like this are best left to the professionals, and Pro Scout Inc. was more than willing to find a suitable answer.
Matthew Stafford still needs to accomplish far more if he's to enter the Pro Football Hall of Fame, according to Pro Scout Inc.'s metrics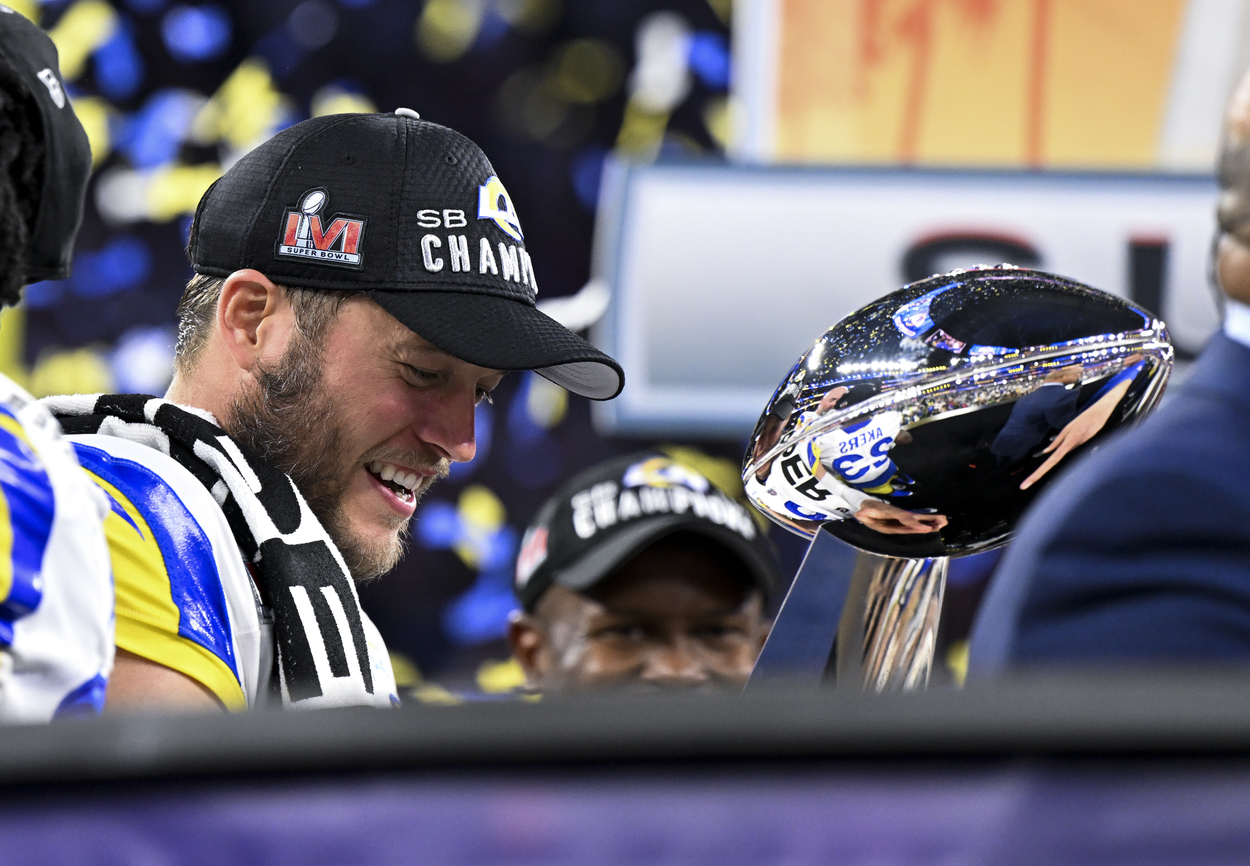 If Stafford hopes to eventually enter the Hall of Fame, the good news is that he, barring injury, still has plenty of time to further his resume. All it takes, as football fans saw this season, is one terrific year to potentially completely change the narratives surrounding a player's candidacy. 
The bad news is, unlike Ben Roethlisberger and Tom Brady, the Georgia product wouldn't be a Hall of Famer if he retired today. The credible update comes courtesy of The Athletic's Mike Sando, who spoke with Pro Scout Inc.'s Mike Giddings after Super Bowl 56. For those unfamiliar, Pro Scout Inc. has graded NFL players since the 1970s.
PSI analyzed 12 quarterbacks, nine of whom have been inducted since 2002, and three — Brady, Green Bay Packers quarterback Aaron Rodgers, and former New Orleans Saints star Drew Brees — who are almost assured of a bronze bust. The company used the quarterback's Super Bowl win-loss record, the number of Pro Bowls they made, their MVP awards, and blue years, another term for how many seasons they had that PSI considers elite.
A seven-time Super Bowl champion, Brady leads the pack with 14 blue seasons. Longtime Houston Oilers quarterback Warren Moon, a 2006 inductee, only had two elite years despite reaching nine Pro Bowls.
PSI and Sando determined the modern Hall of Fame quarterback credentials include at least one Super Bowl victory, nine Pro Bowls, 1.5 MVP Awards (which, considering there can be co-MVPs, is possible), and 5.5 elite seasons. Stafford enters the 2022 season with one Super Bowl win, one Pro Bowl, no MVPs, and two elite (at least, according to PSI) seasons.
The individual accolades could pose a significant roadblock for Stafford going forward
One of the best strategies in life is controlling what one can control. Stafford can, at least to a certain extent, control how many Super Bowls he reaches and how many elite seasons he has. Both of those factors are based solely on on-field play.
However, the individual accolades could pose a significant problem. The Hub Arkush-Aaron Rodgers kerfuffle and the National Baseball Hall of Fame's recent cycles proved that voters cannot be trusted to view things objectively. Narratives, justified or unproven or anywhere in between, can cost a player a regular-season honor, financial incentives, and, potentially, a chance at the Hall of Fame.
Even if Stafford had been named to the 2022 Pro Bowl, he would not have been eligible to play because the Rams reached Super Bowl 56. However, his resume would forever include a Pro Bowl nod attached to his 2021 season. Instead, voters chose Arizona Cardinals quarterback Kyler Murray, who missed three games with an injury and struggled after an MVP-caliber start, to play in the NFL's all-star game.
Even if Stafford's Rams lost in the NFC Championship Game, most knowledgeable football fans would likely agree Stafford had a better 2021 campaign than Murray. However, the voters opted for the Cardinals' young quarterback, which could eventually work against Stafford's Hall of Fame chances.
Could another Super Bowl ring be enough to earn Stafford a bronze bust anyway?
Some football fans, especially Eli Manning apologists, might believe a second Super Bowl ring would be enough for Stafford. As of publication, 12 quarterbacks have won multiple Super Bowls, and eight are already in the Hall of Fame. Brady, Manning, and Roethlisberger aren't eligible yet, and Las Vegas Raiders great Jim Plunkett still hasn't earned enshrinement.
However, PFI and Sando's metrics tell a different story. Manning only had two blue years and four Pro Bowl appearances. In fact, Los Angeles Chargers great Philip Rivers, who reached eight Pro Bowls and had five blue years, ranks higher than both despite never appearing in a Super Bowl.
A second ring might not be enough on its own for Stafford. He likely needs at least three more elite seasons, multiple Pro Bowl nods, and another championship to have a realistic chance of entering the Hall of Fame without buying a ticket.
Is it feasible? Absolutely. Should Stafford and his fans count on it happening? If he controls what he controls and builds off everything he did in 2021, then a 2033 ceremony in Canton, Ohio, doesn't sound unreasonable.
Like Sportscasting on Facebook. Follow us on Twitter @sportscasting19.
RELATED: Tom Brady: Ranking the Legendary Quarterback's 5 Greatest Seasons