MVP Candidate Aaron Rodgers Takes Shot at Haters Who Thought He Was Done
When looking at the candidates for the NFL MVP award this season, Aaron Rodgers is certainly one of the guys at the top of the list due to his stellar play for the Green Bay Packers. This comes even though some people have wondered whether he is at the end of his career or not since he is almost 37 years old. Rodgers has ultimately proved a lot of his haters wrong this season, so he recently addressed them with a strong message.
Aaron Rodgers has won two MVP awards in his career
RELATED: Mike McCarthy's Best Motivational Exercise Led To a Super Bowl Win for Aaron Rodgers and the Packers
Ever since becoming the starting quarterback for the Green Bay Packers in 2008, Aaron Rodgers has been one of the best quarterbacks in the NFL. This has led to him winning multiple MVP awards in his career.
Rodgers won his first MVP award in 2011. This was the season after he won the Super Bowl with the Packers, as they came back and dominated throughout the entire 2011 regular season. The Packers ultimately went 15-1 in 2011, and it was because of Rodgers throwing for 4,643 yards, 45 touchdown passes, and only six interceptions. His touchdown percentage (9%) was also No. 1 in the NFL, and he led the league in yards gained per attempt, as well as in quarterback rating.
Rodgers then won his second MVP award a few seasons later in 2014. His numbers were also pretty stellar that year, as he threw for 4,381 yards, 38 touchdown passes, and only five interceptions. Rodgers ultimately led the league with the lowest interception percentage that year, and he led the Packers to the NFC Championship Game that season.
Rodgers has not won another MVP since, even though he has had other incredible seasons. He does have a chance to win it again this season, though.
He is an MVP candidate for the 2020 season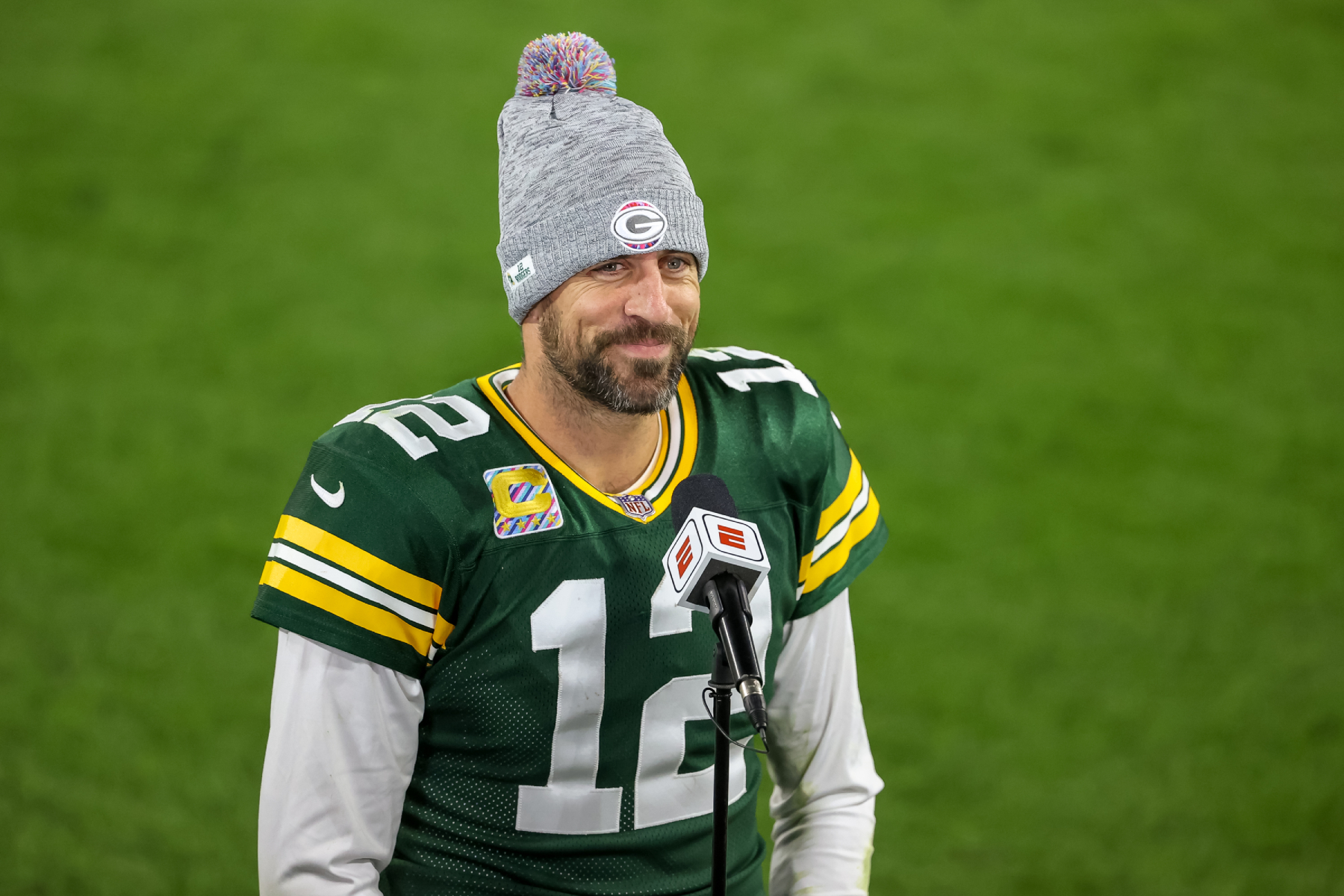 RELATED: Aaron Rodgers Reacts To Former Packers Coach Mike McCarthy Smashing Watermelons With the Cowboys
There are pretty much just three players fighting for the MVP award this season: Rodgers, Patrick Mahomes, and Russell Wilson.
The Packers are 8-3 this season with Rodgers, and he has thrown for 3,100 yards, an NFL-leading 33 touchdown passes, and only four interceptions. Rodgers also leads the NFL in quarterback rating, and his 33 touchdown passes are his most since 2016.
Mahomes has led the Kansas City Chiefs to a 10-1 record so far and has thrown for an NFL-leading 3,497 yards, to go with 30 touchdown passes, and only two interceptions. Mahomes also leads the NFL with the lowest interception percentage. Wilson, on the other hand, has led the Seattle Seahawks to an 8-3 record by throwing for 3,216 yards, 31 touchdown passes, and 10 interceptions.
It seems pretty clear that one of these QBs will win it. However, whether Rodgers wins it or not, he has proven that he is not done yet.
Aaron Rodgers sends a message to his haters
RELATED: Aaron Rodgers Delivers a Strong Message To Fans Sending Death Threats To Marquez Valdes-Scantling
Despite the Packers going 13-3 last season and reaching the NFC Championship Game, some wondered if Rodgers had lost a step. He threw for 4,002 yards, which was the third-lowest of his career when playing 15 games or more in a season. He also only threw for 26 touchdowns, which was the second-lowest when playing 16 games or more.
However, he has quickly proven this season that he is still one of the best quarterbacks in the NFL.
"When it comes to records, I love them, and milestones," Rodgers said on the Dec. 1 episode of The Pat McAfee Show, discussing how he recently surpassed 50,000 career passing yards. "I do take pride in them. I think they're more things you look back on when you're done playing. I don't think I'm done by any stretch of the imagination. Even though some people may have thought so in the offseason."
Well, that last line was interesting. Rodgers is clearly letting it be known that he heard what his doubters had to say, and that he is proving them wrong this season. He certainly hasn't looked like a quarterback that is almost done.
Aaron Rodgers is having a spectacular season and has a chance to win the MVP award. He is clearly showing that he isn't done, either.
Stats courtesy of Pro Football Reference