Myles Garrett Vows Not to Follow in Tony Romo's Footsteps but Also Refuses to Try out Celebrity Boxing: 'I'd Beat the Brakes off of Logan Paul'
Whenever people discuss why the Cleveland Browns have a chance to contend for the AFC title this season, they typically bring up their offense: Baker Mayfield, Nick Chubb, Kareem Hunt, Jarvis Landry, Odell Beckham Jr., Austin Hooper, and the list goes on. However, defensive end Myles Garrett is arguably their most talented player. In fact, he has become one of the top players in the league today.
Garrett and the Browns are currently preparing for what could be a special season in 2021, as they are coming off one of their best campaigns in years. But while recently addressing various topics, the DE discussed what his life could look like after the NFL. 
Garrett ultimately made a couple of things clear: He isn't going to be the next Tony Romo, and he won't fight guys like Jake and Logan Paul.
Browns DE Myles Garrett has developed into one of the NFL's top players
Myles Garrett entered the NFL with a lot of pressure on him, as he went to the Browns with the No. 1 overall pick in the 2017 NFL Draft.
But he has lived up to all the hype.
After having a nice rookie season in which he racked up seven sacks in 11 games, Garrett earned a Pro Bowl selection in 2018, recording 44 total tackles and 13.5 sacks.
In 2019, though, Garrett put on a show; that was until a late-season suspension cut his year short. He finished with 10 sacks and 29 total tackles in 10 games.
However, in 2020, Garrett returned to the field and had the best season of his career. He recorded 12 sacks, 48 total tackles, and four forced fumbles in 14 games for the Browns, which helped him earn Pro Bowl and first-team All-Pro honors. Garrett also helped the Browns have their best season in decades, as they went 11-5 and made the playoffs for the first time since 2002. They even won their first playoff game since 1994.
Overall for his career, Garrett has recorded 152 total tackles and 42.5 sacks. He has proven that he has a bright future, and given the five-year, $125 million contract extension he signed with the team in 2020, the Texas A&M product has a chance to turn the Browns into an NFL powerhouse.
But what about when this is all over? What are Garrett's plans for after football?
He said he won't become the next Tony Romo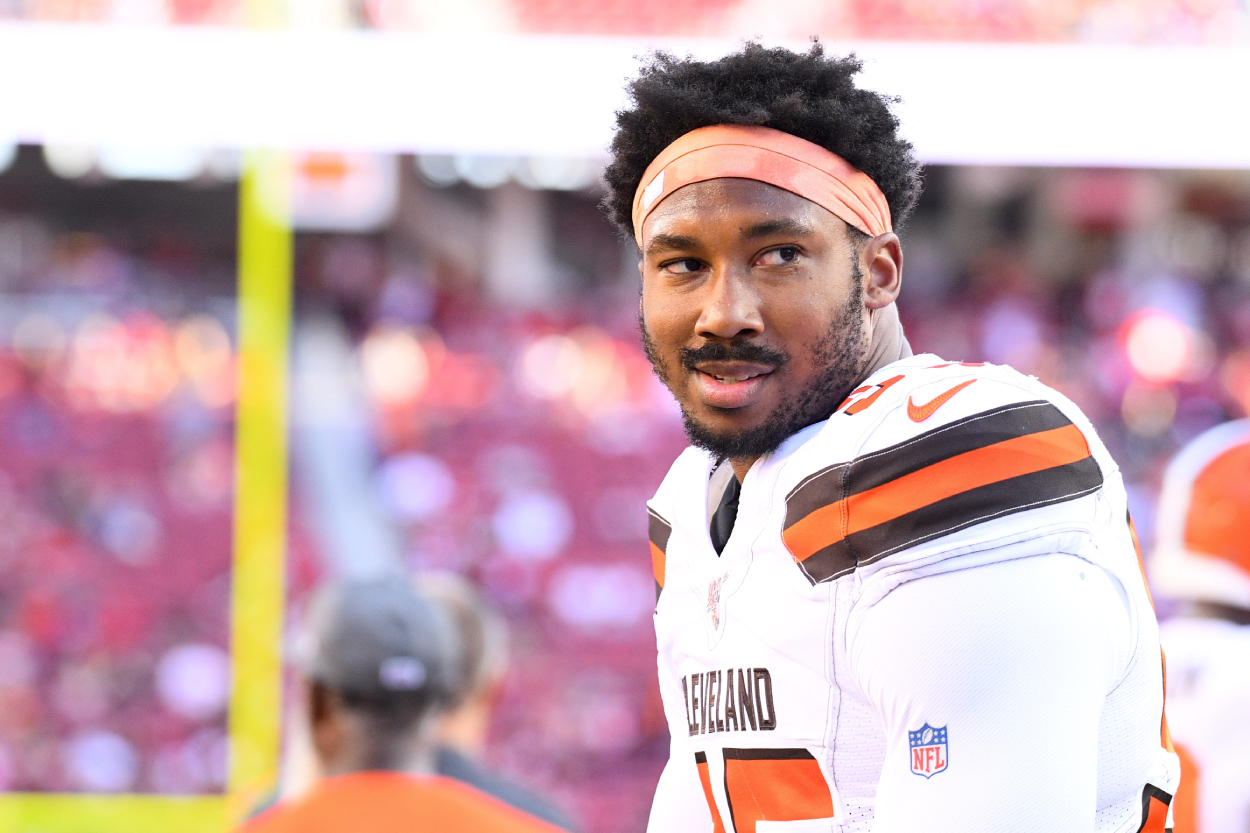 Over the years, we have seen more and more former NFL players become broadcasters. Dallas Cowboys legend Tony Romo, in particular, is currently one of the most well-respected personalities in broadcasting today and even received a massive $17-million-per-year contract from CBS back in 2020, per Sports Illustrated.
Whenever Myles Garrett's Browns and NFL days are over, though, he has no plans to follow in Romo's footsteps.
"I don't want to be a commentator. I know that," he recently told Complex Magazine. "…You can check that off right now. Once I'm done with football, I'm out. Maybe as a guest star for a big game. That might be fun. But I won't be a Romo, none of that. A Howie Long. I'm good. I'll do what I do now. I like playing video games, I like playing other sports. Might get me on a celebrity basketball game one time."
OK, so Garrett knows what he has no interest in doing.
However, he also added that while he will likely play other sports in the future, he's not going to compete in a specific one: celebrity boxing.
Myles Garrett won't become a celebrity boxer, either
Celebrity boxing has become the new sports fad in recent years, as YouTubers Jake and Logan Paul have helped make it popular.
Garrett, though, refuses to enter that world.
"You won't get me into celebrity boxing. I think it's foolish enough as it is. You're not going to get me on that," he said to Complex.
When asked whether Logan Paul could challenge him?
"I'd beat the brakes off of Logan Paul, but I have bigger fish to fry. I got a career to take care of," he said.
Given that Garrett is 6 feet, 4 inches, and 272 pounds, while Logan Paul is 6 feet, 2 inches, and around 199 pounds, per The Athletic, the NFL star probably has a point.
So, what does the two-time Pro Bowler want to do after football?
He said he wants to maybe "get into movies and TV shows," possibly do some "voiceover work," and "entertain that historical and paleontological side in" his "brain that wants to go do things all over the world."
But no matter what Garrett does with his life, he still has quite a few more years in Cleveland and the NFL. He is currently on a path to becoming a Pro Football Hall of Famer.
Stats courtesy of Pro Football Reference