Can You Guess the NFL's Top 5 Receiving Leaders?
The National Football League is anything but predictable. You may be able to determine which players are the most popular or make an educated guess as to which teams have the best shot at winning the Super Bowl, but in the end, there are no guarantees. And that, among many other reasons, is why we love the game so much. In just over a quarter of the 2016 season, the NFL reminds us just how unpredictable it can be. While many of the game's top players have struggled and a handful of early contenders find themselves playing serious catchup, other long shots are emerging as legit players.
One area where this is most notable is the current NFL receiving yards leaders. Prior to the beginning of the season, some individuals appeared more equipped to outpace the rest of the competition. Yet, through the first five weeks of 2016, the list of the top five NFL receiving leaders looks a little different than expected. Take a look for yourself — we bet you didn't see the No. 1 spot coming. You're "Lion" if said you did.
5. T.Y. Hilton, Indianapolis Colts
Receiving yards: 507
The Indianapolis Colts may be wasting their franchise quarterback's talent, but at least Andrew Luck knows he can always count on wideout T.Y. Hilton. Through the first five weeks of the 2016 season, No. 13 has caught 35 passes for three touchdowns. He is averaging 101.4 yards per game and is fifth in the league in total receiving yards with 507. If only Hilton could also help his QB from getting sacked all the time, then he'd be an even more valuable player than he already is.
4. Greg Olsen, Carolina Panthers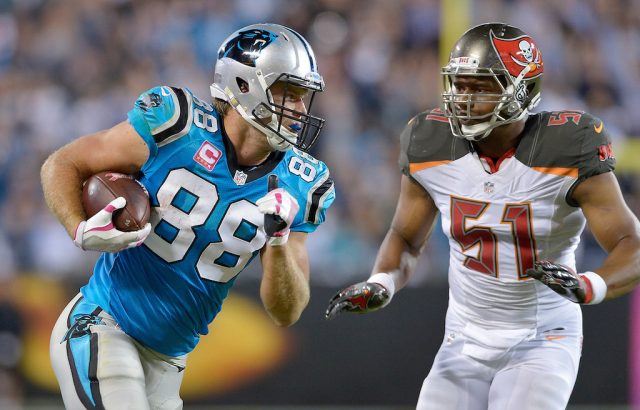 Receiving yards: 516
At 31 years old, Greg Olsen continues to demonstrate that he is among the best pass-catching tight ends in the National Football League. After two straight trips to the Pro Bowl, the Carolina Panthers superstar is on pace for the best season of his career. Following a Week 5 performance that saw him haul in nine passes for 181 yards against the Tampa Bay Buccaneers, Olsen now has 516 total receiving yards and is averaging 103.2 yards per game. If only the Panthers could build off their tight end's success, as the reigning NFC champs are off to a less-than-inspiring 1-4 start.
3. Julio Jones, Atlanta Falcons
Receiving yards: 517
Just as he did in 2015, the Atlanta Falcons' Julio Jones continues to cement his place among the top two or three receivers in the NFL. Thanks to a 300-yard receiving game in the team's Week 4 victory against the Denver Broncos, Jones now has 517 total receiving yards in 2016. He is averaging 103.4 yards per game and has hauled in three touchdown grabs. Considering what a matchup nightmare Jones is at 6-foot-4, 220 pounds, we feel bad for any cornerback who's forced to line up across from him.
2. A.J. Green, Cincinnati Bengals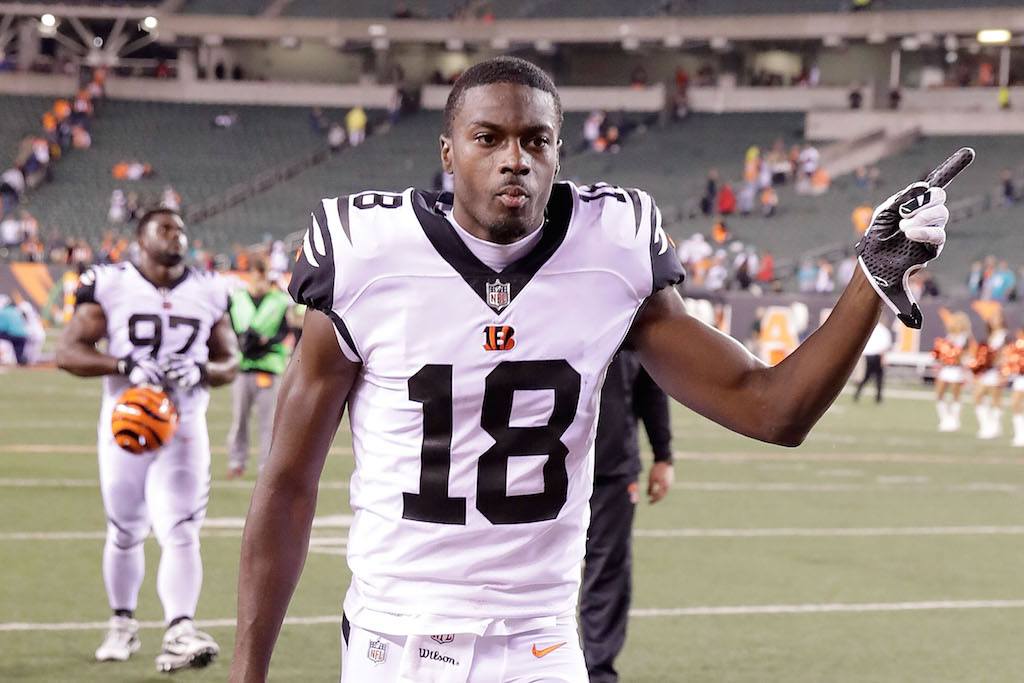 Receiving yards: 518
Despite making five straight trips to the Pro Bowl, it seems like Cincinnati wideout A.J. Green never gets the credit he truly deserves. Sure, everyone knows he's among the top receivers in the game. However, we're not certain folks realize just how good he truly is. Well, fear not, we're about to tell you. Green is second in the league in receptions (36), yards per game (103.6), and total receiving yards (518). As it stands, the 28-year-old has already amassed at least 173 yards receiving in two separate games. Yeah, we know what you're thinking — he's really, really good.
1. Marvin Jones, Detroit Lions
Receiving yards: 519
We told you we aren't "Lion" here. In his first season with the Detroit Lions, wide receiver Marvin Jones has done nothing but exceed expectations. Through the first five weeks of the 2016 season, the former fifth-round pick has 27 catches, three touchdown receptions, and leads the National Football League with 103.8 receiving yards per game and 519 total receiving yards. With tons of football left to play, we are curious to see if he can keep up his current pace. For Detroit's sake, we hope he can.
Statistics courtesy of Pro-Football-Reference.