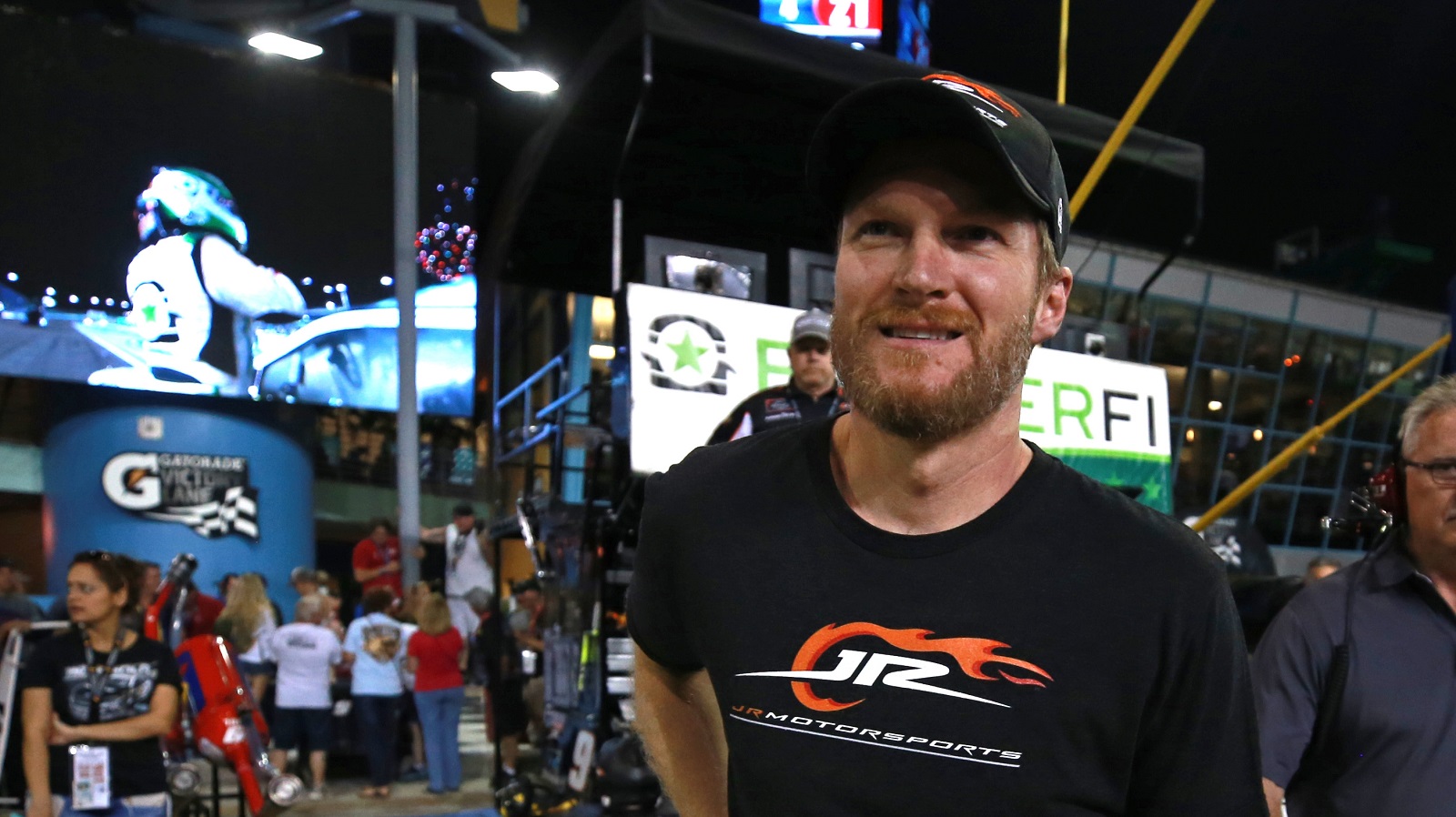 NASCAR 3-Wide Notebook: Dale Earnhardt Jr. And Other Stars Are Turning Up in the Oddest Places at Martinsville
Dale Earnhardt's return to the Xfinity Series is one of the highlights of NASCAR race weekend at Martinsville.
Other than the Cup Series racing on Easter Sunday, this weekend is probably the strangest race schedule of the NASCAR season. With The Masters Tournament wrapping up on Sunday during the normal window for racing on Fox, NASCAR moved a full set of practices, qualifying, and competition up one day to steer clear of golf.
We're here to set the stage for the weekend, which begins Thursday with the Camping World Truck Series race and features Dale Earnhardt Jr.'s return on Friday.
Turn 1:  NASCAR Drivers are turning up in unexpected places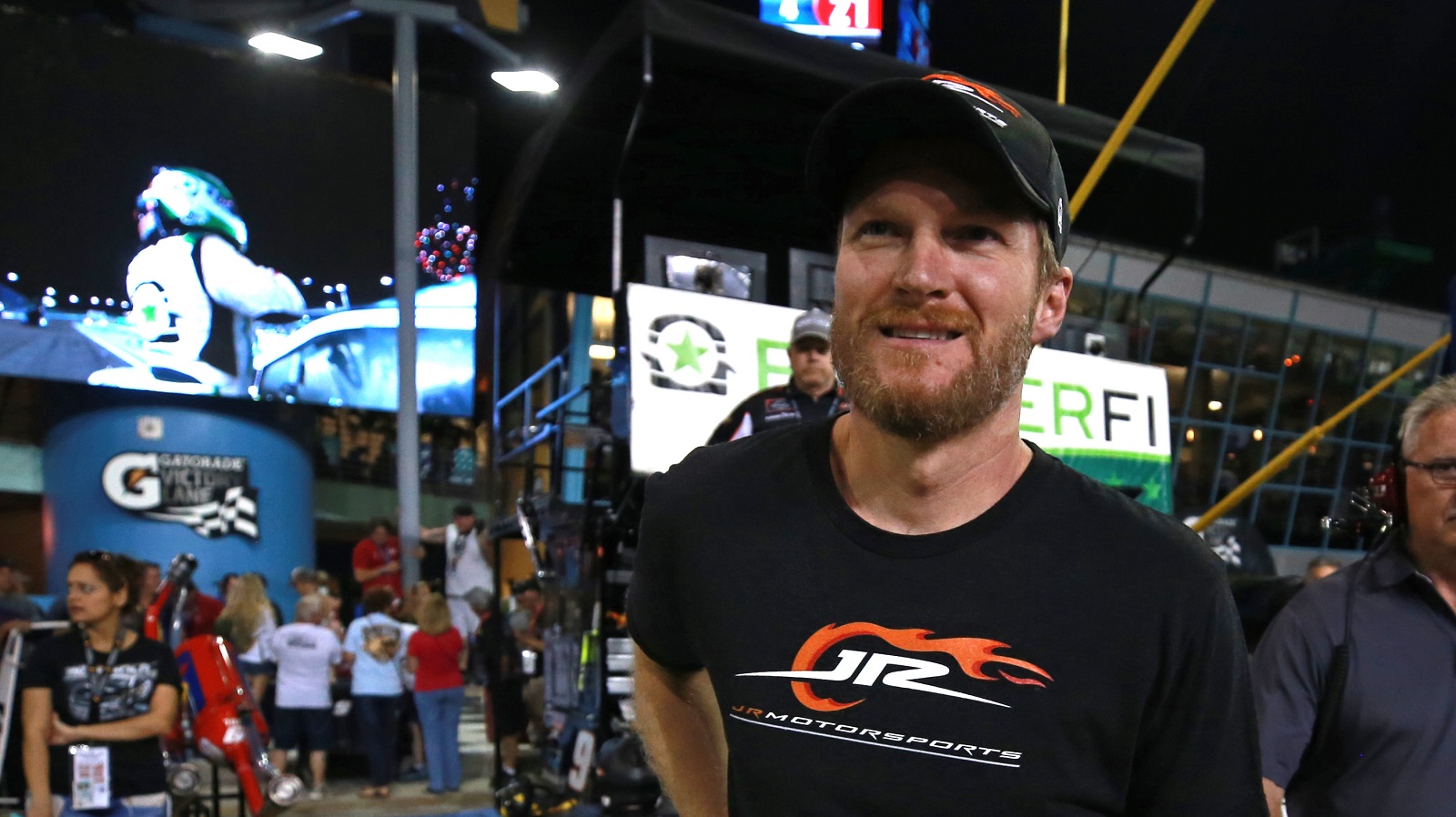 Add William Byron to the list of drivers making a belated return to truck racing. Earlier in the week, David Gilliland Racing announced that Joey Logano and Harrison Burton are driving for the team in Thursday's Blue-Emu Maximum Pain Relief 200 at Martinsville Speedway.
Logano hasn't raced in the Camping World Truck Series since 2015, and he won't be the only Cup Series regular returning to relatively unfamiliar territory. Spire Motorsports has booked William Byron to drive the No. 7 Chevrolet in the 100-mile race. Byron finished half the race in Nashville last season before his truck developed engine trouble. Prior to that, he hadn't driven in the third-rung series since 2016, when he won seven races and finished fifth in points.
Aside from Byron, Logano, and Burton, Kyle Busch is entered in the truck series for the third time this season. He's placed second in Las Vegas and third at Circuit of the Americas so far in pursuit of a 62nd career victory. He previously won in trucks at Martinsville in 2016 and '19.
Turn 2: Dale Earnhardt Jr. picked Martinsville for his annual Xfinity Series race
Dale Earnhardt Jr. retired from the NASCAR Cup Series at the end of the 2017 season, turning his focus to operating JR Motorsports, developing a popular racing podcast, and working as a race analyst for NBC.
Earnhardt scored 26 Cup series victories in 19 seasons. Before that, he captured a pair of Xfinity Series season championships by winning 13 of 63 races. Joining the Cup Series curtailed Earnhardt's time in Xfinity cars, but he still scored another 11 victories in 67 starts from 2001-17.
In retirement, Earnhardt sets aside one weekend a year to compete in the Xfinity Series. This year's race happens to be Friday at Martinsville for the Call 811 Before You Dig 250, and it's Earnhardt's chance to get back into the top 10.
Here's how he has fared in his one=offs since retiring:
Fourth at Richmond in 2018.
Fifth at Darlington in 2019.
Fifth at Homestead in 2020.
14th at Richmond in 2021.
Earnhardt got on the nerves of full-time competitors Josh Williams and Kyle Weatherman last September in Richmond. With Earnhardt racing on a track that's about 30% smaller but with just as many cars, it should be interesting to see how he gets along with the regulars.
Turn 3: Kyle Larson tuned up for Saturday with a dirt track victory
Kyle Larson scored a win against some NASCAR colleagues on the one-eighth-mile dirt track at Millbridge Speedway in Salisbury, North Carolina, on Wednesday. The defending NASCAR Cup Series champion competed in the non-winged 600cc Micro division's 30-lap feature, according to NASCAR.com.
The race began with Larson and two-time ARCA Menards Series West champion Jesse Love on the front row, with Love taking the lead from the outside. Following a caution and restart four laps in, the pair swapped the lead several times over two laps before Larson took charge.
Other NASCAR regulars in the field included Tyler Reddick and Christopher Bell from the Cup Series, 2020 truck champion Sheldon Creed, and Xfinity Series race winners Brandon Jones and Noah Gragson.
Turn 4: Dates, times, and TV info for the Martinsville, including Dale Earnhardt Jr.'s return
All three national series are back in action this weekend at Martinsville. Here's the rundown:
Cup Series: The Blu-Emu Maximum Pain Relief 400 airs Saturday at 7:30 p.m. on FS1. The 210.4-mile race has stage breaks set at 80 and 180 laps. Martin Truex Jr. won the 2021 Martinsville spring race, which was a 500-lap event. Alex Bowman triumphed in the fall race, which was the final competition before the Championship 4 in Phoenix.
Xfinity Series: Call 811 Before You Dig 250 airs Friday at 7:30 p.m. on FS1. The 131.5-mile race has stage breaks at 60 and 120 laps. Josh Berry scored his first career victory in the Martinsville spring race. Noah Gragson took the checkered flag when the series returned for the playoffs.
Camping World Truck Series: The Blue-Emu Maximum Pain Relief 200 airs Thursday at 8 p.m. on FS1. The 105.2-mile race has stage breaks at 50 and 100 laps. The trucks didn't race at Martinsville last spring, but Zane Smith won the playoff race in the fall.
Like Sportscasting on Facebook. Follow us on Twitter @sportscasting19.