NASCAR and F1: The Time Jeff Gordon Almost Crashed Juan Pablo Montoya's Formula 1 Car
On June 11, 2003, a unique event unfolded at the Indianapolis Motor Speedway Road Course. This was not a simple media day or an announcement from the circuit; it was far more significant and carried a tremendous amount of anticipation and excitement.
Four-time NASCAR Champion Jeff Gordon would swap seats with 1999 Champ Car Champion and 2000 Indy 500 winner Juan Pablo Montoya. Gordon would get a chance to drive the record-setting HP Williams-BMW FW24 Formula 1 car, which had set the fastest ever Formula 1 lap, averaging 162 mph at Monza in Italy. Montoya would have the opportunity to drive the legendary number 24 Dupont Chevrolet Monte Carlo stock car, which captured six wins for Gordon in 2001.
The stage had been set for a side-by-side comparison of two of motorsport's biggest and most talented stars in cars just as legendary as their drivers.
A fighter jet for the track versus a V8 powered monster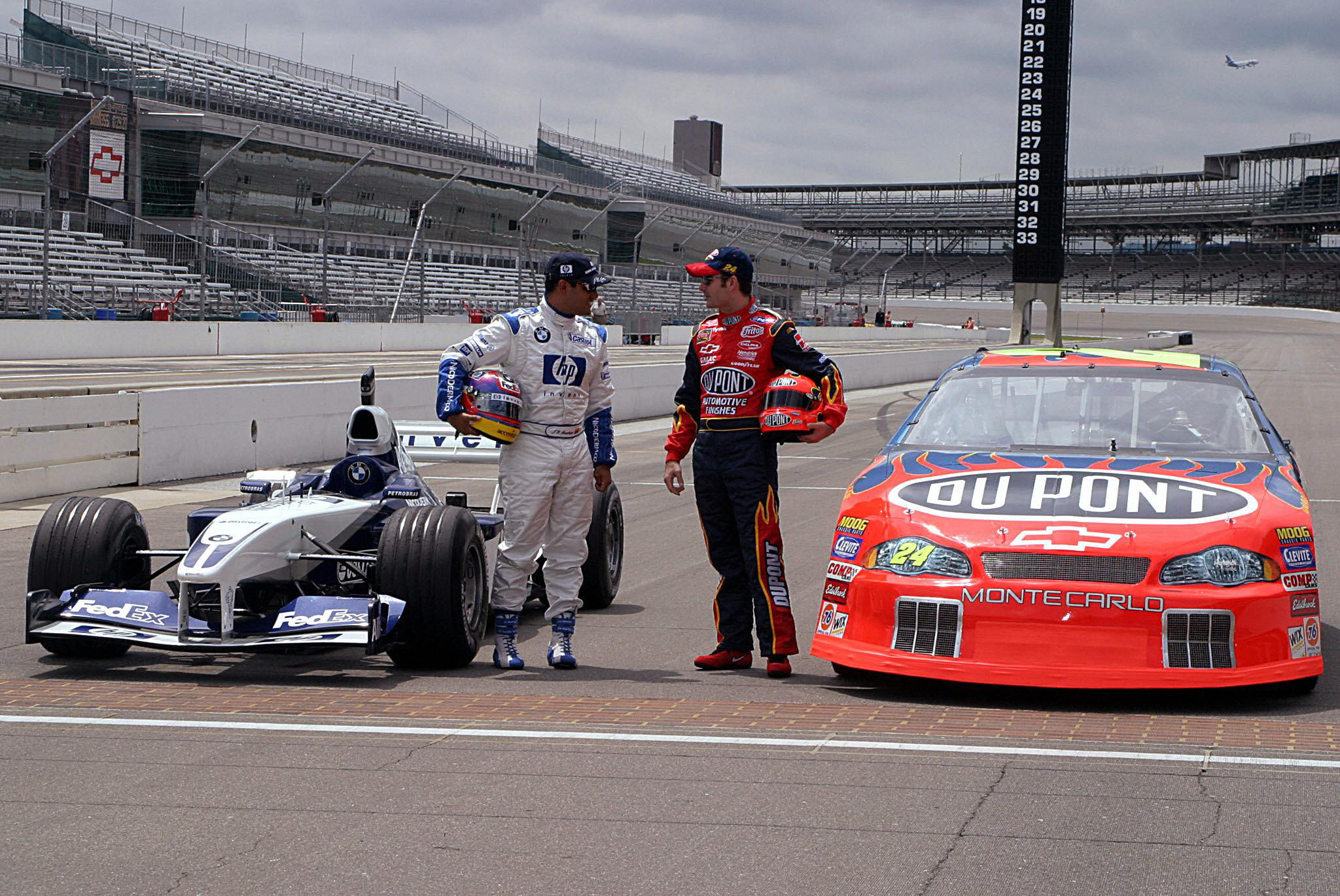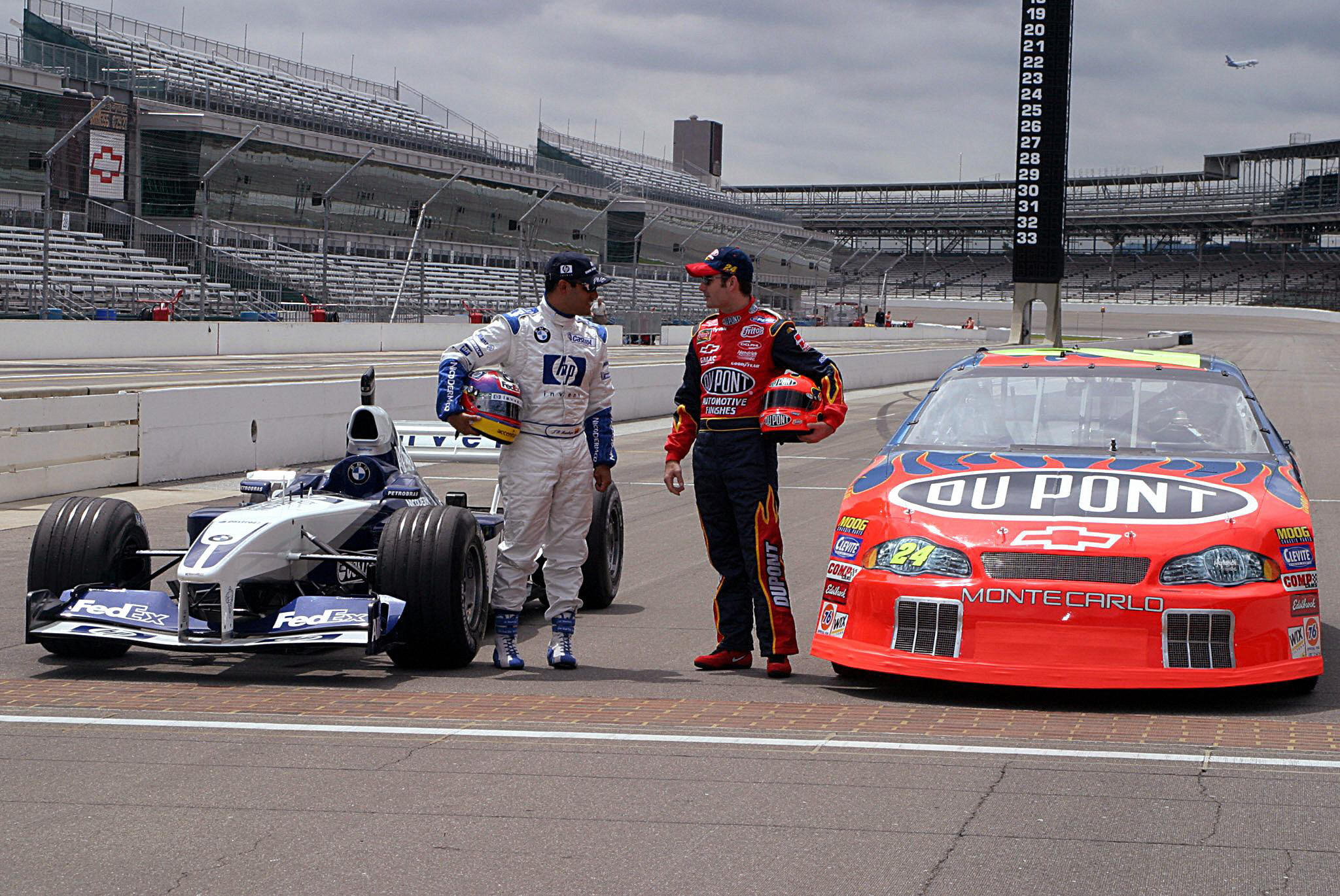 When it comes to comparing motorsport series, few are more different than NASCAR and F1. In 2003, when the seat swap took place, Formula 1 was in the middle of its V10 era. Montoya's Williams-BMW Formula 1 car was often referred to as a fighter jet on the road as it made use of cutting-edge technology, making it the fastest racecar in the world.
A 3.0-liter V10 engine produced 900+ horsepower at a screaming 19,000 rpm. The carbon-composite chassis weighs just 1,325 pounds with the driver, and the whole package could hit 235 mph. Loaded with onboard telemetry, sophisticated traction control, and the most advanced aerodynamics of the day, Montoya's F1 racer was a true technological masterpiece.
By comparison, Jeff Gordon's stock car was rudimentary. A V8 engine producing around 700 horsepower propelled 3400 pounds of tube-frame chassis, driver, and fuel around the track at speeds approaching 200 mph. It would be a mistake, however, to discount the stock car. Simple technology by comparison to the Formula 1 car, but there is nothing simple about driving one fast. The stock car moves around a lot on narrow tires that limit mechanical grip. Explicitly designed for oval-track racing, its speed comes from the talent of the driver and the crew setting up the machine.
A nearly $12 million mistake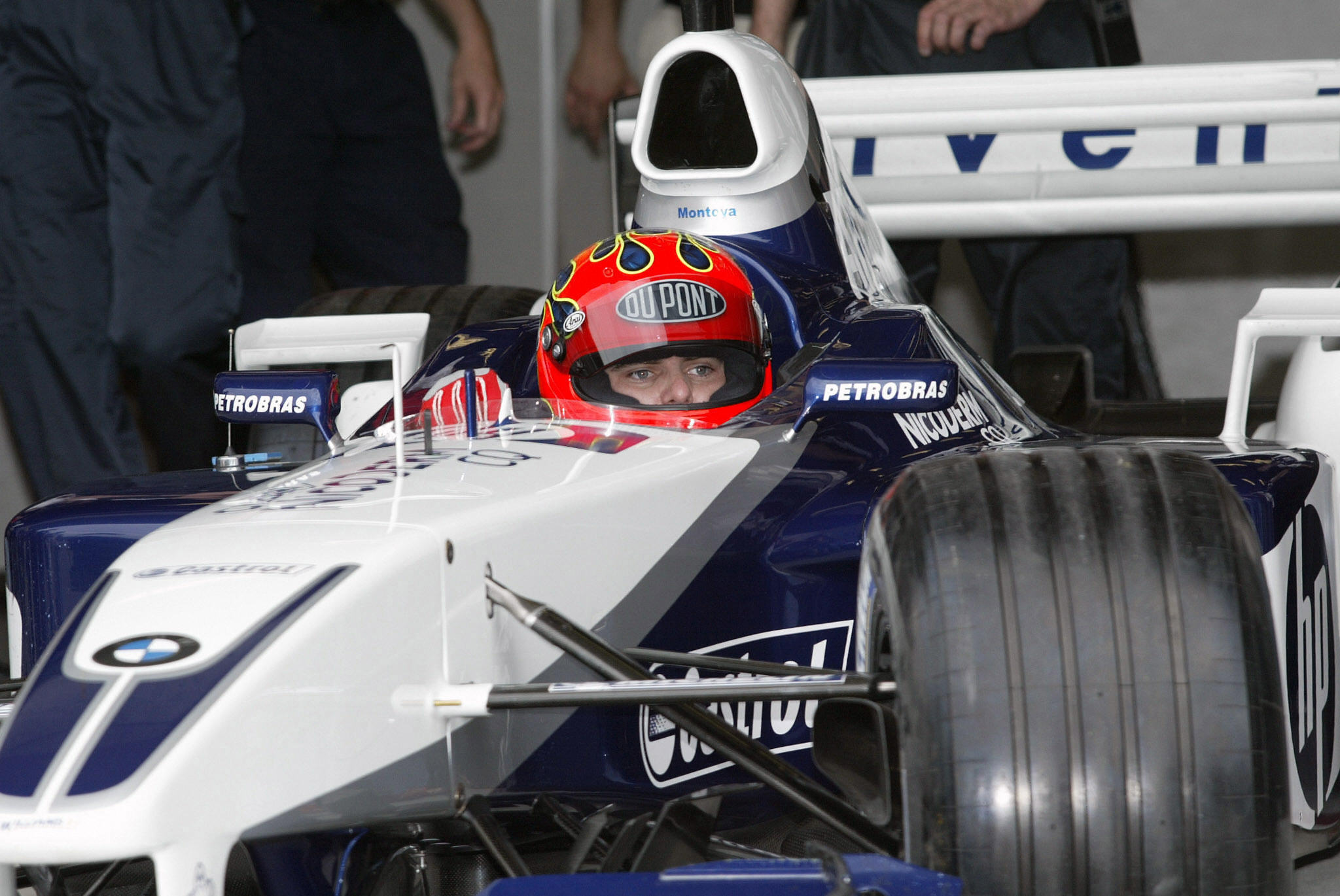 At the event's start, each driver took their car out for a series of warm-up and demonstration laps around the 2.6-mile road course. They each set a benchmark time, not at full race pace, but quick enough to be impressive.
Jeff Gordon strapped into the Formula 1 car, getting the first runs of the day. Pulling out of the pit lane, Gordon took it easy on the first lap before building speed and getting more comfortable in the car. His first few laps were well off the pace, but that is understandable given Gordon's first-ever experience in the car.
The second outing looked more promising for Gordon, and he began to adapt to the speed of the F1 car. However, entering turn eight after the back straight saw Gordon and the Williams leave the pavement and head into the grass, perilously close to the tire wall.
It appeared that the problems started for Gordon as he released the brakes entering turn 8. On a Formula 1 car, the downforce builds with speed, and when slowing the car for a turn, a driver needs to remember that they will have less downforce the slower the vehicle gets. As Gordon slowed the vehicle, the downforce went away, and when he released the brakes, transferring load away from the front wheels, the vehicle began to lose grip. The front slid across the track and sent the car into the grass and near the tire wall.
If not for Gordon's recovery, that single mistake could have written off a $12 million race car.
Montoya didn't have it all his way either. The Columbian ace overshot turn one during his laps in the stock car, sending the number 24 car off the end of the straight.
Neither driver caused any damage to the cars and were able to continue their runs. No one wants to be the driver that returns to the pits to explain an accident, and surely neither Gordon nor Montoya wanted to have to explain how they crashed a legendary race car.
Gordon's off-track moment was the closest either of the two drivers came to any actual accident and likely made for a good story around the Gordon family dinner table.
How did the two drivers compare on track?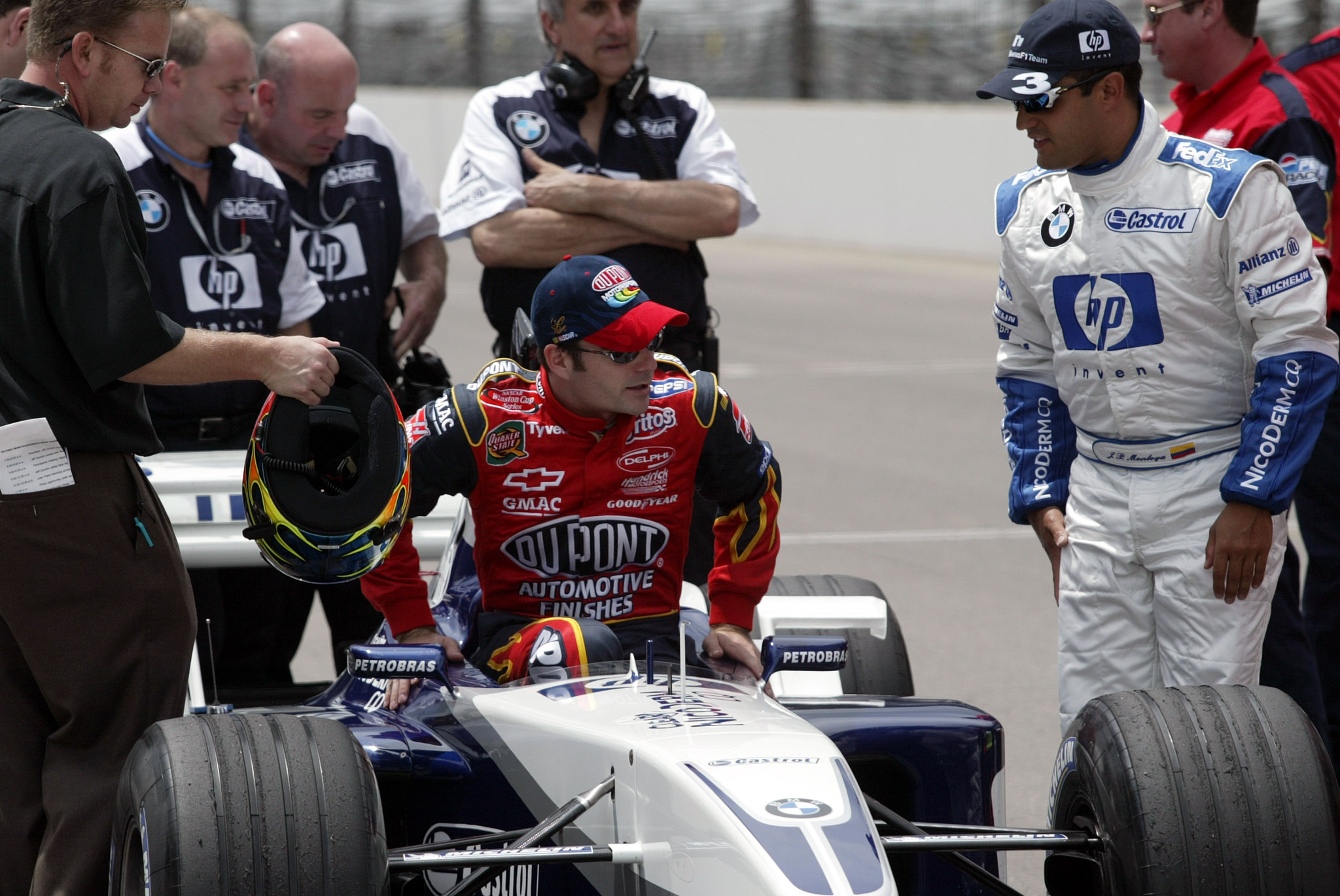 The seat swap between Gordon and Montoya was not an official test for either driver. This was an opportunity for Gordon to sample F1 machinery at a time when the series was wooing the four-time champion. Formula 1 was still struggling to gain a foothold in the American market, and an event of this caliber could go a long way to build interest in the U.S.
Jeff Gordon's best lap time in the Williams Formula 1 car was 1:16.5 seconds, and Montoya's best lap in the stock car was 1:39.9 seconds. Each driver was around one second off of the other's morning warm-up pace and represented a solid showing for both drivers.
It's never easy to get into a completely different type of race car and go fast right away, but the speed and consistency that each driver showed during the day is a testament to their skill.
By comparison, Jeff Gordon's best lap time was five seconds away from Juan Pablo Montoya's qualifying time during the Formula 1 race at Indy the previous year. An impressive showing that had many wondering if Gordon had his eyes on a career in Formula 1.
The Williams-BMW Formula 1 car was 24 seconds per lap faster than the stock car. Given its horsepower, weight, and traction advantage, that is not a big surprise, but interesting nonetheless to see how two completely different race cars do the same job.
Both drivers spoke to SpeedVision, as quoted by Motorsports.com, about their experience. Jeff Gordon had this to say, "It's just one of the coolest things I've ever experienced. Certainly, the greatest as far as being able to experience a car that can do all those things. To be in a car that can do that, I can't describe it."
Montoya echoed Gordon's enthusiasm and added, "I came and I didn't know what to expect from the car. Something that I was very clear is that I was going to go out there, you know, drive a car I've never driven and just have some fun. And I think today was go out, push a car you've never driven in your life, nothing close to it and just push it around as hard as you can. As drivers, we are always going to go out and push as hard as we can. We're not going to go out there and just cruise. We want some action."
Jeff Gordon's Formula 1 career never materialized, but Juan Pablo Montoya, just four years later, made the switch from Formula 1 to NASCAR. He never found the success in the series that Gordon enjoyed but still relished in the challenge and provided fans with plenty of on-track action.
Related: Juan Pablo Montoya Gets to Drive the Formula 1 Car He Spent His Career Trying to Beat