NASCAR Cup Series Champion Kyle Larson Crashes Victory Party at Hometown Track
NASCAR Cup Series champion Kyle Larson crashed his victory party.
Larson's hometown of Elk Grove, California, planned on staging a parade on Nov. 22 in honor of his first Cup Series championship.
Among the festivities, Larson competed in the three-day Hangtown 100 at Placerville Speedway, the track where he learned to race as a youngster.
Larson endured two accidents during the showcase race on Nov. 20. But he captured the rain-soaked Stage 2 preliminary event the previous night, adding another victory to a season full of personal triumphs.
From now on, Nov. 22 in Elk Grove is Kyle Larson Day.
NASCAR Cup Series champion Kyle Larson celebrates Cup title in hometown
A year ago, Larson was not celebrated by his hometown – or anyone else, for that matter, besides his close family and friends.
Under NASCAR suspension for uttering a racial slur during a streamed iRacing event in 2020, Larson lost his job with Chip Ganassi Racing and thought he may have lost his career.
Fast-forward 12 months.
Hendrick Motorsports took a chance on the unproven and troubled talent last offseason, and it paid immediate dividends. As the pilot of the rejuvenated No. 5 Chevrolet, Larson captured a Cup Series-high 10 races, plus the $1 million all-star event.
For Larson, winning helped cleanse his reputation.
Larson: 'Nobody's got a car like it in the field'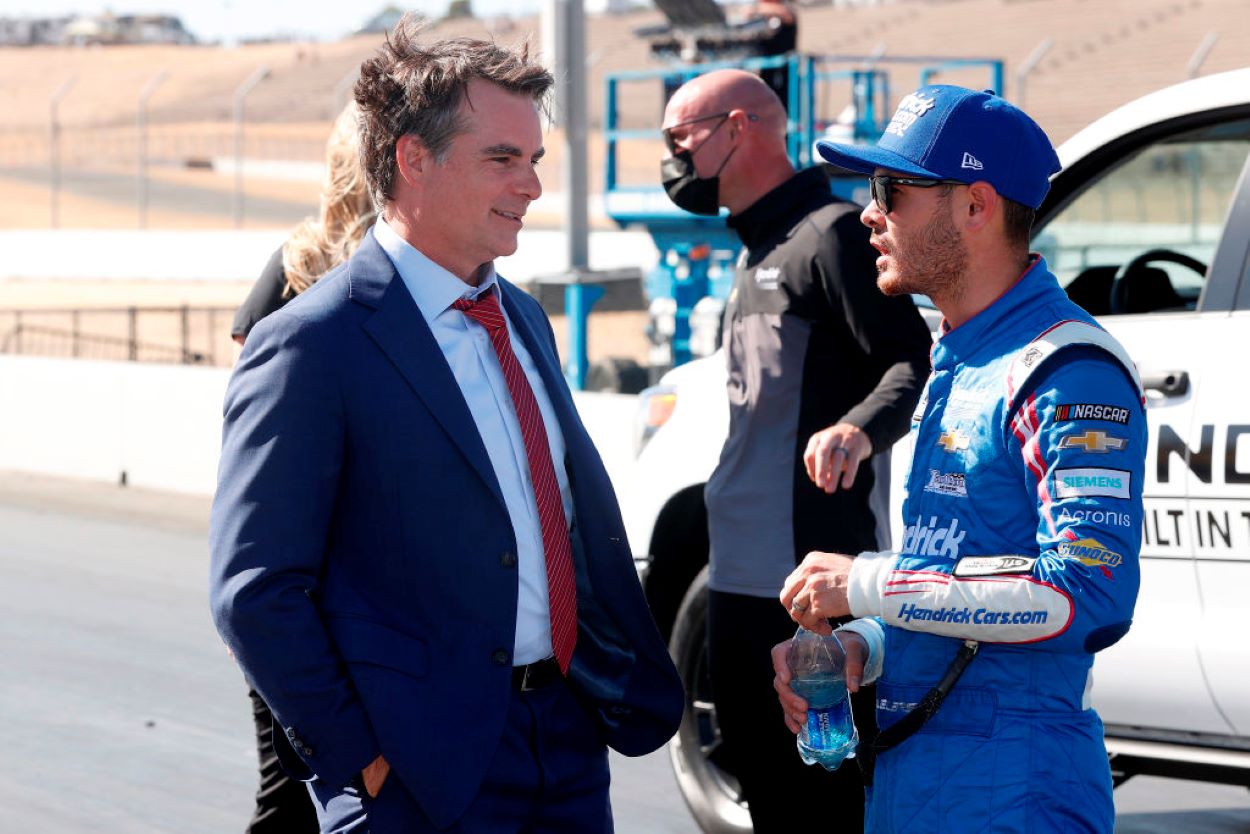 The 2019 Hangtown 100 champion, Larson, introduced a new machine for the event, created by Kyle Larson Racing's FloRacing and HencrickCars.com's chassis and engine. The setup took some time and effort by Larson and his team.
On the first night of the competition, Larson placed sixth. On the second night, he claimed his 25th career USAC National Midget race, which moved him into a tie for 17th place on the series' all-time win list.
Larson started seventh for the 30-lap preliminary event at the quarter-mile dirt track. He executed the winning move on Lap 21 by going low along Turn 4. With his car possessing the ability to drive deeper into corners, Larson claimed his second series win in three starts this season.
For the opening 20 laps, Larson maintained a game plan. For Turns 1 and 2, he rode along the top side, then swung low of the bottom of Turn 3. The strategy helped him gain momentum to pull away from the field at the end.
"Thanks to everybody who took the time to build this car," Larson told usacracing.com. "Nobody's got a car like it in the field, so it's neat to win out in our second race."
Hometown hospitality eludes Larson on Day 3 of Hangtown 100
On the third night, Larson did not enjoy a hometown hero's hospitality.
Both Larson and popular Chase Elliott finished behind the pack in a star-studded race, featuring the past two NASCAR Cup Series champions.
USAC driver Justin Grant earned $20,000 for the win, his highest payout as a driver in the midget series.
Larson, who was racing against his son, Owen, suffered a Lap 12 accident, and after returning, he drove out of control and over the cushion. Competing against 28 open-wheel competitors, Larson placed 18th. At least he holds bragging rights over his Hendrick teammate. Elliott finished 20th.
The day belonged to Larson.