NASCAR Cup Series Driver Anthony Alfredo Escapes Another Fiery Crash at Texas Motor Speedway
After spinning out on a restart, the rear of driver Anthony Alfredo's NASCAR Cup Series machine struck the wall with force.
Alfredo was instantly out of competition with 30 laps remaining of the Autotrader EchoPark Automotive 500 on Oct. 17. He put his wrecked machine in reverse and rolled down to the low end of the Texas Motor Speedway track.  
A line of leaking fluid followed the car.
It soon turned to a line of fire.
NASCAR Cup Series driver Anthony Alfredo avoided teammate but not the wall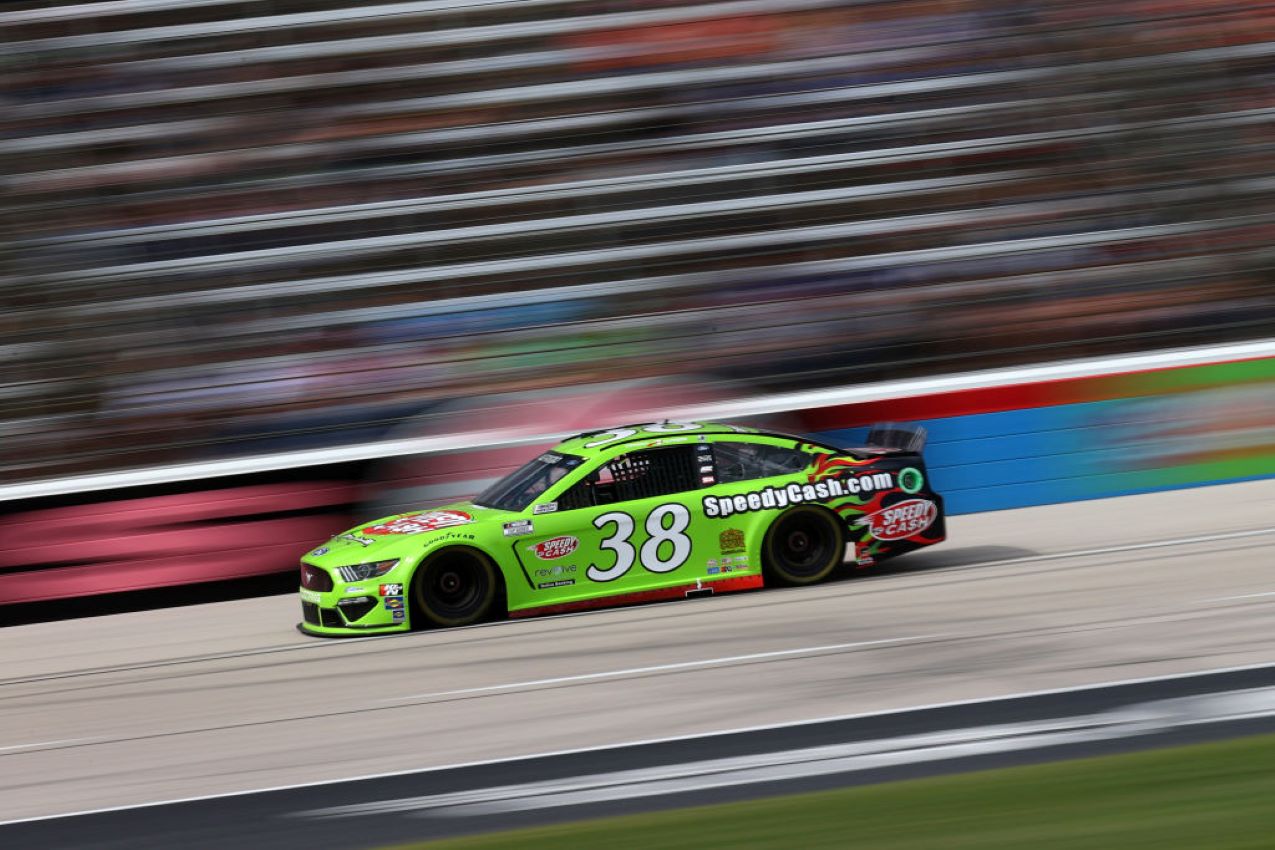 As soon as Alfredo felt the heat of flames enveloping the car, he hastily unbuckled and climbed out the window. The crowd erupted in applause as they noticed the driver step around the fire on the track and walk away safely.
Seconds after the fire was detected, a fire truck arrived on the scene, then another.
The incident occurred when Kyle Busch bumped the backside of Chris Buescher's No. 17 Ford, which slid to the inside of the track. A chain reaction of altercations resulted in Chase Briscoe's No. 14 Ford causing Alfredo's accident.
Alfredo initially reacted to avoid striking his teammate, Michael McDowell, and ended up in the wall and on fire.
"We just restarted … It spun me out, and (I) couldn't do anything to straighten it out," Alfredo told NBC Sports during the Oct. 17 broadcast. "Not that you want to run in anyone, but I checked up when he (McDowell) checked up to stay off of him."  
Alfredo describes accident as 'kind of strange'
The dust-up dropped Alfredo to a 29th-place finish, one spot behind his starting position. Alfredo is averaging a 27.1 finish this season for Front Row Motorsports.  
The fiery accident on Oct. 17 only fueled the team's consistent struggles this season. Alfredo associated the fire with his car striking the fence, which apparently jarred a part loose.  
"It was kind of strange because I slid all the way down the track and was stopped," Alfredo said during NBC Sports' broadcast. "(I) thought I was going to be able to take my time getting out, but then it just burst into flames."  
The race was delayed about 11 minutes as members of the fire department cleaned up the mess.
Rookie driver first experiences fire at Texas in trucks series
A Cup Series rookie with just one top 10-finish this season, Alfredo reacted as calmly as a seasoned veteran when his car caught fire. When it comes to fiery crashes, Alfredo is as experienced as they come.
While competing in the NASCAR World Camping World Truck Series' Vankor 350 at Texas Motor Speedway, Alfredo's machine also spun out and hit the backside hard against the wall.
It burst into flames, and Alfredo escaped after the truck stopped sliding.
After being checked out by medical personnel after his latest fiery crash at Texas, Alfredo said: "I feel fine, ready to go again."
As always, the fire department will be on call.
RELATED: Kasey Kahne Raced World of Outlaws Sprint Cars Over the Weekend and Minutes After Event Raced to Help Save Lives in a Fiery Crash Near Track