NASCAR Cup Series Driver Brad Keselowski entered Kansas Rolling, Now Regrouping as an Underdog During Round of 8 Elimination Race at Martinsville
On the second lap of the Hollywood Casino 400, NASCAR Cup Series driver Brad Keselowski spotted a line off the track and took it.
Cruising along on the apron, Keselowski used the aggressive maneuver to pass Round of 8-rival Kyle Busch for third place during the early stages of the event at Kansas Speedway on Oct. 24.
On a roll the past several weeks, Keselowski appeared a threat to qualify for the Championship 4.
The roll Team Penske's No. 2 Ford enjoyed soon slowed.
NASCAR Cup Series driver Brad Keselowski not treating the end of the season as a lame-duck
To qualify for the postseason and remain in contention for the final four at Phoenix Raceway on Nov. 7, the lame-duck Keselowski, who will join Roush Fenway Racing, developed a conservative next season, manageable gameplan for the fall races.
It mostly worked. Keselowski collected five top-10 finishes in seven outings before a disappointing 17th-place finish at Kansas. During the previous four events, Keselowski placed 35th at Watkins Glen International, 24th at Indianapolis Motor Speedway's Roach Course, ninth at Michigan International Speedway, and 33rd at Daytona International Speedway, prompting the change in strategy.
Entering the Round of 8 elimination race at Martinsville Speedway, No. 6-seeded Keselowski sits six points behind No. 4 Kyle Busch.
After combining to claim 17 races the previous five Cup Series seasons, Keselowski has slumped during his final run with Team Penske. His one '21 win marks his poorest showing since winning a single race in 2015. Compared to last season, he has nine fewer top 10s and has led only 331 laps, 621 fewer than 2020.
Underdog Keselowski has 'control of our destiny' during the Round of 8 elimination race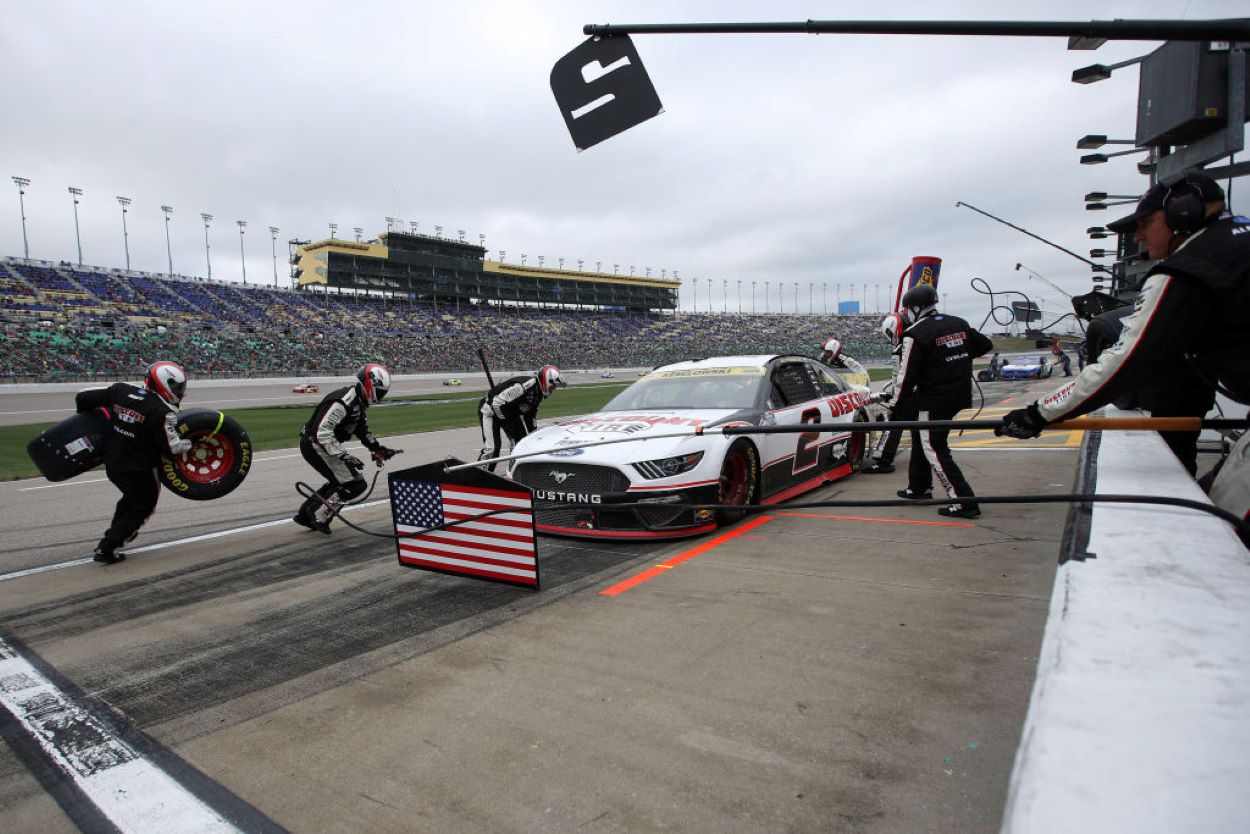 Is Keselowski being overlooked as a Championship 4 contender?
He is counting on it.
"It certainly would be a point of pride if we were able to pull that off," Keselowski said in a Q&A session with Ford Performance NASCAR on Oct. 26. "We have control of our destiny if we win the race. Even if we don't win the race realistically, if we put up a lot of stage points and do all those things, we've got a great shot, so I feel pretty good."
Since announcing his offseason move, Keselowski's on-track rivals have waited for the team to "play out the string." Outside of the mid-season slump, however, the crew has remained chiefly in synch.
"I think it would be a huge testament to the team (make qualify for the final four)," Keselowski said. "Not just myself, but the entire team to our resolve and overall mental toughness."
Keselowski racing for pride in the final two outings with Team Penske
The team's mental toughness certainly will be tested again at Martinsville's Halloween event. All three of Team Penske's drivers are in the playoffs but are below the cutoff barrier.
Keselowski said he's racing for pride even though he's trying to block out all distractions.
"I have allowed my head to go into that space a couple (of) times," he said. "It's a dangerous spot to get in because it distracts from the focus of putting it all together. So I tried to shut my brain off of that as soon as it goes in that spot, but clearly it would mean the world to me to be able to … do it for our team in our last year together."
Keselowski has two races left to get back on a roll.