Staying Home: NASCAR Cup Series Driver Daniel Suarez Set to Unpack Belongings, Keep Growing Roots with Trackhouse Racing Team in 2022
NASCAR Cup Series driver Daniel Suarez is growing roots.
The transitory lifestyle he led the past four years is different now because Suarez can unpack his tools and think about settling down.
This offseason, he is afforded extra time. He can think about improvements for the Trackhouse Racing Team's No. 99 Chevrolet instead of planning to make another move.
He's staying home.
NASCAR Cup Series driver Daniel Suarez proving to be a big part of expanding Trackhouse Racing Team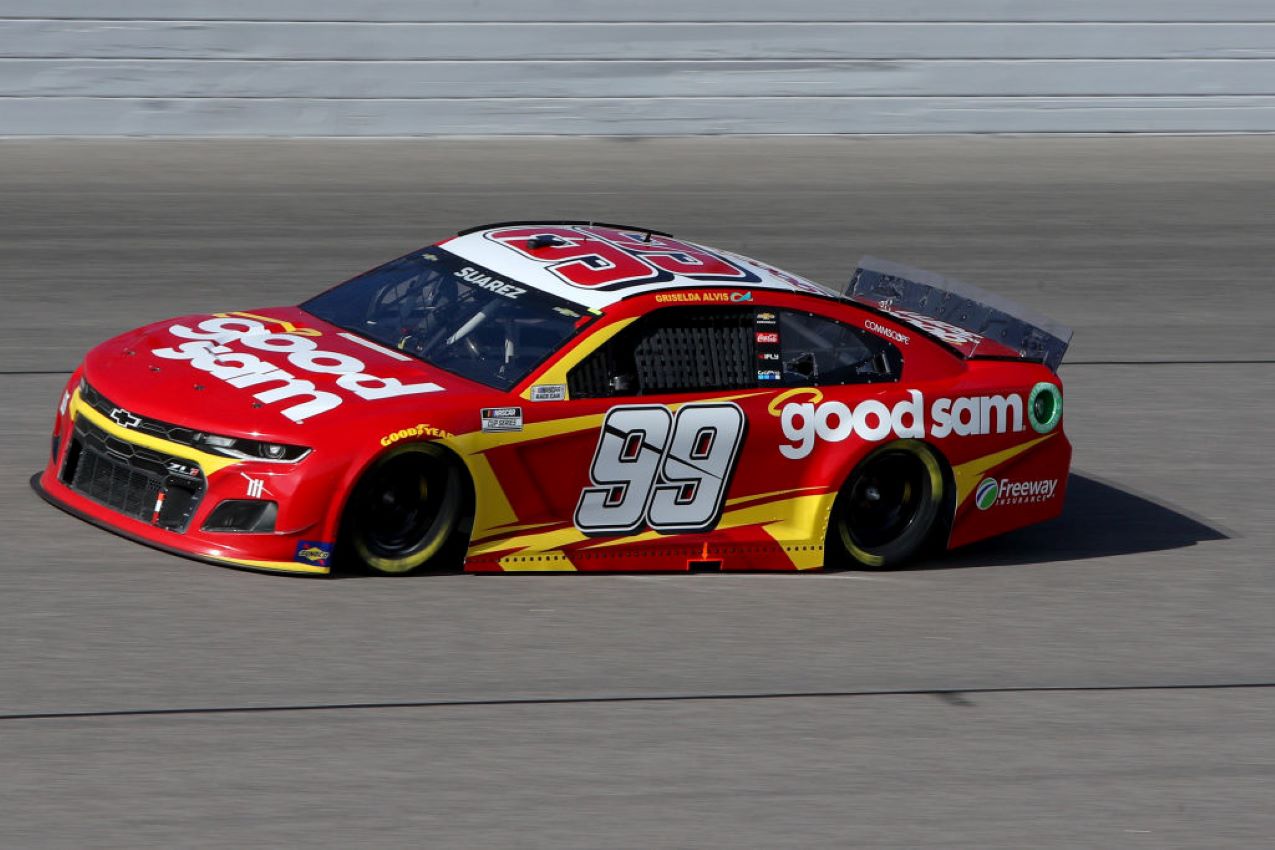 Trackhouse Racing, co-owned by Justin Marks and musician Pitbull, fielded a one-car garage during its initial season on the Cup Series, but the organization will grow to two teams in 2022.
Trackhouse, on June 30, acquired the NASCAR assets of disbanding Chip Ganassi Racing and tabbed driver Ross Chastain and crew chief Phil Surgen to launch the No. 1 Chevrolet.
For Suarez, the stability has proven to be a nice change of pace.
In 2020, Suarez drove for Gaunt Brothers Racing. The year before, he keyed a Stewart-Haas Racing machine. From 2017-18, he piloted a car for Joe Gibbs Racing.
To Suarez, Trackhouse Racing is home.
"I don't think people really understand the difference that it makes, every single time that you have to start from zero again with people, with mechanics, with engineers, that communication," Suarez told nascar.com. "It's almost like resetting the clock."
Suarez: 'I feel like we're heading in the right direction'
But the clock is ticking.
Suarez, 29, has yet to win a Cup race in his five seasons but enhanced his early-career resume by claiming the 2016 Xfinity Series championship and the '15 Xfinity rookie of the year award.
In his first year with Trackhouse, Suarez eased into the seat and reportedly grew with the crew and became a trusted voice in the garage.
"If you think about it, all these things that are very, very successful, I mean, just go back and look at the Championship 4 right now," Suarez said. "All these guys, they've been working together for a long time, for years. So they know each other very well, and they have built a team, they have gotten the best people possible, and I haven't been able to do that since I went to Cup.
"So I feel like now with Trackhouse, I'm able to build that slowly, and I feel like we're heading in the right direction."
Trackhouse Racing Team counting on continued growth of Suarez
Suarez plans on remaining an active voice to his new teammate, Chastain.
Suarez placed 25th in the driver points chase last season, compiling just one top-five finish and four top 10s. Chastain registered three top fives and eight top 10s last season. There is room for continued growth within the new franchise.
"I guess what gets me most excited is just how the team is growing with me, and I've been able to influence how I can make the team better for me," Suarez said. "You know, I've never had that before. Pretty much in the past, 'this is what you got, and good luck and that was it. And if it was good, great; then if it was not so good, too bad. But that was it. My voice wasn't loud enough to make adjustments.
"I feel like with Trackhouse, they listened to me a lot, and we've been making a few adjustments here and there, and we've been growing together, and I really like that a lot. I feel like the future of Trackhouse Racing is extremely bright, and I'm very, very happy to be along for the ride with them."
Welcome home.
RELATED: Unhappy Daniel Suarez Fires Back at iRacing After Organization Takes Cheap Shot Following His Awful Weekend at Martinsville