NASCAR Cup Series Driver Kyle Busch Has Enjoyed Success at Martinsville, Can Clinch Championship 4 Invitation With Clean Run
NASCAR Cup Series driver Kyle Busch was swept away at Kansas Speedway.
He didn't go to Oz. The suddenly inconsistent Busch just fell to 28th-place during the Hollywood Casino 400 on Oct. 24.
Busch suffered a flat right tire on Lap 24, then a wind-blown crash along a hazardous Turn 2. Suddenly, his once-solid hold on qualifying for the Championship 4 turned tenuous.
NASCAR Cup Series driver Kyle Busch aims to speed away from recent inconsistent runs
Entering the Round of 8 elimination race at Martinsville Speedway on Oct. 31, Busch is one point above the cutoff.
Drafting his points position, hungry Team Penske stable-mates Ryan Blaney (minus-one point) and Brad Keselowski (minus-six) are trailing close behind. Joe Gibbs Racing's Martin Truex, Jr. is three points under the cut.
A two-time Cup Series champion, Busch participated in the final four from 2015-19. His 59 career wins are the most among active drivers and rank ninth on the all-time list.
For more than a decade-and-a-half, Busch has proven to be one of the most consistent competitors on all three of NASCAR's national series. He owns the all-time win marks on the Xfinity Series (102) and Camping World Truck Series (61).
But inconsistencies have put Busch on the edge of missing out on the Championship 4 at Phoenix Raceway on Nov. 7. Over the past 10 events, Busch registered five top 10s, but also five results of 21st or worse.
Busch remains optimistic entering the final Round of 8 race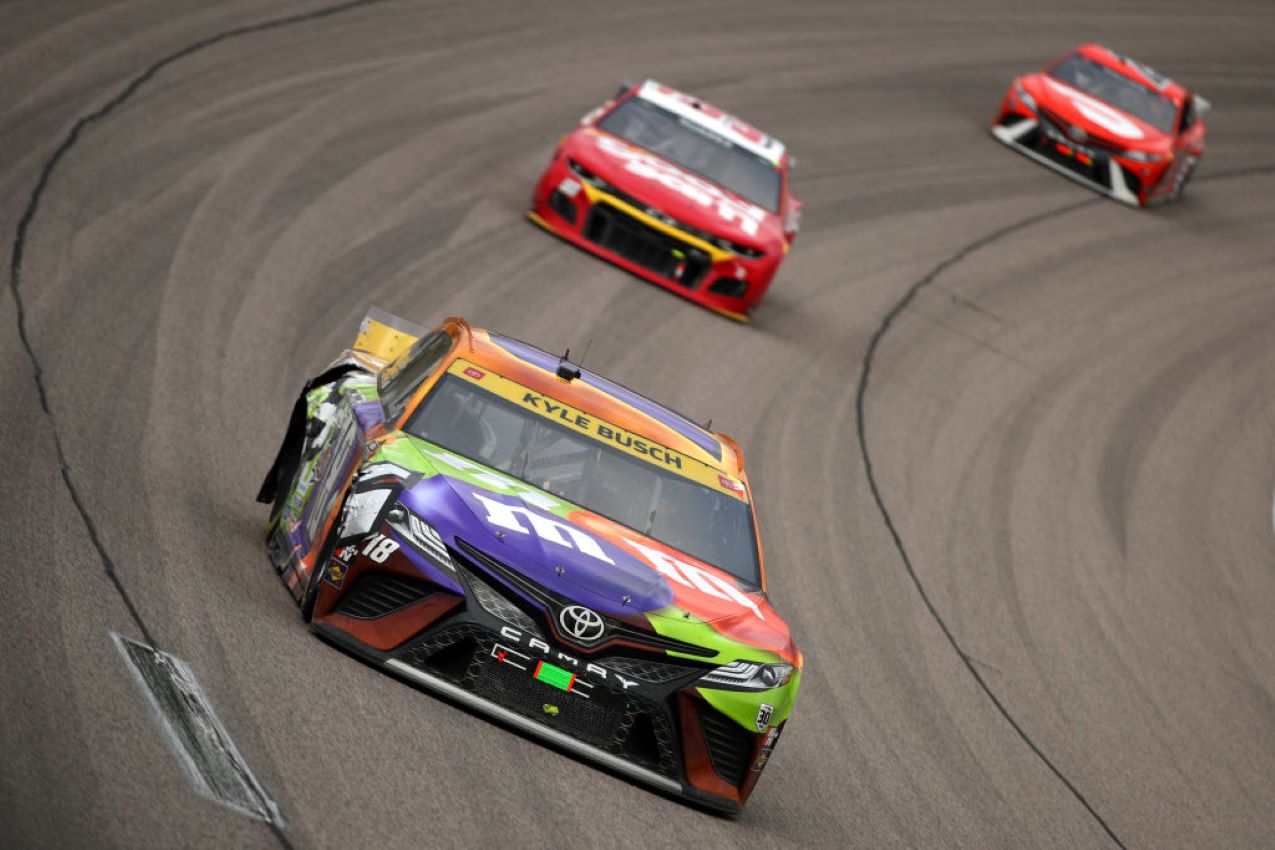 Busch was surprised to still be above the points cutoff line after being blown away at Kansas.
"I was expecting much worse." he was quoted as saying on a team press release. "We still have a decent shot, but it's just going to be tough. Just going to be a hard-fought fight for that final spot.
"You don't necessarily have to win, but certainly we are going to have to work hard to get up front and stay up there, get as many stage points as possible and see where things shake out."
Looking ahead to the Xfinity 500 at Martinsville, Busch remains optimistic with his Championship 4 outlook. In his last 20 events at the "The Paperclip," Busch collected two wins among nine top-five finishes.
Overcoming early-career struggles at the Cup Series' shortest track, Busch has developed a dependable racing style at Martinsville.
"Typically," he said, "you are off the throttle more than you are on the throttle at Martinsville, so your time is lost or made when you are off the gas."
Championship 4 pressure may make 'tough' Martinsville track tougher
So, what's the key to running with the leaders during Xfinity 500?
Here are the two main points of Busch's gameplan:
During pitstops, "you certainly hope it goes the right way, or you make enough of it, or you don't make too much of an adjustment." In other words, make each stop quick and efficient.
Over the final 50 laps, tire management needs to be accurate.
"It's a tough racetrack," Busch said.
The pressure of qualifying for the Championship 4 likely will make it tougher to execute a clean ride.