NASCAR Cup Series Driver Ryan Blaney Falls to 0-for-4 Attempting to Advance to Championship 4: 'Losing is Losing … It Sucks'
NASCAR Cup Series driver Ryan Blaney is confused.
He is frustrated.
He is out of the Championship 4.
Again.
NASCAR Cup Series driver Ryan Blaney bows out of Championship 4 contention
For the fourth time in his eight-year career, Blaney failed to advance out of the Round of 8. Blaney placed a disappointing 11th at the Xfinity 500 at Martinsville Speedway in his latest elimination event on Oct. 31.
He needed a win or, at least, a strong run ringing up stage points to advance, but neither scenario developed.
Blaney's been driving on the fringe of NASCAR's upper echelon of driver dignitaries the past few seasons, but it hasn't happened. Not yet.
"A head-scratcher," Blaney said of his Martinsville outing via Ford Performance press release. "It was definitely frustrating.
"I was looking forward to (Oct. 31) a lot."
Two races ago, Blaney departed Texas Motor Speedway with a sixth-place finish. He was ranked second among the Round of 8 drivers, 17 points above the cutoff line.
Even without a playoff win, he appeared to be in a solid position to qualify for his first final four. But a hard-luck effort at Kansas dropped him below NASCAR's version of the Mendoza Line, and additional misfortune at Martinsville left him searching for answers.
How did it all fall apart the past two weeks? Blaney was left confused. It will be another long offseason for the No. 12 Ford.
Blaney's mid-season consistency turns inconsistent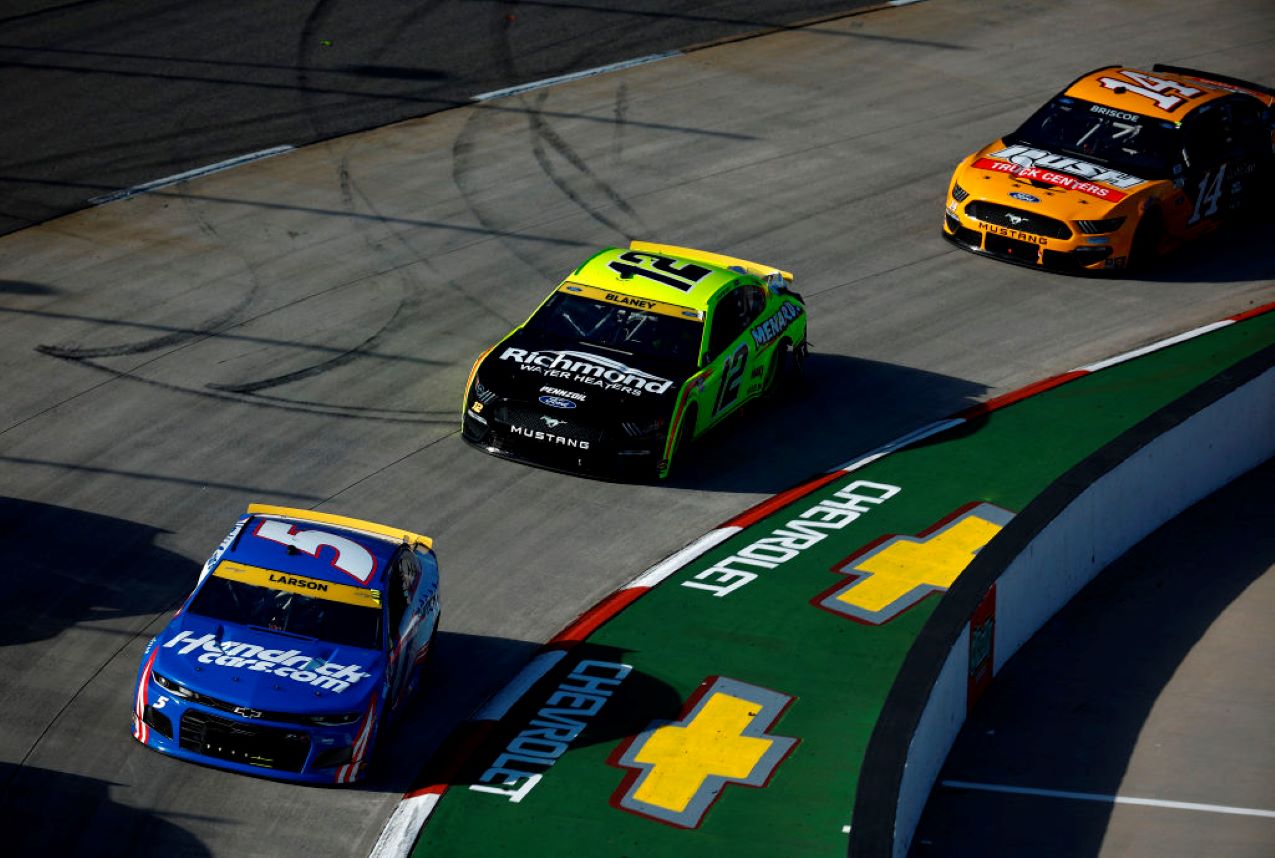 What happened to the consistency Blaney displayed earlier this season?
His finish at Texas on Oct. 10 marked the 12th time in 16 events he finished in the top 10. Included in that streak were consecutive wins at Michigan International Speedway and Daytona International Speedway.
Blaney appeared destined for the final four.
In his first 13 career starts at Kansas, he compiled six top 10s but placed 37th.
At the 0.526-mile Martinsville short track, Blaney said "I was going backwards …"
No wonder he was left scratching his head.
"It was definitely a disappointing day," Blaney said. "I'd love to tell you what kind of went wrong.
"We started off kind of good and never really got better. We had one run I thought we kind of went forward, and then we made a change to try and make it better, and it got worse, so I don't know."
Blaney: 'It sucks we don't get to race for a championship in Phoenix'
Racing for Team Penske, Blaney compiled three wins, 10 top fives, and 19 top 10s this season. Still, his effort was not good to qualify for the Championship 4 at Phoenix Raceway on Nov. 7.
Blaney did not blame the damage his machine sustained at Martinsville for his latest final four failure. The missed cut went deeper than dented metal.
"Losing is losing," he said. "I don't care if you miss it by one point or 20; I mean, it stinks no matter what. It sucks we don't get to race for a championship at Phoenix.
"It just wasn't quite enough."
For the fourth time.
RELATED: Ryan Blaney Candidly Admits Most Fans Don't Realize How Challenging It Is for Bubba Wallace and the Amount of Criticism He Receives From 'Ignorant People'