NASCAR Cup Series Driver Ryan Blaney Seeks First Trip to Championship 4 After Three Round of 8 Failures
Three times NASCAR Cup Series driver Ryan Blaney competed for a coveted spot among the Championship 4.
Three times the Team Penske pilot failed to make the final four.
Coming off a DNF at Kansas Speedway, Blaney remains one point behind Kyle Busch entering the Xfinity 500.
So close. So far away.
NASCAR Cup Series driver Ryan Blaney pursuing elusive Round of 8 success
The Round of 8 elimination race at Martinsville Speedway on Oct. 31 offers Blaney, a sixth-year Cup Series driver, another opportunity at continuing the pursuit of his first points title. The Championship 4 will race for the crown at Phoenix Raceway on Nov. 7.
"We've been in the Round of 8, this is the third time, and just haven't been able to make the championship race yet," Blaney told nascar.com on Oct. 28. "So, yeah, I think that's a big, big hurdle for us, for myself personally.
"It would be a great accomplishment to be able to (do) that, not only for myself but everyone working on this (No.) 12 car – and give (crew chief) Todd (Gordon) a shot to run for a championship in his last season."
Gordon announced his retirement after the 2021 campaign.
Blaney continues to be guided by the retiring Gordon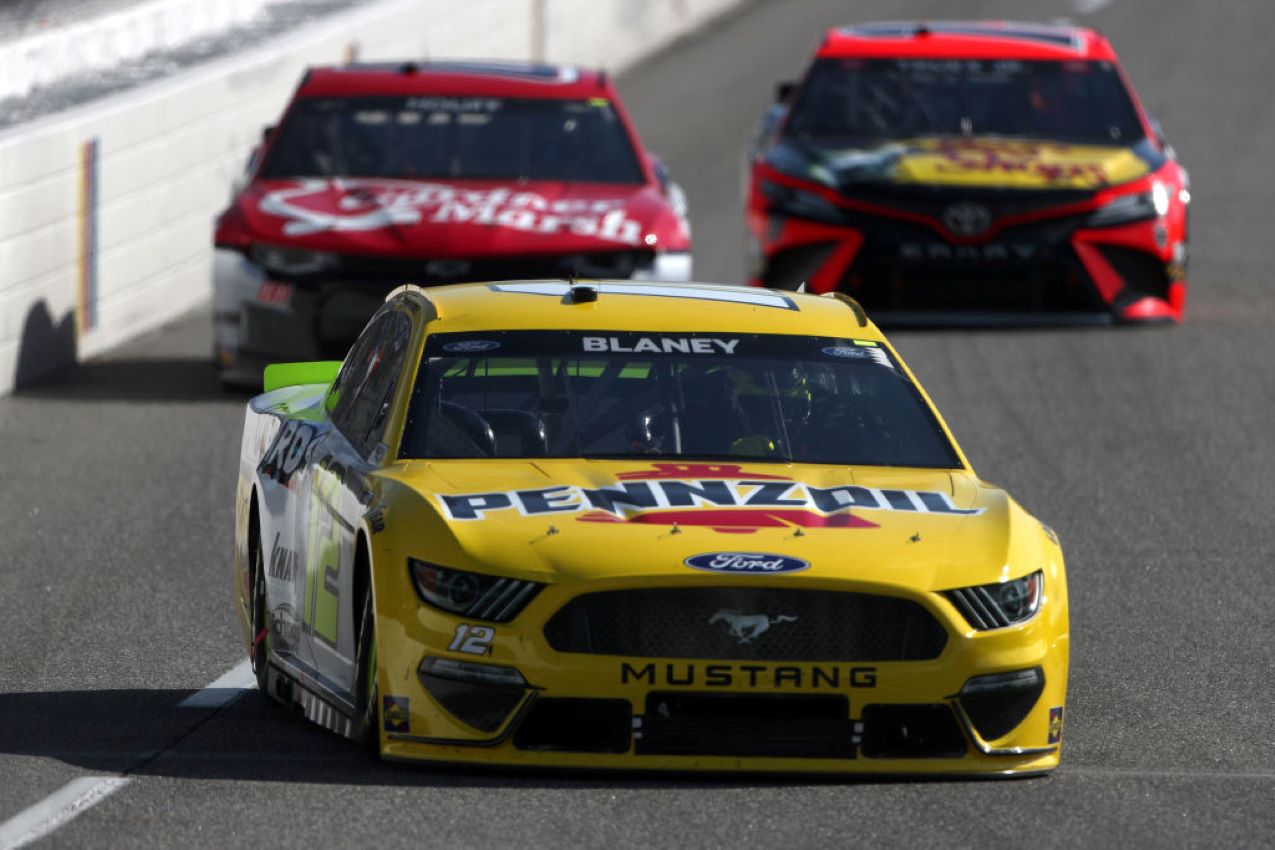 A rising Cup Series presence, Blaney has worked with Gordon since 2020. Together, they amassed four checkered flags, including a career-high three wins this season.
Before driving under Gordon's guidance, Blaney captured one race during three consecutive seasons. In the previous three seasons, he was close to qualifying for the final four. This time it comes down to a Round of 8 elimination race at NASCAR's shortest track.
More experienced this season, Blaney is learning to better channel his pre-race focus.
"You just try not to go into panic mode in those situations," Blaney said. "Because then you start driving kind of over the limit. And sometimes you can go slower, especially at Martinsville, if you're trying to kind of push too hard and kind of get out of your groove.
"So I know it'll definitely get intense if you're in that situation."
Gordon will attempt to be a calming voice in Blaney's ear on Oct. 31, informing him of the Xfinity 500's real-time situations.
Blaney will be racing for a win, but he'll be seeking stage points along the way.
Will Blaney 'wreck someone' to make the Championship 4?
Assuming the machine is still on the short track to hear Gordon call out "100 laps" on Oct. 31, Blaney and Gordon are planning to quickly calculate not only their track position but in the points race, too.
So close. So far away.
Blaney and Gordon are prepared to gamble, to a point, to increase their odds of rolling a winner.
"I mean, define risky," Blaney said. "I don't know. Am I gonna turn somebody, wreck somebody? I wouldn't like to think I would do that. But in those situations, you just never know. You never know.
"I mean, yeah, you're gonna make some bold moves."
Three-time losers usually do.
RELATED: Ryan Blaney Candidly Admits Most Fans Don't Realize How Challenging It Is for Bubba Wallace and the Amount of Criticism He Receives From 'Ignorant People'