NASCAR Cup Series Round of 8 Drivers Kyle Larson, Chase Elliott Make Big Gains, While Others Struggle at Windy Kansas
NASCAR Cup Series Round of 8 drivers Kyle Larson and Chase Elliott enjoyed their spins around the windy Kansas Speedway.
Larson, making his best interpretation of Dale Earnhardt Sr., claimed his third race in a row for the second time this season. He is the first to accomplish the feat since "The Intimidator" in 1987.
Putting aside his on-track feuds, Elliott rallied to place second, improving to plus-34 in the cutoff for qualifying for the Championship of 4.
The other playoff contenders?
Most of them were nearly blown away.
NASCAR Cup Series' Round of 8 drivers experience Kansas Speedway drama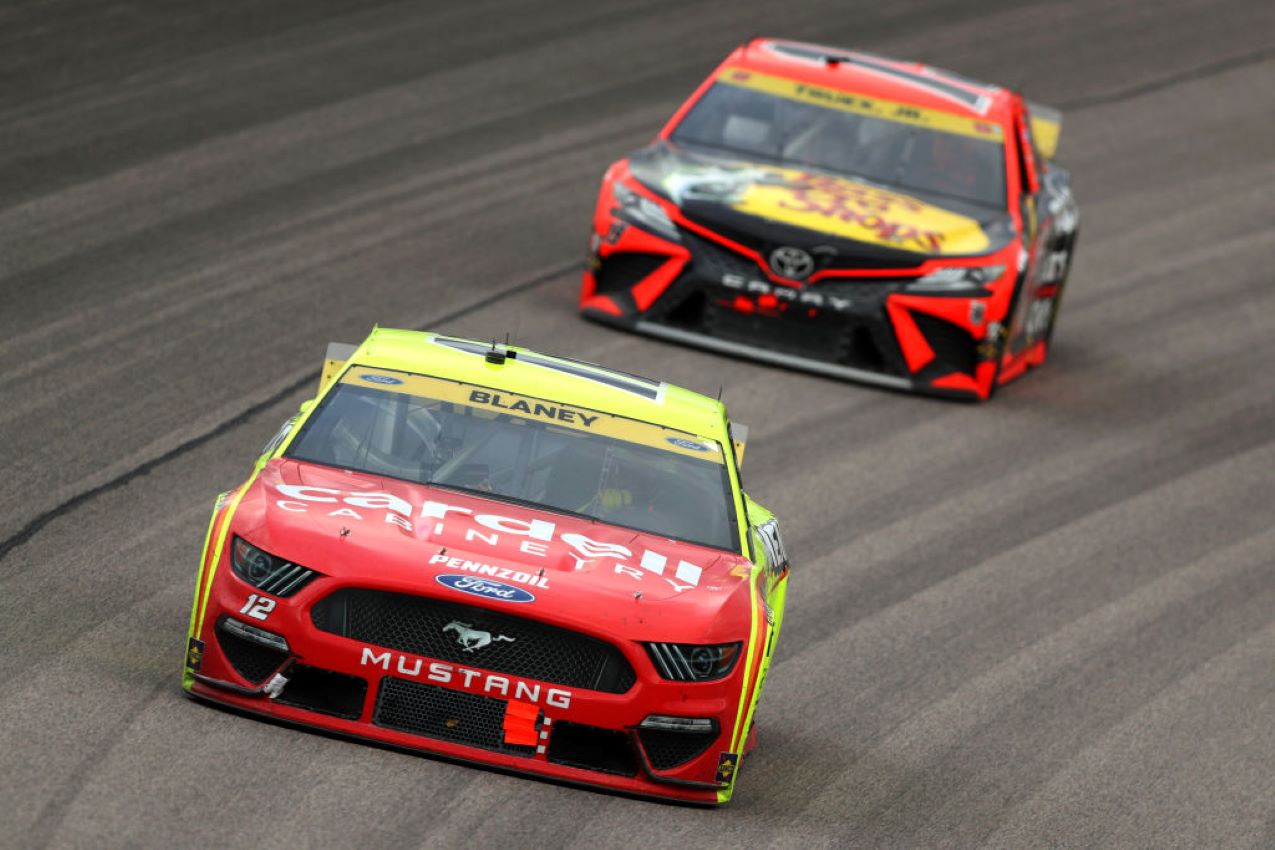 Playoff contenders Ryan Blaney, Kyle Busch, Brad Keselowski, and Martin Truex Jr. couldn't escape trouble during the Hollywood Casino 400 on Oct. 24.
The race featured 23 lead changes and was the middle Round of 8 event. Next up, Martinsville Speedway on Oct. 31, an elimination event.
First up on the chopping block …
Joey Logano: The postseason's eighth-ranked driver earned a top-10 finish (ninth) at Kansas, but he remains 26 points behind the cutoff. Time is running out.
Keselowski: The seventh-place competitor opened with a strong run. He even led briefly. But on Lap 69, he failed to hold back Larson and fell two laps off the pace. It was a struggle then on. After starting in the third position, he placed 17th.
Truex Jr.: The 2017 Cup Series champion scrambled back into contention after encountering mid-race turmoil. At one point, Truex's team was two laps down but fought back to the lead lap. Truex heads to Martinsville with a rush of confidence. Getting away from the 1.5-mile ovals, Truex has captured three of the last four events at the half-mile short track.
Blaney crashes, suffers fall in driver playoff standings
Down but not out …
Blaney: Entering the Kansas event in second place, he departed a minus-1 point behind Busch. On a restart with 44 laps to go, Blaney was struck by driver Andy Dillon's loose machine, crashing hard into the wall. The pit crew attempted to repair the damage, but the team was done. Blaney's 37th-place finish dropped him to fifth place. He will be one of the drivers to watch at Martinsville.
Busch: A 28th-place finish is a 28th-place finish. But, despite the frustrating ride, Busch is still ranked among the final four. On Lap 22, he cut a tire. During Stage 2, Busch slid into the wall and cut another tire. He finished six laps down but is still in line to qualify for the championship spin at Phoenix Raceway on Nov. 7.
NASCAR's Round of 8 field still chasing Larson
Still cruisin' …
Denny Hamlin: The winner of the 2019 fall Kansas race, Hamlin delivered a Hamlin-like performance on Oct 24. The third-ranked driver is one of the most consistent pilots on the circuit and rests plus-32 points above the cutoff. He appears safe, along with Elliott.
Larson: Then there's Larson, winner of nine events this season. He qualified two wins ago and, without anything to gain, dominated the Kansas field. During the race, Larson established a series record for most laps led during a 36-race campaign.
The field continues to chase Larson.
RELATED: William Byron Is Chase Elliott's Best Weapon for Reaching the NASCAR Championship 4