NASCAR's Dirt Racing Experiment at Bristol is a Train Wreck Waiting to Happen
When NASCAR released its schedule for the 2021 season, fans eagerly looked forward to the week of the Food City Dirt Race — its first race on dirt in over a half-century. Race weekend has come, and NASCAR has a monumental disaster on its hands. There have already been cancellations, postponements, and complaints from drivers. Everything that could go wrong has gone wrong.
NASCAR passed over Eldora Speedway for Bristol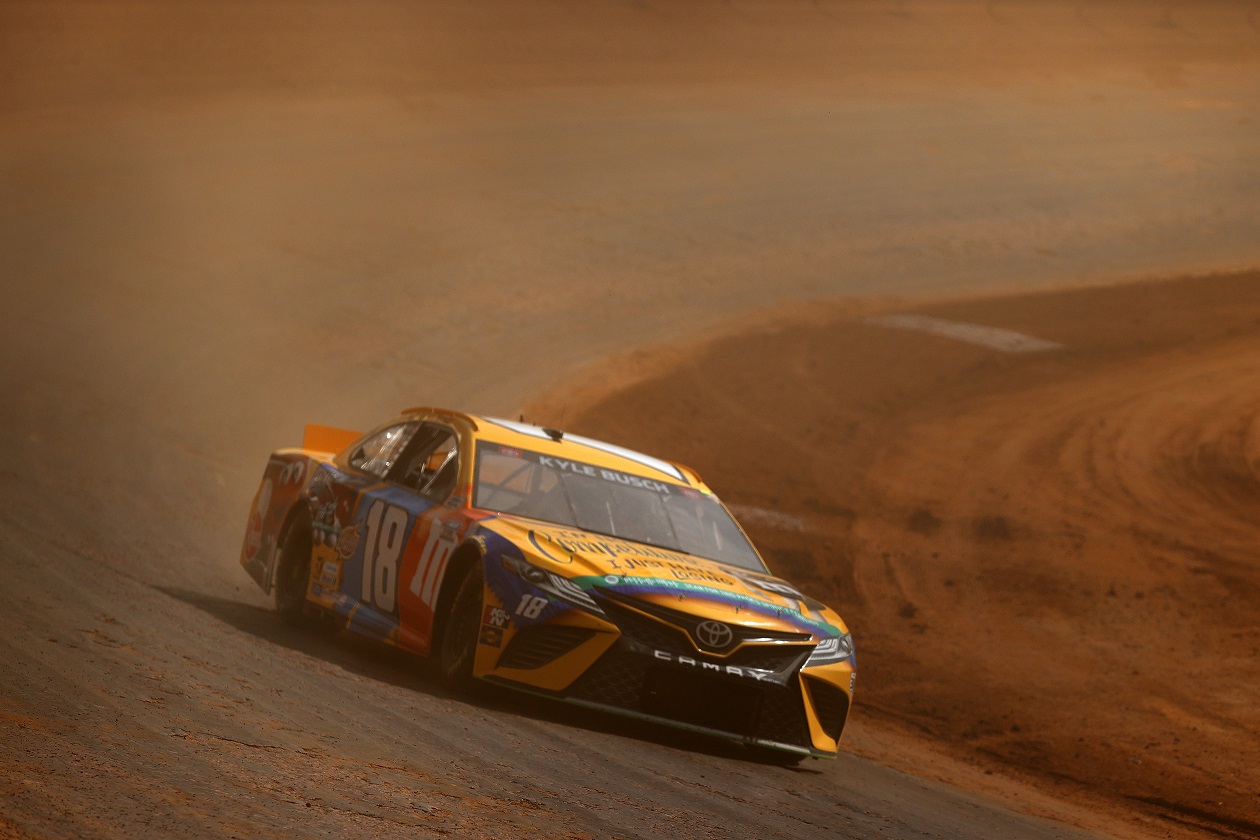 RELATED: Hendrick Motorsports Was 1 Race From Folding When Geoff Bodine Launched the Dynasty
Although NASCAR has not run on dirt since 1970, the idea of a dirt race weekend at Bristol has floated around for years now. According to NBC Sports, it was Marcus Smith — president of Speedway Motorsports, the owner of the facility — that pitched the idea. In fact, BMS actually hosted dirt track racing in 2000 and 2001 for the World of Outlaws series.
And to be fair, Bristol Motor Speedway needed a shot in the arm of some sort. NASCAR once drew crowds in the hundreds of thousands to the "Last Great Coliseum". But since an ill-fated resurfacing of the track in 2007, the fans fled in droves. Looking at any of the Bristol races from 2010 onward, you would think social distancing restrictions were already in effect.
Unfortunately, in choosing the location of its first Cup Series dirt race in over a half-century, NASCAR ticked off one of its greatest-ever drivers.
Since 2013, the Truck Series already had a successful dirt race at Ohio's Eldora Speedway, a track owned by Tony Stewart. When Stewart found about about the new Bristol dirt race, he was outraged, as he'd struggled and failed to secure a Cup Series or Xfinity Series date for Eldora.
"I felt like I'd been mule-kicked in the gut," Stewart told the Associated Press. In response, he dropped the Truck Series from Eldora's schedule.
Everything that could go wrong for NASCAR has gone wrong
RELATED: NASCAR's Joey Logano Admits He's 2 Different People
As part of NASCAR's never-ending quest to emulate the "good ol' days" without actually understanding what made the good ol' days so good to begin with, qualifying for both the Truck and Cup races would be determined by old-fashioned "heat races". At least, that was the plan.
Saturday brought persistent rain to Bristol – the worst possible scenario for the temporary red clay surface. One lap into the first heat race for the Truck Series, NASCAR waved the red flag and cancelled the event. It was a wise decision, as dirt plastered all over the trucks' windshields and made them impossible to drive.
There were problems even before the qualifying debacle on Saturday. Because of the new track surface, this is one of only eight races of the 2021 season with a practice and qualifying session. During Friday practice, the uneven track surface created massive wear on the Goodyear tires while dust flew up and reduced visibility.
It's almost as if NASCAR abandoned dirt racing for a reason. If only there was a more stable surface we could race on. Like…I dunno…pavement or something.
NASCAR holds out hope for good weather for its dirt debut
The Truck series race has been postponed to Sunday night on FS2, so good luck even finding it. In case you were wondering, starting positions for both the Truck and Cup races will be set by standard rainout qualifying rules. That is, assuming the races even happen.
Sadly, things don't seem to be improving weather-wise for Sunday. The Cup race is scheduled to start at 3:30 p.m. E.T. Unfortunately, the forecasts call for persistent rain at Bristol until early afternoon at the earliest. Even after the rain goes away, it will take hours for the track surface to dry out — a more complicated issue now that NASCAR is racing on dirt.
It looks more than likely that both the Cup and Truck race will be delayed to Monday, if not outright cancelled. Fortunately, Monday's forecasts for Bristol don't look as dismal, so there's a chance that NASCAR's crazy experiment can finally end on a high note.
Weather information courtesy of The Weather Channel.