NASCAR Drivers Chase Elliott and Jimmie Johnson Will Be Linked Forever
While Jimmie Johnson was closing out one of the greatest NASCAR careers of all-time, Chase Elliott was potentially launching one. Johnson has had an incredible racing career, and it all came to an end recently as he competed in his final race at Phoenix Raceway. Elliott, on the other hand, won his first NASCAR Cup Series title in that same race. That race now solidifies their forever link to one another, a link that goes back further than this one race.
Chase Elliott won his first Cup Series championship
RELATED: NASCAR Reporter Jamie Little Is Continuing To Make History With Her New Job
Chase Elliott is the son of Bill Elliott, who won 44 races and the 1988 NASCAR title, according to ESPN. Bill also won the Most Popular Driver title 16 times.
This has led to Chase having some big shoes to fill. However, he is now becoming a star in his own right. In 2014, Elliott ended up becoming the first NASCAR rookie to win a national division championship, according to his bio on NASCAR. He ultimately won the Xfinity Series title that year.
Elliott, however, struggled at the start of his Cup Series career, as he failed to earn a win in any of his first 98 races. However, Elliott finally got some wins in 2018 and 2019, his third and fourth full-time seasons. His first Cup Series win came at Watkins Glen International in 2018. He then earned three wins in both of the 2018 and 2019 seasons, according to ESPN.
Elliott then had a great 2020 season, as he won five Cup Series races, including the one at Phoenix Raceway, which clinched his first Cup Series championship.
Jimmie Johnson has had a legendary NASCAR career
RELATED: Jimmie Johnson's Legendary NASCAR Career Was Recently Recognized in a Prestigious Way
Jimmie Johnson has been one of the greatest NASCAR drivers of all-time.
According to Bleacher Report, Johnson joined the NASCAR Cup Series in 2001. He quickly proved to be a talented driver, too. From 2006 through 2010, he won five straight championships. He also won the championship in 2013 and 2016. Johnson is tied with Richard Petty and Dale Earnhardt for the most titles ever.
Additionally, when Johnson didn't win championships throughout his career, he was still competitive. He finished no worse than sixth in the final standings through his first 12 seasons. He also finished inside the top 11 in 16 straight years.
In the final race of his career, the same race that clinched Elliott's Cup Series championship, Johnson finished fifth. He was first among drivers who were not in the Cup playoffs, according to ESPN.
"It was nice to be competitive out there, but my bucket's full," Johnson said, according to ESPN. "NASCAR has been so wonderful for me. This journey has been more than I could have dreamed of or expected. Last couple years weren't as I would have dreamed up, but I've experienced the highest of highs and worked with the greatest of people."
Jimmie Johnson and Chase Elliott will be linked forever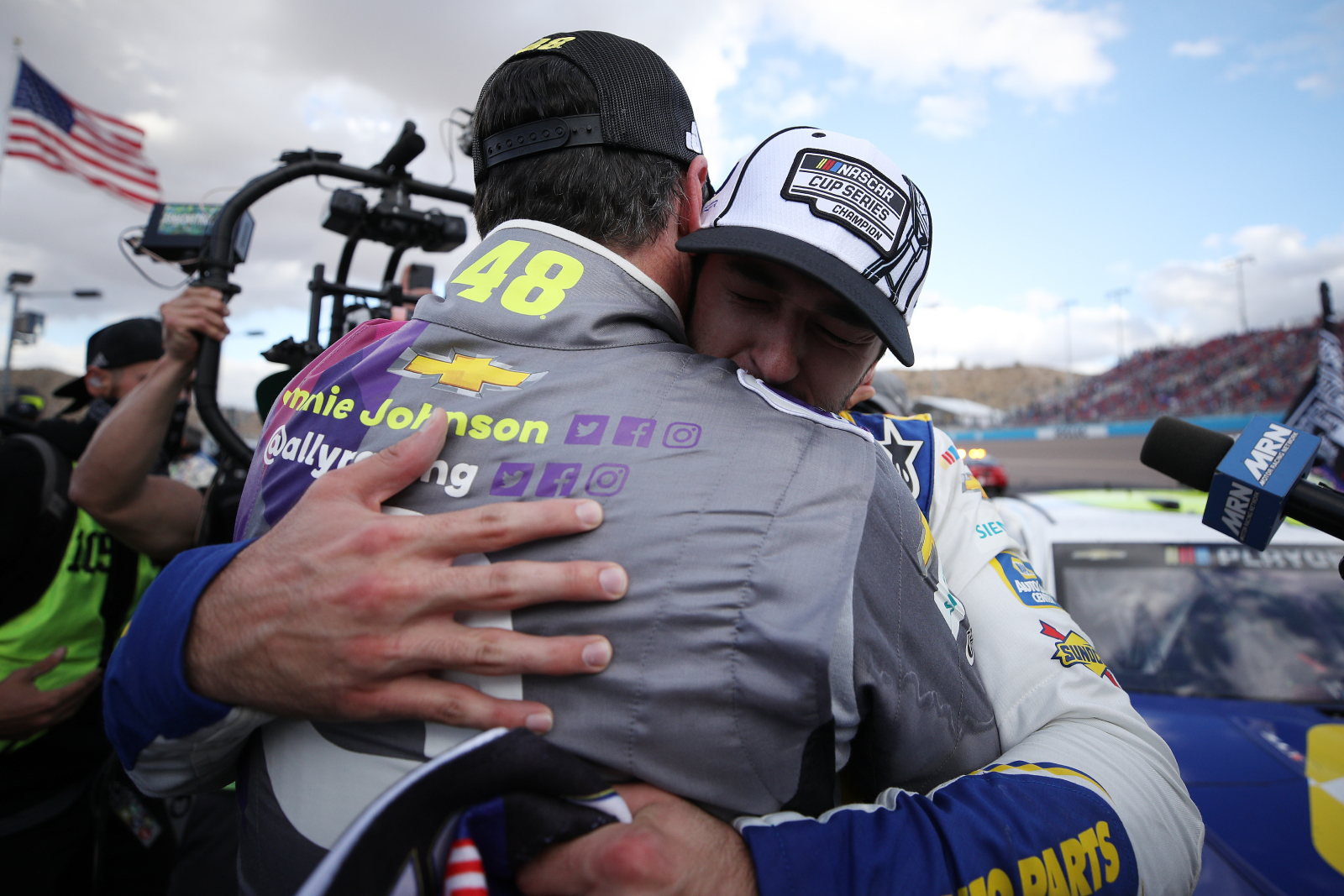 RELATED: NASCAR Legend Tony Stewart Sends Out a Strong Message About Chase Briscoe
Johnson and Elliott will not only be linked together forever because of that race where Johnson watched his Hendrick Motorsports teammate win the championship while also putting an end to his legendary career, but they will also be linked because of a race that took place a couple of years prior.
When Elliott won his first Cup Series race back in 2018, his car ended up running out of fuel during the cool-down lap. He was stuck. However, Johnson made sure to help him out by using his car to push Elliott's.
"He pushed me back around to the front straightaway, which I thought was really cool," Elliott said, according to USA Today. "And a person you look up to like that, in a moment like that — to share that in photos and things forever I think will be pretty cool. So that was a neat one for me."
Jimmie Johnson is a NASCAR legend. Is Chase Elliott now the next great driver?