NASCAR Drivers Kyle Larson, Kevin Harvick, and Joey Logano Prognosticate Clash at the Coliseum Outcomes
No one knows what to expect when 23 NASCAR Cup Series teams make a running start for the Clash at the Coliseum.
Everyone, however, seems to have an opinion on what's going to happen during the inaugural race at the Los Angeles Memorial Coliseum track.
Here are race predictions by three NASCAR premier series champions, Kyle Larson, Kevin Harvick, and Joey Logano:
Kyle Larson
The defending champion, Larson expects he will feel right at home on the quarter-mile track. Growing up in California, Larson learned to race on two main local dirt tracks, Placerville Speedway, and Silver Dollar Speedway. 
Larson is well versed with quick turns and racing through lapped traffic. He can handle his competitors' constant bumping and grinding. 
"I do get to race at a lot of short track dirt things, and I imagine (the Coliseum) would be a similar vibe to that, the crowd being right on top of the racetrack," Larson told NBC Sports.
With the abundance of offseason short-track racing Larson schedules, he could be one the favorites to capture the non-points event.
Larson's Prediction: "Just feeling their energy and the atmosphere is going to be really cool, I think. It's going to make the race seem more exciting than it's already going to be. Looking forward to how they have it laid out, driving through the tunnel and stuff like that."
Kevin Harvick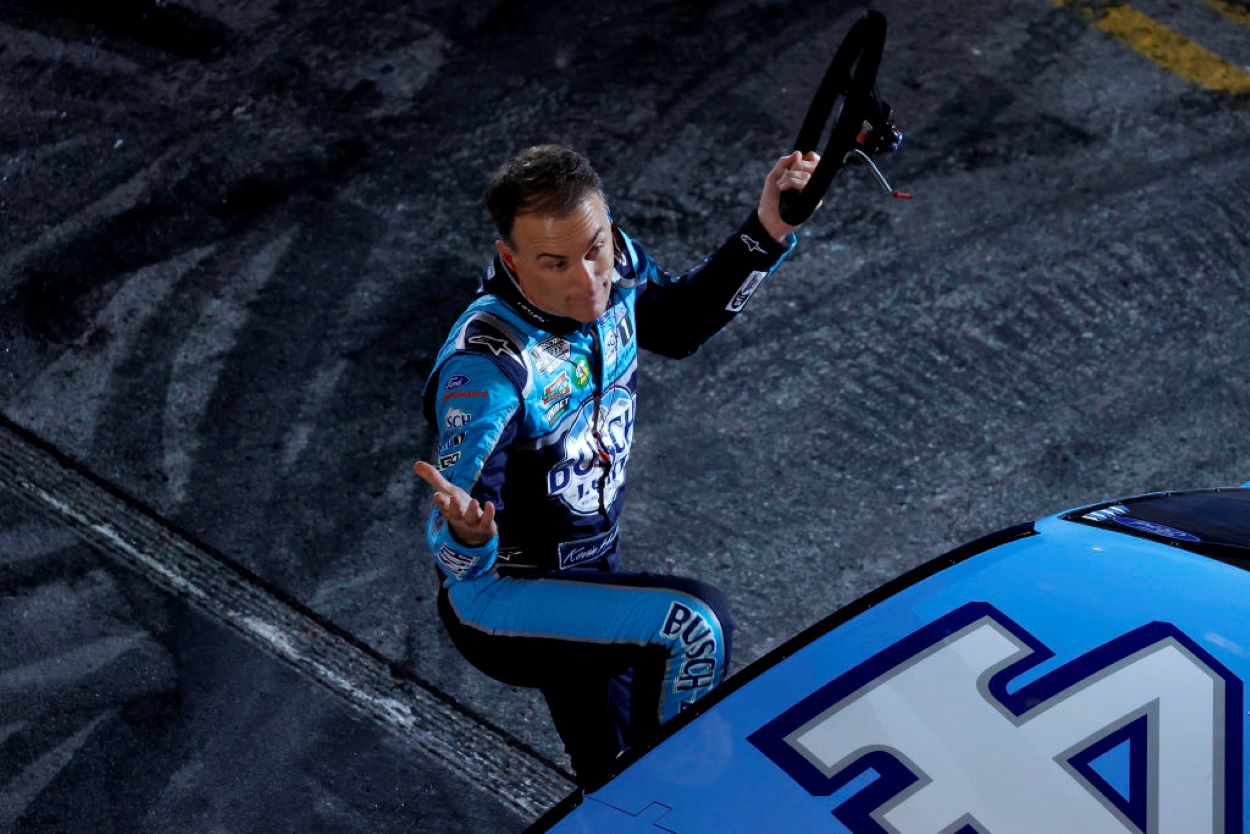 The 2014 drivers' champion is a realist. Harvick knows why NASCAR came up with the season-opening concept at the new $1 million track inside the iconic football stadium. 
NASCAR needed to draw attention to the sport. Mission accomplished.
"As we go to the LA Coliseum this year, really the event is doing exactly what it's supposed to be doing and that's creating conversation about our sport," Harvick said. "I think it's important to realize that sometimes it's about exposing  your sport to new people and trying to create new fans and having cool events at cool venues or different racetracks, and creating that story that doesn't depend on the race." 
With the debut of the new Next Gen cars, a lot of in-race fan attention will be focused on how the drivers handle the new technology. That is when they are not distracted by celebrity appearances and concerts.
Harvick's Prediction: He's just not sure. "… I think the race could be spectacular, or it could be a disaster. I don't know. But, in the end, I will still have my name on racing in the LA Coliseum, and I think that in itself is pretty cool."
Joey Logano
The 2018 Cup champion is known for his aggressive driving. After all, he claimed his title by bumping then-defending champ Martin Truex Jr. out of his way to the checkered flag and series crown.
Logano rarely (if ever!) backs down from on-track interaction. He sure to get plenty of it during the aptly named Clash. 
"You look at the way they've designed this racetrack, not just the fact that it's small, but the way they put the curbing on the bottom," he said. "It just seems like it opens the door for more contact and sliding it down in there, so we will have to wait and see. There's gonna be moments."
If there will be "moments," Logano likely will be in the middle of it. Last season, he engaged in running, public feuds with Harvick and Chase Elliott. Remember his 2017 brawl with Kyle Busch? He expects his machine to take a lot of punishment. He intends to dish some out, too. 
Logano's Prediction: "Just because there's no points on the line doesn't mean that grudges don't get carried over to the next race, either."
With Logano, fans can almost count on it.
Like Sportscasting on Facebook. Follow us on Twitter @sportscasting19.
RELATED: Bubba Wallace and 2 Other NASCAR Drivers with the Most to Prove Entering the Clash at the Coliseum