NASCAR: Kyle Busch Once Had His License Suspended for Driving Too Fast
NASCAR is known for giving fans plenty of excitement. It's also known for cars that hit incredibly fast speeds. But it raises the question: Do those same drivers who drive their race cars so impossibly fast ever have issues acclimating to normal speed limits? One successful NASCAR driver, Kyle Busch, did in fact run into such a problem.
He may be one of the highest-paid drivers in NASCAR. But his bottom line may have taken a hit when he had his license suspended for driving too fast.
Kyle Busch's NASCAR career
RELATED: Ryan Newman Has Severe Lasting Effects From Horrific Daytona 500 Crash
According to Busch's NASCAR.com profile, he was born on May 2, 1985. He first hit the NASCAR circuit in 2005. Busch currently participates in all three of NASCAR's national series, with full-time participation in the NASCAR Cup Series.
Busch has two NASCAR Cup championships to his name won in 2015 and 2019. He's qualified for the "Championship 4" in every one of the last five years. He's second in wins among active drivers with 56 Cup victories, trailing only Jimmie Johnson's 83 wins. On the list of all-time wins, he's tied with NASCAR great Rusty Wallace.
When totaling his victories from all three NASCAR national series, he has 209 wins all-time. He's the all-time leader in wins on the Xfinity Series with 96 and the Gander RV and Outdoors Truck Series with 57. He took home the 2009 Xfinity championship as well. 
Busch's reputation in NASCAR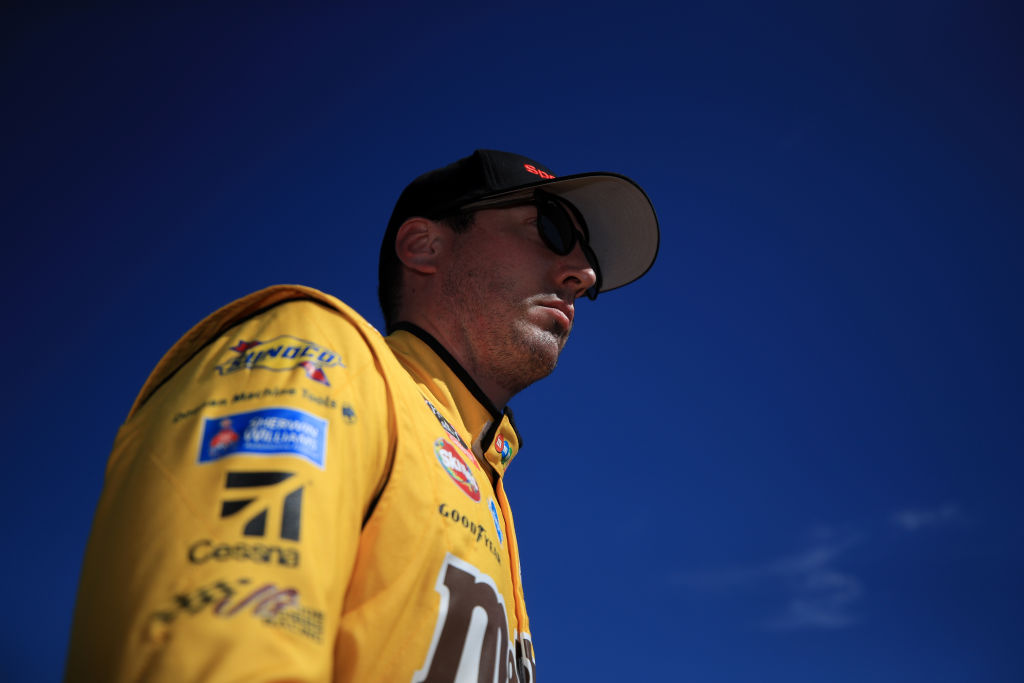 RELATED: NASCAR Coca-Cola 600 Ends in Brad Keselowski Win and Another Heartbreak for Chase Elliott
While Busch is clearly an excellent driver, he also has quite the reputation as something of a villain in NASCAR circles. The Charlotte Observer chronicled some of Busch's infamous exploits, including a fistfight with fellow driver Joey Logano; receiving a "black flag" in the Truck Series; making plenty of public comments deemed "boorish"; and emotional outbursts both during and after races
Why does Busch act this way? SB Nation reported that Busch thinks it's his genetics:
"Different people show their emotions in different ways … Unfortunately for me, mine has never been very gracious — I don't know that it ever will be … I'm kind of learning that as the days go on. My son is 2 years old, I see where it came from. It's genetics. I'm sorry, it's just who I am. That's what I was given. If there is anybody to blame, it's probably the guy upstairs."
Busch may be able to blame his raceway antics on a higher power and get away with it. That doesn't mean he'd be able to get away with wild driving off the track. 
How Kyle Busch had his driver's license suspended
RELATED: A 'Diversity Guru' Once Sued NASCAR for $500 Million
Seattle NBC affiliate KING reported Busch once had his driver's license suspended in North Carolina's Iredell County District Court. He pled guilty to speeding and pled no contest to reckless and careless driving. Busch received a 45-day suspension, a $1,000 fine, and received 30 hours of community service along with one year of unsupervised probation. 
Busch was going 128 miles per hour in a 45 miles per hour zone, exceeding the speed limit by more than 80 miles per hour. As if the speed he was traveling at didn't attract enough attention, he was committing the offense while driving a bright yellow 2012 Lexus.
Following Busch's suspension, the LA Times posed an interesting question: should Busch need a license to compete in NASCAR? After all, he would be driving. The debate is moot, however: because a NASCAR race track doesn't constitute a public road, drivers technically do not need a valid license to compete. Still, Busch would be well-served to keep his high-speed racing to the NASCAR circuit and off the road.