Jeff Gordon's Dark Side: NASCAR Legend Learned an Important Lesson About Dirty Driving Early: 'I Drove Over Some Other Kid to Win'
Former NASCAR poster boy Jeff Gordon maintained a clean, wholesome image throughout his 23-year, Hall of Fame career.
But the four-time Premier Cup champion could not fool everyone.
Some of his peers knew better.
There was a darker side to Gordon's driving.
Jeff Gordon drove to win even in elementary school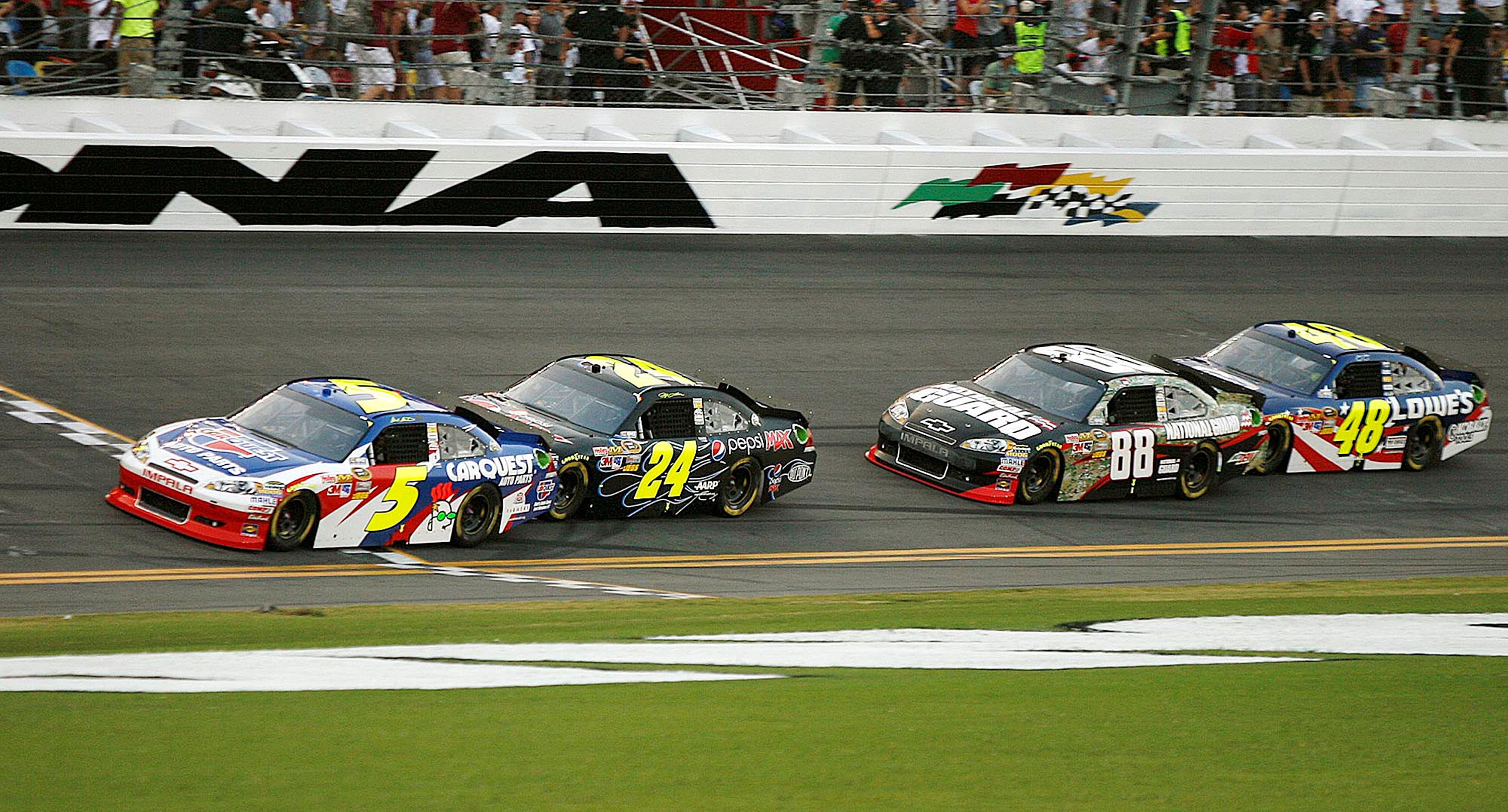 Gordon's wave of dirty driving was apparent from the start.
Referring to when he was 6 years old, he told The New York Times: "One time, in (quarter midgets), I think I was 6. I drove over some other kid to win. Just spun him into the wall."
The future Rainbow Warrior was not preoccupied with possible repercussions for his move, like the possibility of being grounded. He drove to win.
Gordon's stepfather attempted to teach him a lesson.
"My stepdad, the man who raised me, made me give back the trophy," Gordon said.
He may have lost a trophy, but he made a statement as loud as any quarter-midget racer.
"I'll race you as clean as I can, but I'll race you the way you race me," he said, grinning. "Rub me; bang me. I'll do it right back. I've given up a win not to spin out a guy, I really have. But, of course, it depends on who it is."
Clint Bowyer experienced dirty driving by 'Rainbow Warrior'
Once, it was Clint Bowyer who experienced Gordon's dark side.
During the final race of the 2012 season, Bowyer entered the AdvoCare 500 with a chance at claiming the points title.
With seven laps remaining, he battled Gordon for fifth place. Bowyer bumped the rear of Gordon's car. In retaliation, Gordon attempted to take out Bowyer but missed and hit the turn three wall.
Gordon drew a black flag, but that didn't stop him from going back after his prey.
Slowing down significantly, Gordon cruised around the track, waiting for Bowyer to catch up. With two laps remaining, Gordon took him out, which effectively ended Bowyer's chances of claiming the checkered flag.
It also eliminated Bowyer from championship contention. He finished fourth.
When Gordon drove his battered car back to the garage area, members of Bowyer's pit crew approached Gordon's team. When someone pushed Gordon from behind, a brawl erupted.
In the end, Gordon the Good's image didn't take much of a marketing hit.
Gordon the Good worked on his anti-Earnhardt image
Gordon carefully crafted his public image in a way that, at the time, was completely non-NASCAR.
He was Madison Ave.
Dale Earnhardt Sr. was Main St., making Gordon the anti-Earnhardt through much of the 1990s. Good vs. Evil. Gordon wore the white hat; Earnhardt the black one. The Intimidator had the reputation of being "Hell on Wheels," and Gordon was the light, the future of NASCAR.
Gordon did his best to shade his dark side but couldn't all the time.
Ever competitive, Gordon's most significant rival during the early stages of his career was Earnhardt.
After capturing his fourth NASCAR Winston Cup points title in 2001, Gordon appeared on the Late Show with David Letterman. He didn't let the opportunity pass without taking Earnhardt into the wall.
Gordon informed the national television audience that he claimed four championships by age 30. Earnhardt, meanwhile, was 34 when he reached that milestone.
Gordon not only had a dark side; at times, he could be petty, too.
RELATED: Jeff Gordon Tough: NASCAR's Consecutive Starts Leader Missed Only 1 Career Race, and It Was Because of Yard Work