NASCAR Notebook: Aric Almirola Announces Post-2022 Plans; Sonoma Track Gets Faster; Spire Hires New Pilot
Sweeping up around NASCAR garages: 
Aric Almirola, coming off the "crappiest year ever," announced his post-2022 ride. 
Sonoma Raceway will revert to an old, faster track configuration for its NASCAR weekend. 
Shire Motorsports welcomes a new driver and sponsor into the fold.
NASCAR Cup Series driver Aric Almirola looking forward to spending more time with his family after next season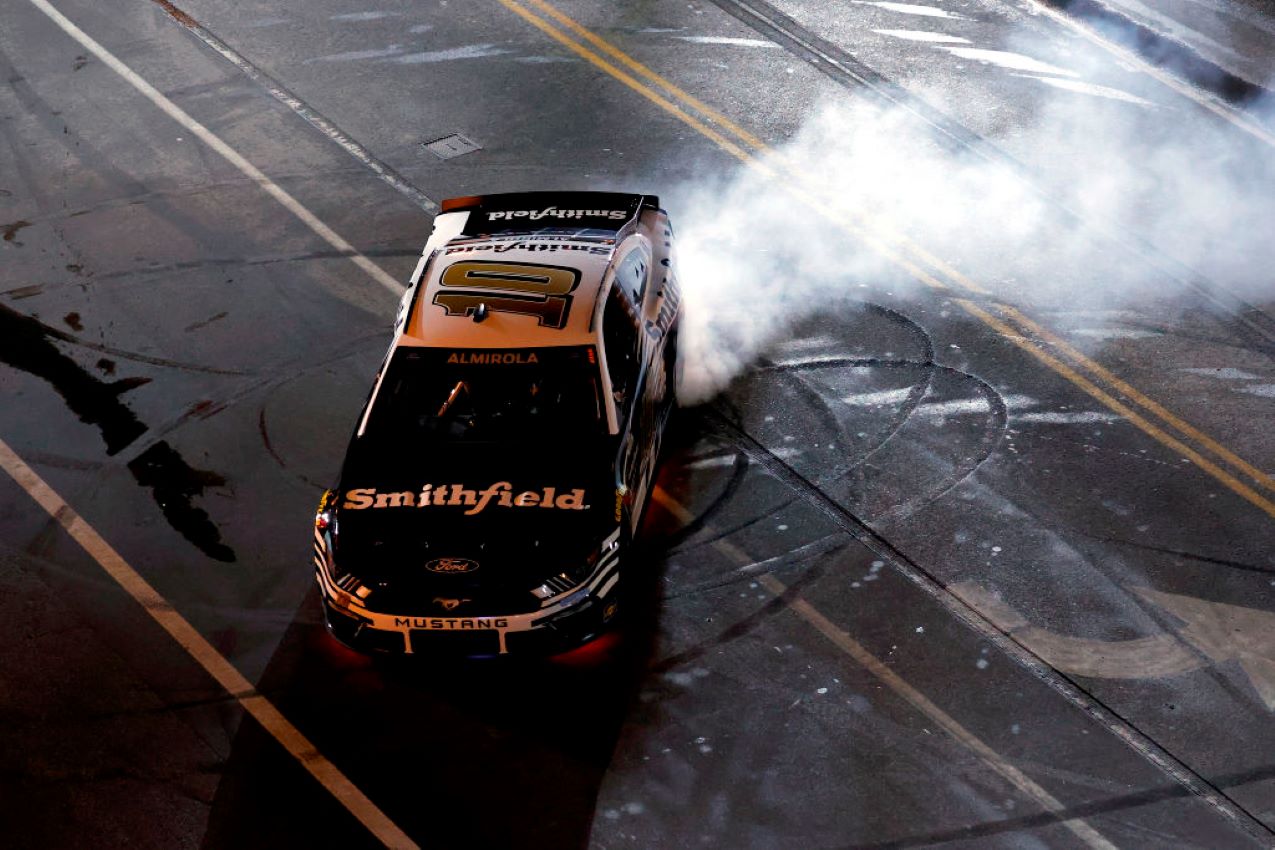 Following 2022, Almirola's next ride will be into retirement.
He told motorsport.com he was ready for the "next chapter" in his life.
In a message posted on YouTube, he described his ambition to spend more time with a growing family. Along with his wife, Janice, the couple has two children, Alex, 10, and Abby, 9.
"I have a short window to spend with them while they still think dad's cool," he said.
The question is not financial for a premier series driver entering his 10th season. The decision was strictly personal, purely spiritual.
"The questions are the same as anybody else would have when you're going to stop doing something," Almirola said. "Can I afford it?" And the answer I came up with was 'can I afford not to?'
"When I look at everything holistically, I don't have any regrets. It all played out exactly how God intended."
Almirola amassed four career playoff appearances and three checkered flags. While 2021 started with a series of challenges, he earned a 2021 All-Star Open win at Texas Motor Speedway. It saved his season.
Perhaps with extra time on his hands after next season, Almirola will return to school and finish his mechanical engineering degree.
Oh, Chute! Sonoma Raceway going back to 1.99-mile configuration
For its upcoming NASCAR weekend, Sonoma Raceway is ditching the "Carousel" to return to the "Chute." 
For the past three years, track officials utilized a 2.52-mile course. It bypassed the popular "Chute" section. The shorter, 1.99-mile layout was used from 1998-2018. 
For the Toyota/Save Mart 350 on June 12, the event will feature 20 more laps (90 to 110). The Camping World Truck Series will also return to Sonoma for the first time in over 20 years. 
Kyle Larson, the 2021 Cup champion who captured the Sonoma race last season, told motorsport.com he favored the new layout. 
"It will be more exciting for the fans just because those are a couple of wild corners with some new hairy passing zones," he said.  
Shire Motorsports introduces new driver Josh Bilicki, primary sponsor 
Spire Motorsports checked off two big off-season chores. The organization secured a new driver's services and added a primary sponsor for the 2022 Cup season.   
Josh Bilicki, 26, agreed to pilot the No. 77 Chevrolet for most of the upcoming season. In 2021, he drove for Rick Ware Racing and registered one top-10 finish. His average finish was 31.06, a career-best. 
Zeigler Automotive Group will serve as the team's primary sponsor. 
"Josh is cut from the same cloth as the people who make up our team. He's a grinder," Spire Motorsports co-owner T.J. Puchyr told motorsport.com. "He finds a way, goes out, and gets it done."
Like Sportscasting on Facebook. Follow us on Twitter @sportscasting19.