NASCAR Notebook: Bubba Wallace Gives Back to Community During Toy Drive; Drew Blickensderfer Exits Front Row
Bubba Wallace has been in the news a lot recently for various reasons, but the NASCAR Cup Series driver made news for giving back to the community.
After leading Michael McDowell to a major title in 2021, crew chief Drew Blickensderfer decided to exit Front Row Motorsports.
NASCAR Cup Series driver Bubba Wallace shows holiday spirt at toy drive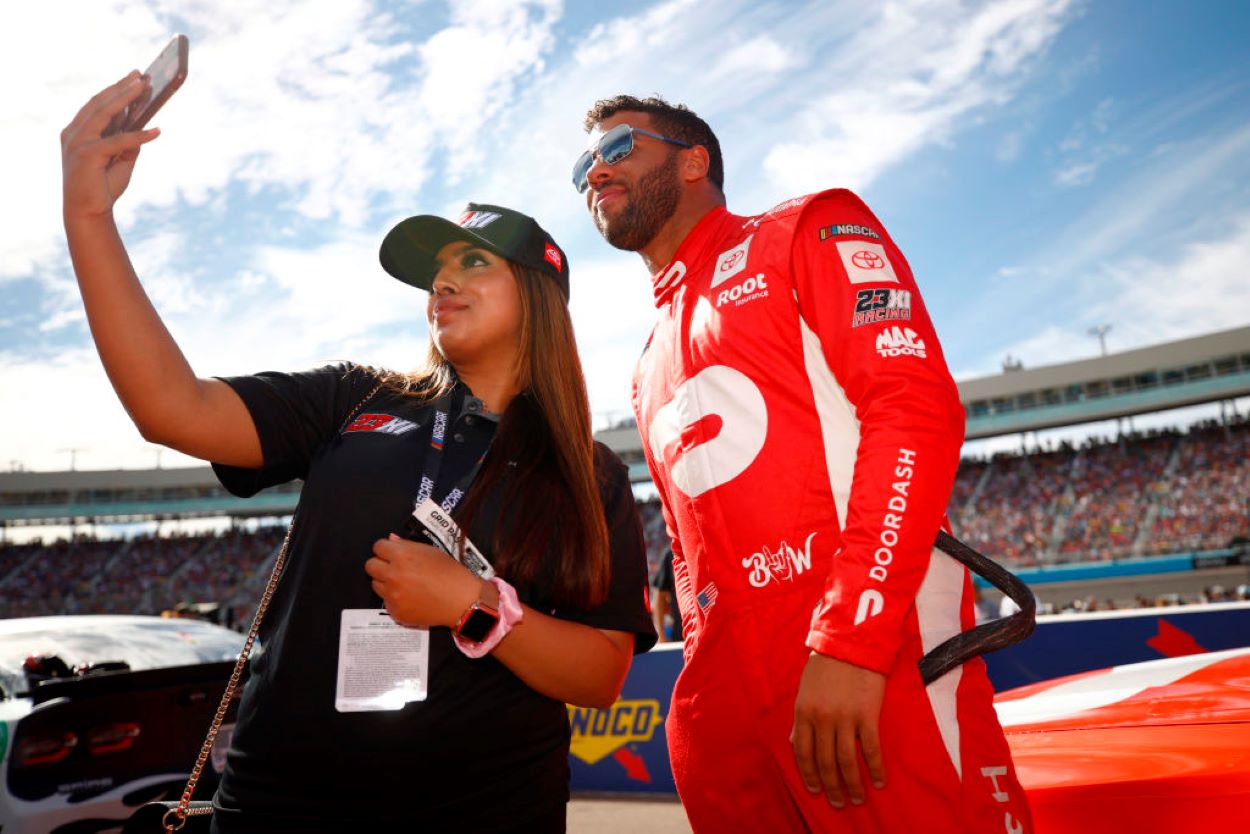 Wallace gathered his crew. No, not his 23XI Racing pit crew. His crew of friends, associates, and present and future family members to help hand out a bit of holiday cheer. 
Wallace, his fiancée Amanda Carter and others made an appearance at zMAX Dragway in Concord, North Carolina, on Dec. 18, to pass out gifts and holiday cheer to NASCAR Cup Series fans. 
Wallace hosted his second toy drive for his Live to Be Different Foundation. 
"It's a great opportunity for us to give back; it's all about giving back," Wallace told nascar.com. "… It is the holiday season, and everyone is in the holiday spirit. It just feels good to be giving back to the families who didn't have enough time, the pandemic hit super hard, and they might be going through some things." 
Wallace created the foundation in 2017. 
"We're here to help out and have that helping hand and shoulder to lean on for Christmas and give the kids the presents that they all deserve," Wallace said. 
Carter said over 400 children attended the event. 
"This year, we've had a great turnout of applicants and a great turnout of volunteers," Carter said. "People have been very generous and have donated toys and money to support local families in the area. … Hopefully, we have a lot of happy kids opening gifts this year from their families. It's just been fun to mingle today with people and get in the holiday spirit." 
Crew chief Drew Blickensderfer exits Front Row Motorsports
Front Row Motorsports and crew chief Drew Blickensderfer have parted ways.
The organization announced on Dec. 17 that Blickensderfer, who has served as Michael McDowell's crew boss since 2019, left to team to "pursue other options." 
McDowell, the No. 34 Ford driver, captured a career-defining Daytona 500 championship last season. McDowell and Blickensderfer combined to post one win, four top-five finishes, and 11 top 10s in 108 races. 
"Drew helped lead the No. 34 team to new heights since coming to Front Row Motorsports, highlighted by winning the Daytona 500," team owner Bob Jenkins said in a statement, reported by NBC Sports. "We are now in the process of securing the next leader in our organization to continue the solid foundation that has been built. 
"That process has begun, and we will move quickly. We wish Drew the best in his next endeavors." 
Blickensderfer also guided Matt Kenseth to the 2009 Daytona 500.