NASCAR Notebook: Cup Series Title Drive Down to Three Teams; Xfinity Series' John Hunter Nemechek Rallies to Win; Officials Crack Down on Lug-Nut Violators
As the NASCAR Cup Series' Round of 8 rolls on to Texas Motor Speedway for the Autotrader EchoPark Automotive 500 on Oct. 17, teammates appear to be fueling the top championship contenders.
Motorsports' top stock car racing circuit is diverse, but it's developing into the haves and have-nots.
Here are some notes from the garage area: 
Only 3 of 17 NASCAR Cup Series teams are still alive in the title chase
 There are 17 full-time teams comprising the NASCAR Cup Series field, but only three remain in contention for the team title.  
Of the 32 events this season, the top trio of teams has compiled 22 checkered flags.
Joe Gibbs Racing, three drivers: Denny Hamlin, who overcame two penalties to claim a win at Texas in April 2019, is ranked second, Martin Treux Jr. third, and Kyle Busch fifth.  
Team Penski, three drivers: Ryan Blaney is ranked fourth, Joey Logano seventh, and Brad Keselowski eighth.  
Hendrick Motorsports, two drivers: Kyle Larson ranks first, and Chase Elliott ranks sixth.  
All drivers who remain in playoff contention have secured at least one win this season.
"You want teammates that are running good, you want them to be pushing you, you want to be able to push them," Truex told nascar.com. "It's nice to have that competition. I feel like we compete really well together until it comes down to the final four. Then, if we make it there, it's kind of like OK, all bets are off, we're on our own."  
NASCAR Xfinity Series driver John Hunter Nemechek rallies to win after penalty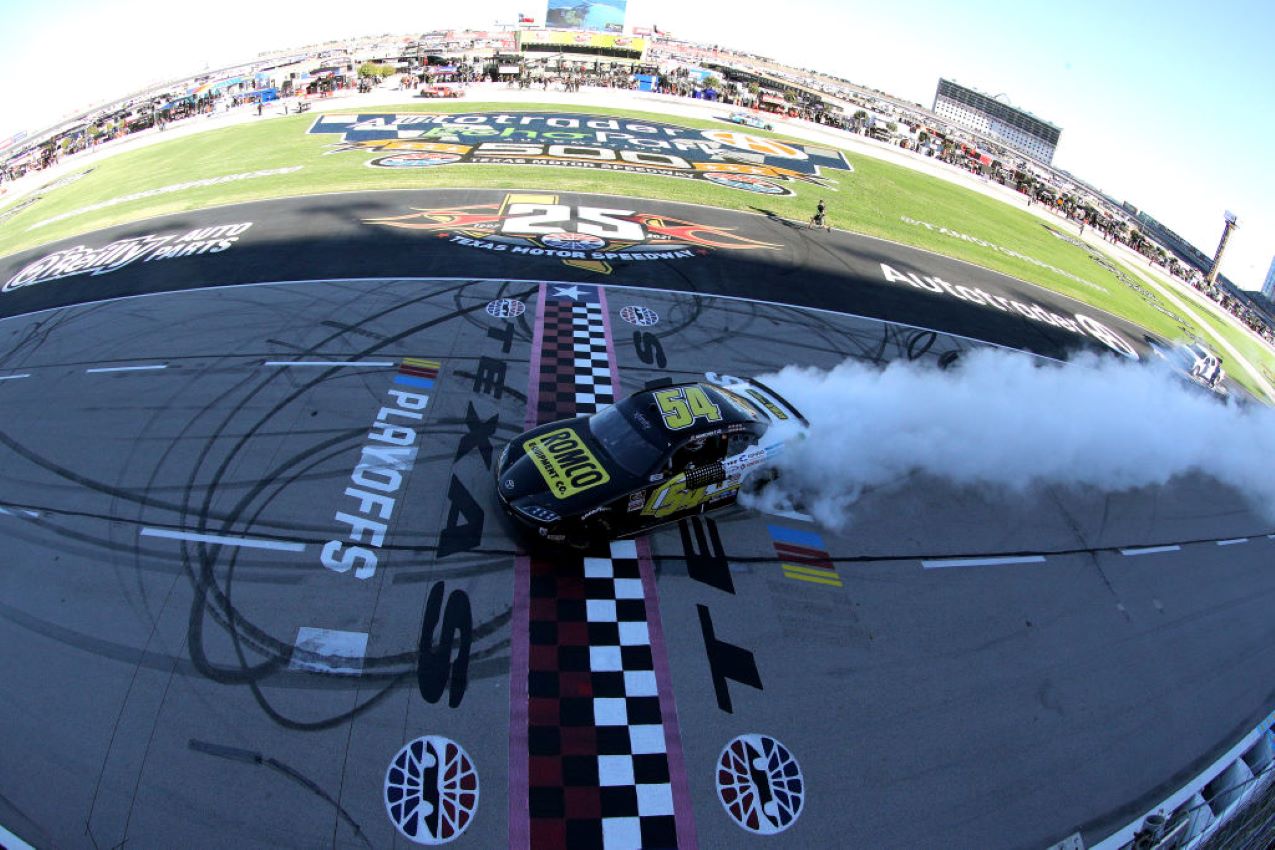 The NASCAR Xfinity Series' postseason is going to the dogs – the underdogs.  
With John Hunter Nemechek overcoming a pit-road penalty to capture the Andy's Frozen Custard 335 at Texas Motor Speedway on Oct. 16, drivers outside the playoff chase have claimed three of the past four events.  
Daniel Hemric led 55 laps, but Nemechek crossed the finish line 1.316 seconds in front of his teammate.
Nemechek was leading the race with 51 laps to go, but was pushed back to 18th position becasause of a penalty in the pits.  
On the 10th – and final – caution flag, an alert call from the pits eliminated Nemechek's deficit. With 28 laps to go, Nemechek's crew called for a two-tire change. While most of the field took on four tires, Nemechek emerged as the restart leader. He soon briefly surrendered the top spot, but made the race's final lead pass with 20 laps remaining. He ended up pacing the field with a race-high 92 laps.
It was Nemechek's first series win since 2018.
Xfinity's driver upsets have been unexpected, and they tightened the standings with two races left before the final four is established. 
Postseason contender Hemric, who will jump from Joe Gibbs Racing to Kaulig Racing for 2022, ran strong, but placed second for the third time during 2021.  
AJ Allmendinger, the regular-season champion, and Austin Cindric, the 2020 series champion, remain the series' top two drivers, but they will next be challenged next at the Kansas Lottery 300 at Kansas Speedway on Oct. 23.  
NASCAR post-race inspectors looking out for violations 
Following the Oct. 10 Bank of America Roval 400, NASCAR officials cited three Cup Series teams and one Xfinity organization for lug-nut violations, according to nascar.com.
Joe Gibbs Racing No. 18 crew chief Ben Beshore was issued a one-race suspension after post-race inspectors discovered two lug nuts were not safe and secure on Kyle Busch's machine. Along with missing the Oct. 17 race, Benshore was also fined $20,000.
Dinged for one lug not safe and secure, crew chiefs Chris Gabehart (Joe Gibbs Racing No. 11) and Scott Graves (Roush Fenway Racing No. 17 were fined $10,000.  
Flagged for one lug nut violation, Xfinity's Kaulig Racing Crew Chief Alex Yontz was fined $5,000.
On Oct. 16 at Texas, two Xfinity teams were busted for one unsecured lug nuts, Joe Gibbs Racing and Stewart-Haas Racing.
RELATED: William Byron Brilliantly Schools NASCAR Rivals on the Key to a Lengthy Cup Series Career