NASCAR Notebook: Denny Hamlin Miss-Shifts; Aric Almirola Goes Numb; Kyle Larson Fights Teammate at Finish Again
NASCAR Cup Series driver Denny Hamlin has been shifting one way for his entire life. Until now. The old H-pattern is gone, and Hamlin's miss-shift cost him during the Pennzoil 400 at Las Vegas Motor Speedway on March 6.
Aric Almirola discovered numbness in his legs but started overtime P8.
For a second consecutive last-lap finish, Hendrick Motorsports' Kyle Larson had to fight a teammate for the checkered flag. Did he pull it off with another controversial move?
Denny Hamlin's miss-shift 'just killed every gear'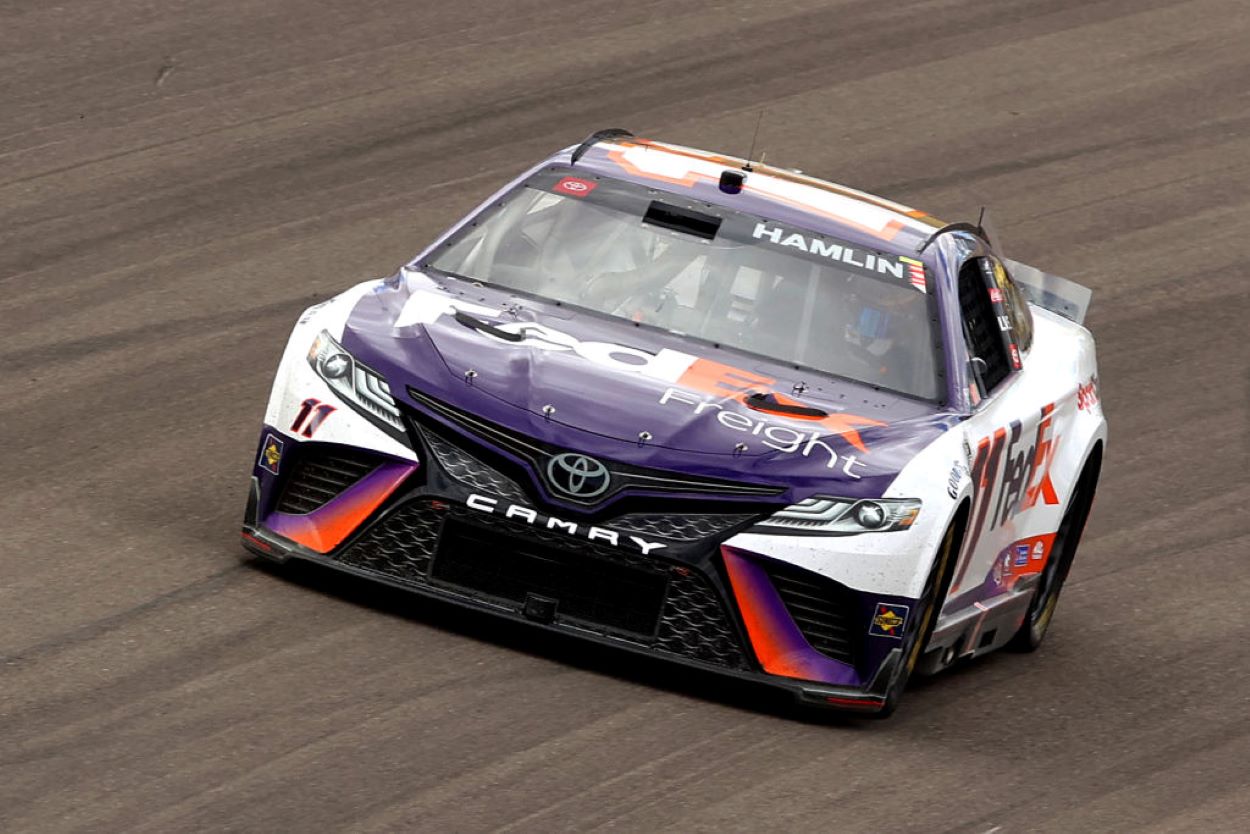 Coming off of pit road, Hamlin had a checklist of things to consider during the Stage 3 moment. There was one thing the 18-year veteran needed to evaluate more: Shifting.
The new Next Gen cars have a different shifting pattern. No longer an H-pattern, Hamlin's muscle memory failed him during his 32nd-place finish.
Attempting a downshift to increase his speed, Hamlin miss-shifted, and the car spun out. Hamlin realized he blew up the car's drivetrain after being pushed to the pits by a tow truck.
He was done.
"Just killed every gear," Hamlin told Fox Sports. "We had the best car today. Just made mistakes."
After three events this season, Hamlin, who has 46 career wins, ranks 30th in the driver standings.
Like Tyle Reddick, Aric Almirola experiences numbness in his legs 
The lone Cup driver to place in the top 10 during the opening three points races, Aric Almirola ran as high as second in Stage 1 of the Pennzoil 400.
Midway through the 267-lap race, however, Almirola started experiencing numbness in his legs. Fox Sports reported that Almirola was bothered by vibrations along the seat and pedals.
Previously, NASCAR drivers rarely complained of leg numbness. It's becoming a trend with the new Next Gen cars.
Tyler Reddick complained of leg-leg numbness during the Wise Power 400 at Auto Club Speedway. He took a pain reliever and continued racing.
Reddick also experienced numbness in his right leg during qualifying practice on March 5, and crew members made cockpit alterations.
Alex Bowman holds off teammate Kyle Larson for Pennzoil 400 win 
For the third race to start the 2022 season, teammates battled for the checkered flag.
The first two ended badly. Team Penske's Austin Cindric walled Ryan Blaney to maintain his advantage during the Daytona 500 on Feb. 20. Hendrick Motorsports' Kyle Larson executed a controversial block on Chase Elliott on Feb. 27, prompting owner Rick Hendrick to join the team meeting to calm any ill feelings.
Hendrick Motorsports teammates – Larson and Alex Bowman – raced door-to-door in overtime of the Pennzoil 400.
This time, there were no hurt feelings.
Larson didn't pull any moves, and Bowman pulled away on the second OT lap.
Emerging from his machine after his victory burnouts, Bowman told Fox Sports: "Racing Kyle is always fun. We've always raced each super clean and super respectfully."
Like Sportscasting on Facebook. Follow us on Twitter @sportscasting19.
RELATED: NASCAR Notebook: Kyle Busch Still Struggling; Christopher Bell Rings Pole; Chase Elliott, Kevin Harvick Teams Penalized