NASCAR Notebook: Kevin Harvick Ties Unique Record; Phoenix Raceway Gets Sticky; RFK Racing Ready to go Retro
Kevin Harvick may not be winning races recently, but at least he's establishing new NASCAR Cup Series records.
Did the track at Phoenix Raceway keep sticking it to the drivers?
Slow-starting RFK Racing is ready for a 2004 flashback.
Kevin Harvick ties NASCAR record, but his winless streak remains intact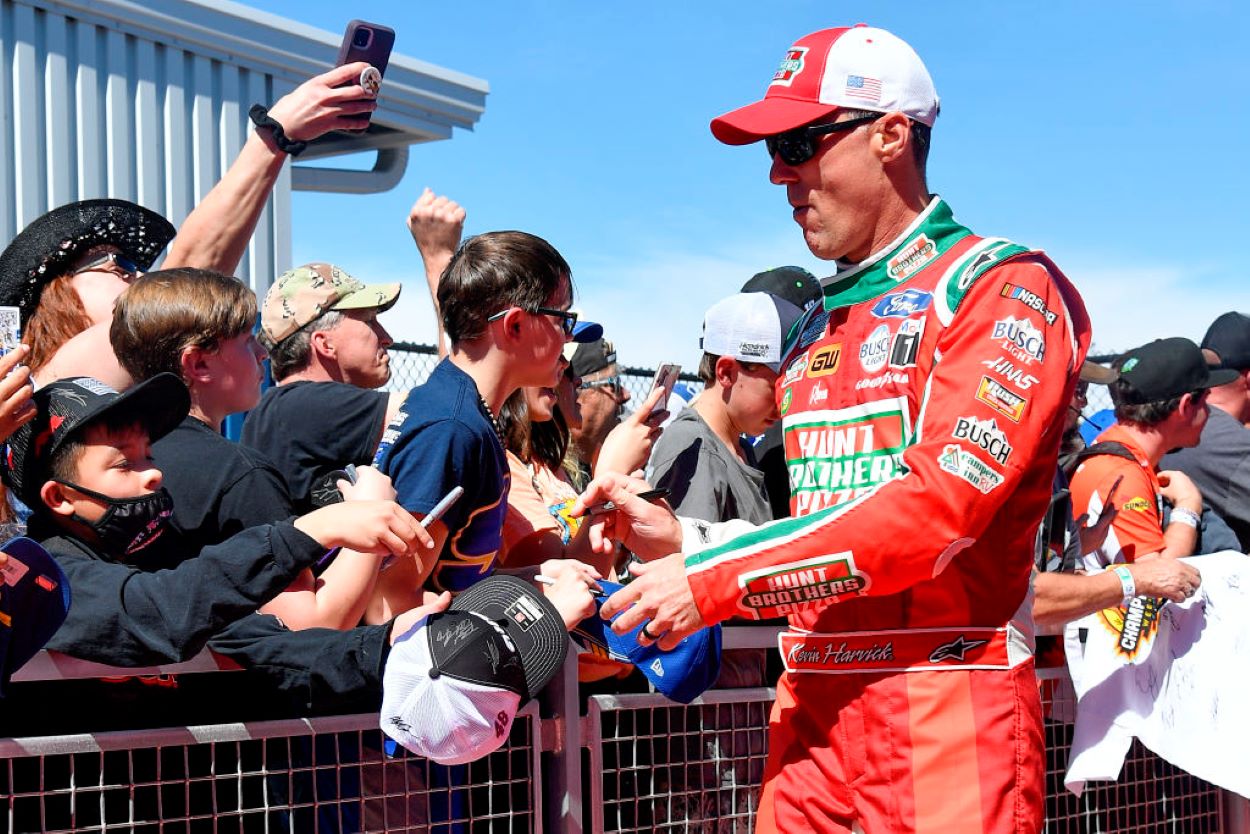 As Phoenix Raceway's all-time leader with nine wins, Kevin Harvick's fans hoped some of his old magic would conjure up an end to a winless streak that dates back to Sept. 19, 2020.
It didn't.
Harvick didn't have the car to run with the lead pack of young drivers, led by the eventual winner Chase Briscoe, who claimed his first Cup event. Ross Chastain, who placed P3 last week at Last Vegas, continued Trackhouse Racing's surge by finishing second, and Tyler Reddick, who overcame recent leg numbness by altering his car's cockpit, placed third.
Harvick's winless streak remains intact, but he did tie a unique NASCAR premier series record.
With his sixth-place finish during the Ruoff Mortgage 500 on March 13, Harvick clinched his 18th consecutive top-10 finish in the desert. It ties the mark currently held by Dale Earnhardt Sr. and Richard Petty. The two Hall of Famers collected 18 straight top 10s at North Wilkesboro Speedway. The idle but iconic raceway is currently being refurbished.
Officials applied Phoenix Raceway's track with resin for better grip
One of the biggest questions entering the Ruoff Mortgage 500 was how the NASCAR Cup Series drivers would handle the resin that was applied along Turns 1-2 and 3-4 at one-mile Phoenix Raceway.
The application creates better tire grip, and track officials applied it, beginning with the track's second groove to the wall. The bottom was clear.
Most drivers prefer to race on resin. It gives them confidence that their machine won't get loose. Phoenix Raceway is a fast short track with a bad reputation for passing. The resin helped.
One path to making a pass is risky, driving down on the apron. Tyler Reddick said on FS1 RaceDay that "no way" was he going to be the first to try the "dogleg."
He wasn't.
Kyle Busch attempted it on the first two laps, and more drivers went that route during the later stages of the race.
RFK Racing going retro for Darlington on May 8
RFK Racing will go retro for Darlington Raceway on May 8.
It won't be 2022 at the superspeedway. It will be 2004, the organization's most successful season.
Known at the time as Rousch Racing, Kurt Busch claimed the Cup title; Martin was fourth and defending champion Kenseth placed eighth.
Current co-owner/driver Brad Keselowski will pilot a No. 6 Ford reminiscent of ex-driver Mark Martin's machine. Driver Chris Buescher's No. 17 Ford will pay homage to Matt Kenseth's ride.
By the time RFK Racing gets to Darlington, they may run more like the '04 squad. Through four events in '22, Harvick, who placed sixth during the Ruoff Mortgage 500, has two top-10 finishes but has only led one lap. Buescher earned his first top 10 at Phoenix Raceway.
Like Sportscasting on Facebook. Follow us on Twitter @sportscasting19.
RELATED: Bobby Labonte Disagrees, but it's Time to Start Worrying About Joe Gibbs Racing