NASCAR Notebook: Kyle Busch Still Struggling; Christopher Bell Rings Pole; Chase Elliott, Kevin Harvick Teams Penalized
NASCAR Cup Series driver Kyle Busch is having trouble staying on the track because of flat tires. 
Christopher Bell rings up his first pole position for the Pennzoil 400 at Las Vegas Motor Speedway on March 6. 
Among five teams failing pre-qualifying inspections, Chase Elliott and Kevin Harvick will start without one suspended crew member. 
Kyle Busch experiences another flat left rear tire, crashes during wind-blown practice session
Kyle Busch needs more air.
Coming off a bad weekend in Fontana, California, where he experienced a spin-out, overheated engine, and a flat left rear tire, resulting in a P37, Busch was hoping for a rebound effort. Instead, he'll start last because of more tire issues.
Busch tore up his primary car after a flat left rear tire caused him to spin out along a wind-swept Turn 3. The No. 18 Toyota hit the retaining wall hard enough to force the Joe Gibbs Racing team to begin preparing the team's backup car. 
With winds blowing around 40 mph, creating a crosswind along Turns 1 and 2 and straight down the back straightaway, drivers needed to be cautious entering Turn 3, or they could easily get loose.
Like Harvick did about six minutes into the expanded practice session at Las Vegas Motor Speedway on March 5. Except he had help. A blown tire aided his spin and crash.
"It just went out," Busch told Fox Sports in the garage area. "Going down the backstretch, it happened so fast. It was too late to do anything. It sucks for all the guys. That's a backup car for sure. When they don't hold air, you can't make a corner."
Christopher Bell earns first career Cup pole position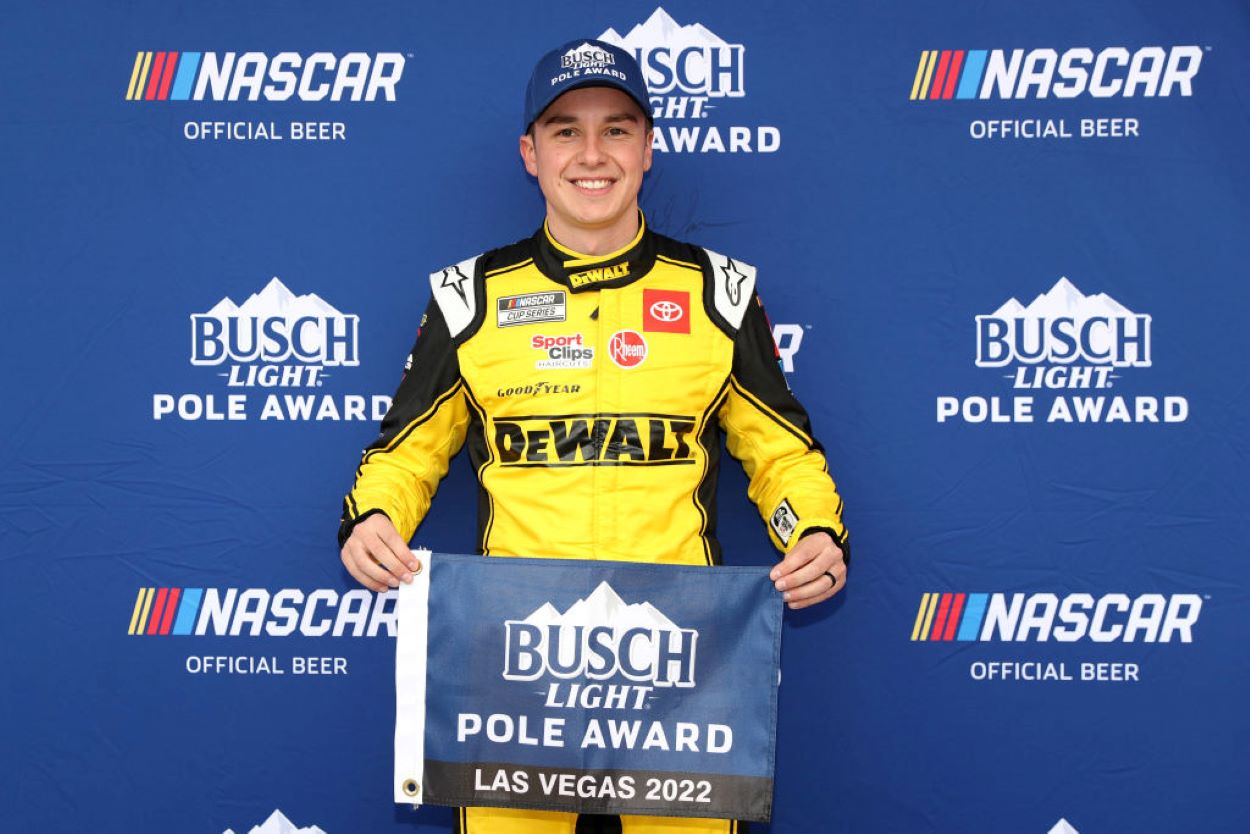 Like Busch, Christopher Bell looked to rebound from a poor outing in Fontana.
The No. 20 Toyota experienced engine problems during the Wise Power 400, resulting in a short ride. Bell's Next Gen car experience engine problems and exited after 94 laps. Bell, who has yet to finish running this season, placed last (36th).
However, at the start of the Pennzoil 400, Bell will start first after capturing his first career pole. Bell turned in a fast lap of 182.673 mph.
"I feel really good about (our car), that's for sure," Bell said, reported by motorsport.com. "In practice, it took probably two runs to get the balance to where I was comfortable, but I knew first run out that we were pretty competitive.
"Really happy where we're at. I love Las Vegas. I wish it was going to be a little bit warmer so we could slide around a little bit more, but Vegas always puts on a great race."
Defending series champion Kyle Larson (182.014) will start outside the front row.
Chase Elliott, Kevin Harvick among 5 teams to fail pre-qualifying inspection twice
During the March 4 check-in, five Cup teams failed two pre-qualifying inspections.
The teams of Josh Bilicki, who entered the week with 1,000-1 odds to win, Harrison Burton, Chase Elliott, Todd Gilliland, and Kevin Harvick were each forced to suspend a crew member. The drivers also will forfeit the Pennzoil 400 pit selection regardless of their qualifying positions. 
For Gilliland, the Front Row Motorsports' teams entered the weekend without three crew members, including crew chief Seth Barbour. They were previously suspended when the machine lost a wheel at Auto Club Speedway on Feb. 27.
Like Sportscasting on Facebook. Follow us on Twitter @sportscasting19.
RELATED: Aric Almirola's Quick Start Driving Career's Best Chapter During Final NASCAR Ride