NASCAR Notebook: Kyle Larson, 2 Teammates in Prime Position; Daniel Suarez Welcomes 'Daniel's Amigos;' Team Stange Racing Introduced
Kyle Larson and his Hendrick Motorsports teammates are in prime position to pull off a West Coast swing sweep.
NASCAR Cup Series driver Daniel Suarez will receive extra support from his "amigos."
The premier series expands by one organization.
Kyle Larson, 2 teammates start in top 10 as Hendrick Motorsports goes for West Coast sweep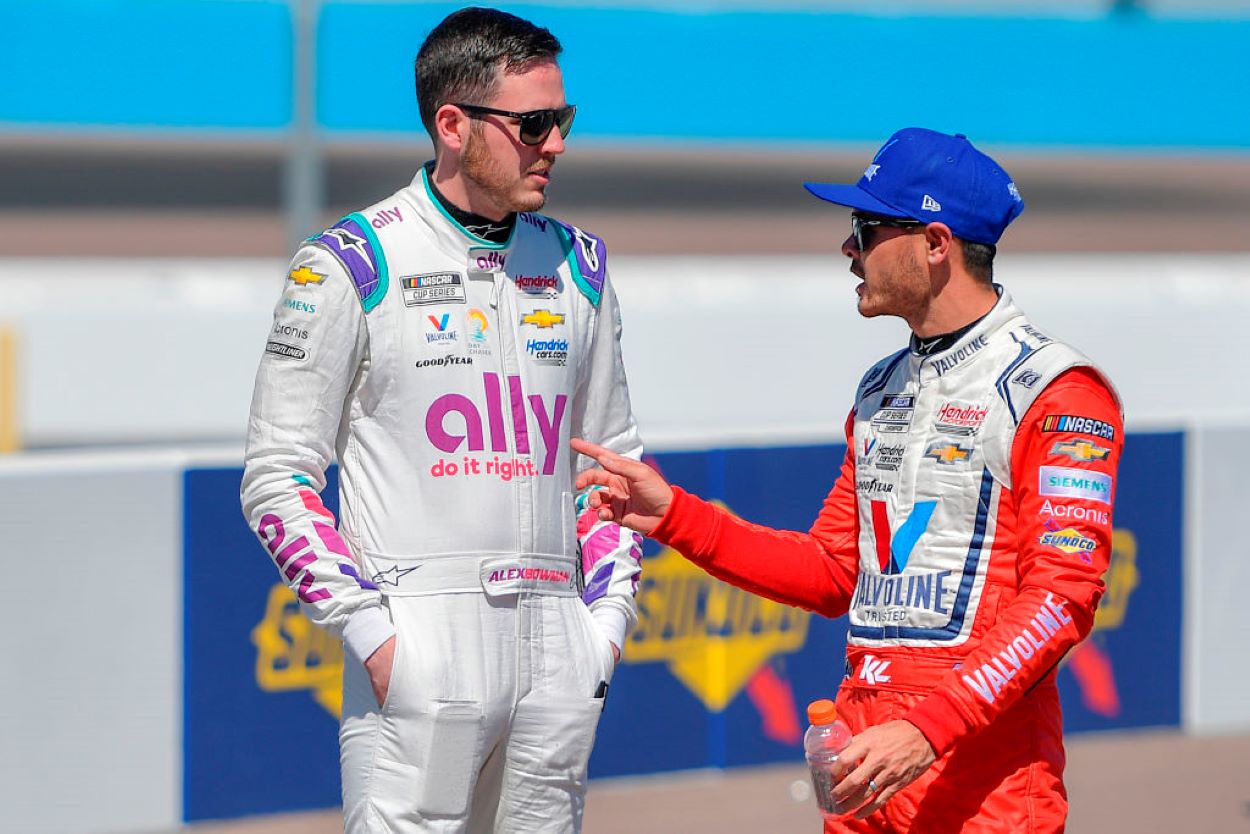 Kyle Larson earned the controversial win at Fontana during the series' first stop.
Teammate Alex Bowman outraced Larson on the final overtime lap, capturing the checkered at Las Vegas.
Can Hendrick go 3-for-3?
In a pre-qualifying interview with Fox Sports, Larson said he would try emulate his effort last November when he clinched his first Cup title with a victory during the Championship 4 race.
Part of what separated Larson from the pack last season was his line around the 1-mile short track.
"I will try to do what I did for the championship weekend last year," Larson said. "At that point, I was the only one to come to the green up on top, and now everybody is doing it."
Fox Sports analyst Danica Patrick noticed Denny Hamlin ran the same line.
"He went to the bottom (of the track) and used all the road coming off the turn," Patrick said. "He used the throttle coming off and didn't downshift, so he didn't have the jolt from the rear (of the car) when he gets on the throttle."
Hamlin used the line efficiently, placing P2 during qualifying on March 12. Ryan Blaney earned his seventh career pole.
With Hendrick Motorsports going for a West Coast sweep, Larson will start seventh, and two of his teammates, William Byron (P3) and Alex Bowman (P9), will begin among the top five rows. Chase Elliott begins 19th.
Daniel Suarez gets boost from special cheering section, 'Daniel's Amigos'
Trackhouse Racing driver Daniel Suarez will enjoy his own cheering section during the Ruoff Mortgage 500. About 200 of "Daniel's Amigos" will make up an exclusive grandstand section at Phoenix Raceway.
"I think I will give a wave to them every time I drive by them," Suarez said via team press release.
As the series lone Mexican driver, Suarez will host the Latino community members for a day, including a pre-race photo session and an authentic Mexican breakfast.
Daniel's Amigos is a program to help expand NASCAR into the Latino community. Could they be on hand to celebrate Suarez' first career win?
NASCAR's premier series expands by one team, introduces Team Stange Racing
Introduced on March 8, Team Stange Racing is joining the field on a limited schedule.
The new organization will run eight Cup events this season, with Tarso Marques slated to pilot the No. 79 Ford in its debut event at Road America on July 3.
"With an experienced driver like Tarso behind the wheel, we're very optimistic about competing in the NASCAR Cup Series this year, with additional races and series to be announced," team president and CEO John Stange Jr. Said in a press release.
Based in Chicago, Team Stange negotiated a financing deal with Dignity Gold, a digital security company.
Marques has no NASCAR grand national experience. He has competed in 24 Formula 1 races but has been off the circuit for 20 years. He failed to earn a podium and never led a lap.
Team Stange has fielded an IndyCar since 2019.
Like Sportscasting on Facebook. Follow us on Twitter @sportscasting19.
RELATED: Daniel Hemric Is Keeping His Priorities in Check in Hopes of Grabbing a NASCAR Cup Series Ride