NASCAR Notebook: Two Crew Chiefs Suspended, Fined at Kansas; Surgen Joining Trackhouse Racing; Xfinity Series Round of 8 Remains Wide Open
NASCAR post-race inspectors issued suspensions and fines following the events at Kansas Speedway on Oct. 23-24.
Joe Gibbs Racing's Adam Stevens will have to sit out the Cup Series next outing at Martinsville Speedway on Oct. 31. He was also fined $20,000 because two lug nuts on the No. 20 Toyota were not safe and secure following the Hollywood Casino 400.
NASCAR's penalty report, released on Oct. 26, also announced $10,000 fines for Stewart-Haas' Johnny Klausmeier and Team Penske's Paul Wolfe. Inspectors caught Klausmeier's No. 14 Ford, and Wolfe's No. 22 Ford with one lug nut not safe and secure.
Xfinity Series associates also ran afoul at Kansas.
Crew chief Kenneth Roettger, car chief Robert Anderson, and crew member Drew Beason were issued four-race suspensions. Their verdict originated after Our Motorsports' No. 23 Chevrolet dropped added ballast.
Crew chiefs Jason Trinchere and Jeff Meendering faced fines of $5,000 after one lug nut was found unsafe and secure. Trinchere works with Kaulig Racing's No. 16 Chevrolet and Meendering handles Joe Gibbs' No. 19 Toyota.
Crew chief Phil Surgen joining driver Ross Chastain on the move to Trackhouse Racing next season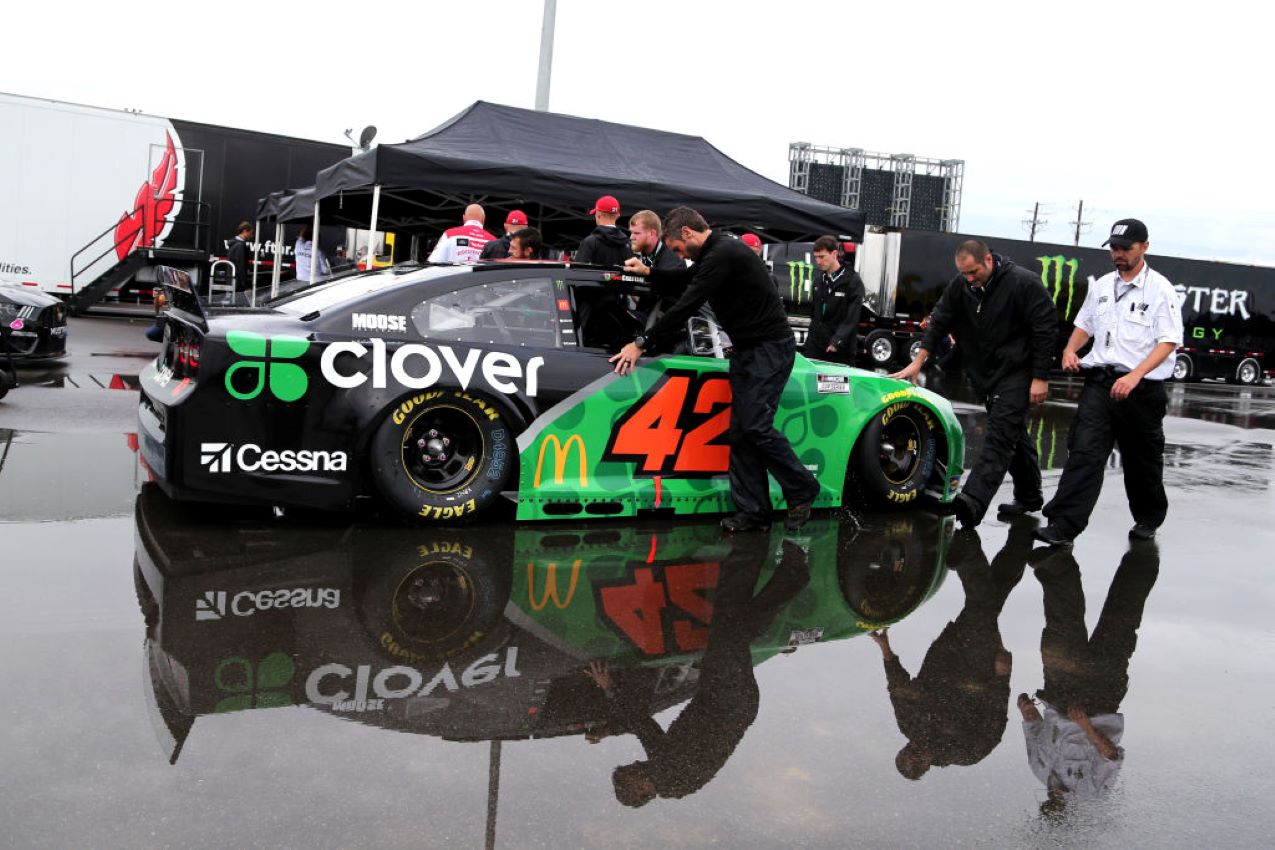 With Chip Ganassi Racing preparing to shutter its Cup Series garage, Phil Surgen found a new job.
The rookie crew chief will join driver Ross Chastain in a move to Trackhouse Racing for 2022. Surgen announced his plans on SiriusXM NASCAR Radio on Oct. 25.
Surgen was initially elevated to the role midway through 2020, working with driver Matt Kenseth for the final 16 events.
Employed by Chip Ganassi since 2016, Surgen started his NASCAR career as a race engineer.
Expanding to a two-car garage next season, Trackhouse acquired Ganassi's operation and designated Chastain to drive the No. 1 Chevrolet. Guided by Surgen, Chastain ranks No. 20 in the 2021 driver standings, compiling three top-five finishes this season.
Daniel Suarez, who drives the No. 99 Chevrolet, will be Chastain's teammate next season.
Xfinity Series postseason features non-playoff driver wins
The Xfinity Series postseason has been anything but predictable.
Over the past five NASCAR events, four non-playoff drivers earned checkered flags. They may be out of the chase, but they remain competitive.
Entering Martinsville Speedway's elimination race on Oct. 30, no one has qualified for the Championship 4 at Phoenix Raceway on Nov. 6. Only one Round of 8 racer, AJ Allmendinger, registered a postseason win but to qualify for the final four he'll likely need to run a clean race.
Austin Cindric and Allmendinger are among the most likely to quality without a win at Martinsville. Both are 47 points above the cutoff line. The rest of the Round of 8 will be in for a dogfight.
RELATED: Why Did NASCAR Penalize Bubba Wallace but Not Austin Cindric for Making the Exact Same Move at Indianapolis?