NASCAR Rewind: Pioneer Frank 'Rebel' Mundy Shared Many Motorsports Milestones; Raced with a Hertz Rent-A-Car
NASCAR pioneer Frank Mundy gave himself the perfect nickname — Rebel.
Starting his history-making career as a motorcycle stunt rider and daredevil driver, Mundy's resume included a stint as the battlefield chauffer of General George S. Patton during World War II.
After his discharge from military service, he found himself a witness to many of stock-car racing's milestone moments. He created a few of his own.
Once, out of desperation, Mundy competed in a motorsports event with a Hertz Rent-A-Car.
Indeed, a Rebel.
Youthful Mundy prepares for NASCAR career by jumping motorcycles through fiery 'ring of death'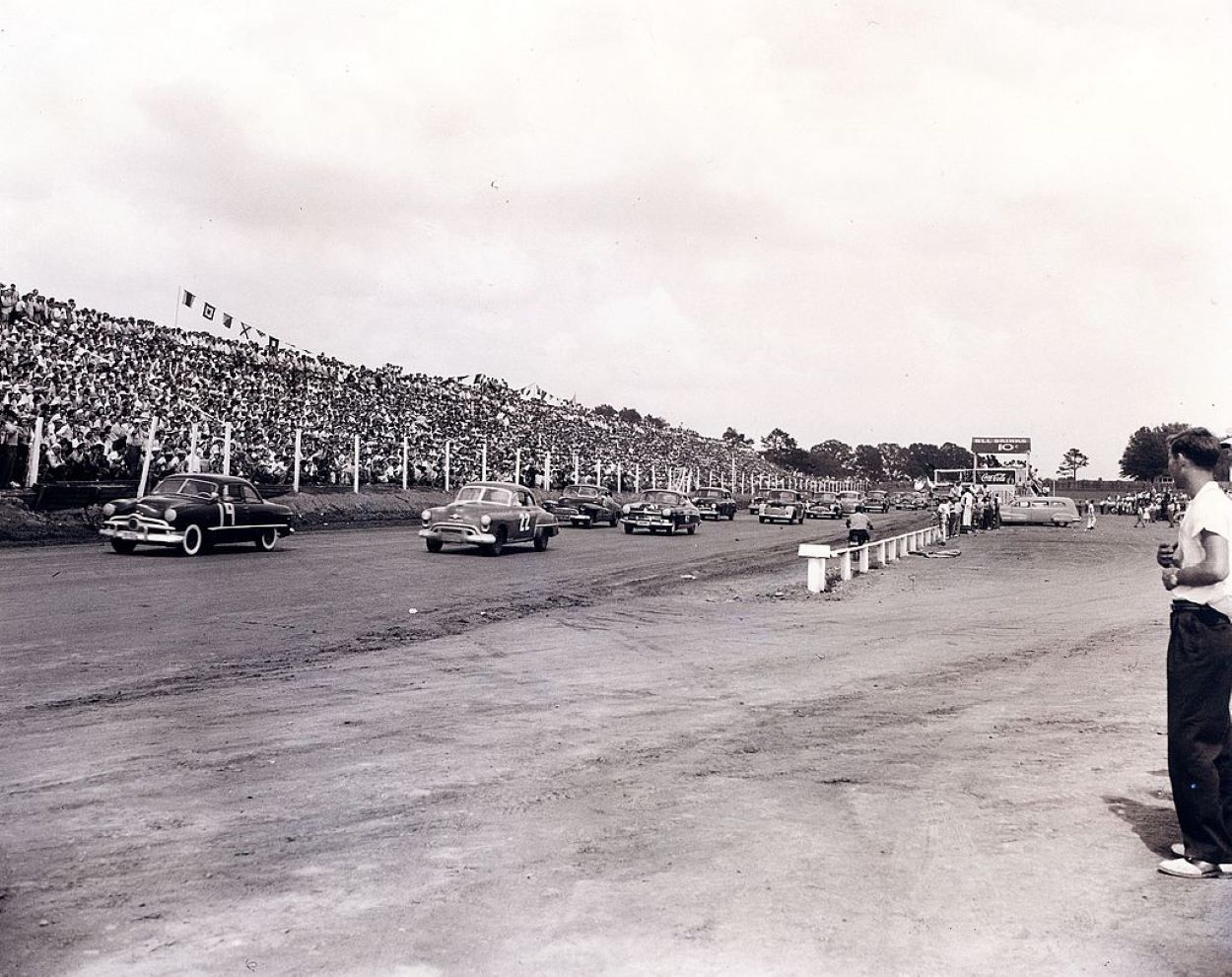 Born Francisco Eduardo Menendez in 1918, the future founding member of professional stock-car racing grew up in an orphanage in Atlanta.
During the Great Depression, the young Menendez supported himself any way he could. At one point, the teenager was a caddy at a local golf course. Later, he turned to the delivery service industry — and discovered his future. He may not have known it then, but speeding through the streets of Atlanta on his motorcycle helped develop his reckless driving style.
His motorcycle abilities were so evident, Menendez joined the Lucky Teeter's Hell Drivers and went on tour, often jumping through a fiery "ring of death." Soon, he signed on with Jimmy Lynch's Death Dodgers and performed as a daredevil driver at the 1939 New York World's Fair.
Around this time, the aspiring stock-car racer adopted the Frank "Rebel" Mundy moniker. After relocating to Florida and making a name for himself as a motorcycle racer, he met some of the men responsible for forming professional stock car racing.
At the right place at the right time, Mundy enjoyed a unique view of motorsports history.
He attended the initial meeting to form NASCAR and volunteered to hold the flash for the photographer who snapped the iconic group photo. Mundy was also present when the unique shape of Darlington Raceway was finalized into an oval instead of a circle.
Driver Mundy puts an 'X' on his up-and-down motorsports career
As a driver, it didn't take long for Mundy to make his mark on the emerging sport, but he did suffer his share of setbacks.
In 52 career NASCAR Grand National Series starts from 1950-56, Mundy captured only three races. In '49, he competed in 10 Strictly Stock Series events and earned two top-five finishes.
Decades later, Mundy could be heard discussing the time he raced in an ordinary rented car — and just missed a top-10 finish.
Assured he would have a stock car to race if he made the cross-country road trip to California, Mundy made the drive. But when he arrived, no ride.
Mundy was determined to compete.
"I hadn't ridden 3,000 miles just to sit and watch a race," he told chippewa.com in 2003.
So, Mundy bummed a ride to a local Hertz Rent-A-Car establishment. He picked out a new Chevrolet model and executed some minor prep work. He purchased white paint, decorated the doors with an 'X', and rolled up to the starting line.
"I was careful to stay out of trouble, especially in the turns," Muncy recalled. "You had to be careful because the stock front-wheel bearings wouldn't hold up."
Still, "I finished 11th and won about $150," he said.
But then he attempted to return the car to the rental agency, well after dark. He could feel the situation spinning out of control.
"Everything was going good," he said.
Until the rental associate looked at the worn tires, prompting a response: "Damn, what happened to those tires?"
The Rebel played innocent and downshifted his fast-talk.
Rebel goes from the pole position to last place
So, do you know the real reason Darlington Raceway is shaped the way it is, becoming "The Track Too Tough to Tame?"
Mundy does. He was there.
"(Builder Harold Braselton) went up to Indianapolis one year and saw all those thousands of people," Mundy said. "And then he came back and decided to build a track that would seat 5,000 fans. That was an unheard of number of people back then.
"Harold had a minnow pond over where turns three and four are, so he made those turns a little sharper because he didn't want to mess up his minnow farm."
Despite his Hispanic heritage, Mundy often raced with the Confederate flag painted on his car.
Rebel certainly was an individual of contradictions.
His on-track finishes were the same way.
During the 1951 Southern 500, Mundy started at the pole position and kept falling back. He finished last.
First to last.
Indeed, a rebel.
RELATED: NASCAR Legend Junior Johnson Served Time in Prison for 'Moonshining' Before Getting Pardoned by Ronald Reagan