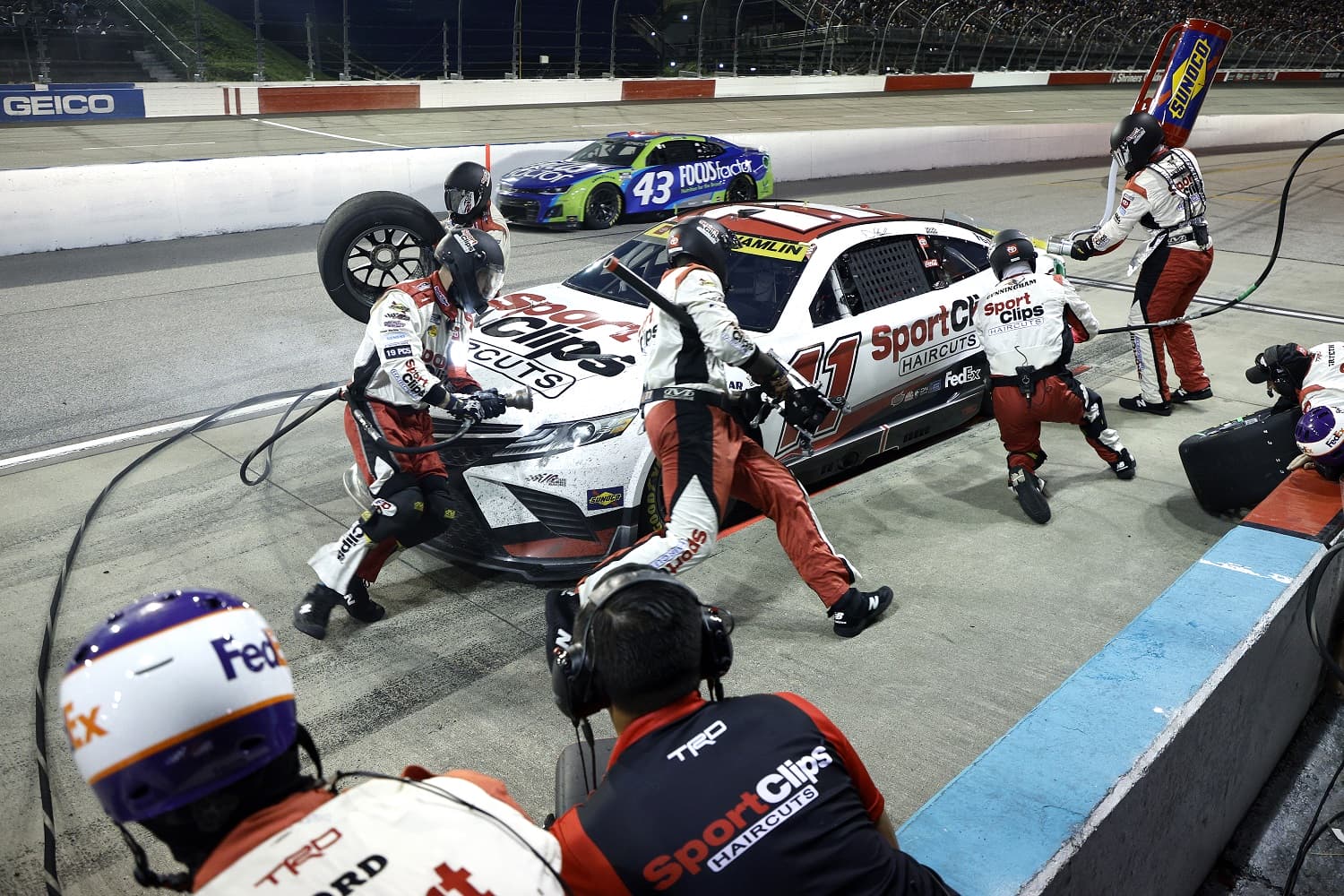 A NASCAR Pit Crew Member Can Make Over $100,000 a Year
NASCAR pit crew members are responsible for refueling, changing tires, and more. The job can pay well.
The adage says a Cup Series team can't win a NASCAR race in the pits but can certainly lose one there. That went out the window in the 2021 Championship 4, where Kyle Larson pulled into his final pit stop in fourth place and exited in the lead. Twenty-eight laps later, he was the champion.
Larson was stellar throughout the season, but the pit crew for the No. 5 Chevy earned its paycheck, and then some, that day at Phoenix Raceway. A pit crew member's salary is no match for that of a top driver, but then some of those jobs do pay nicely.
What it takes to be a NASCAR pit crew member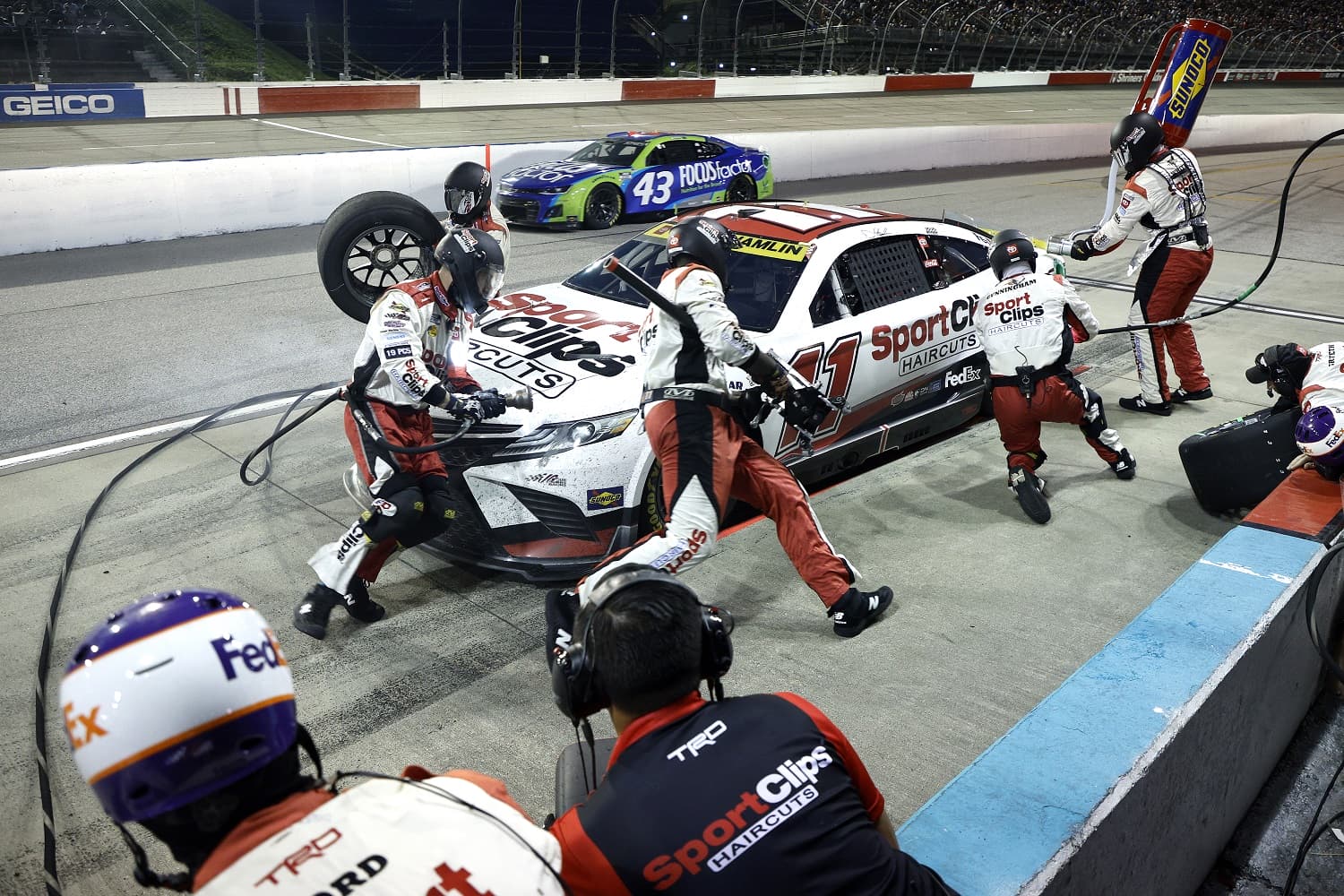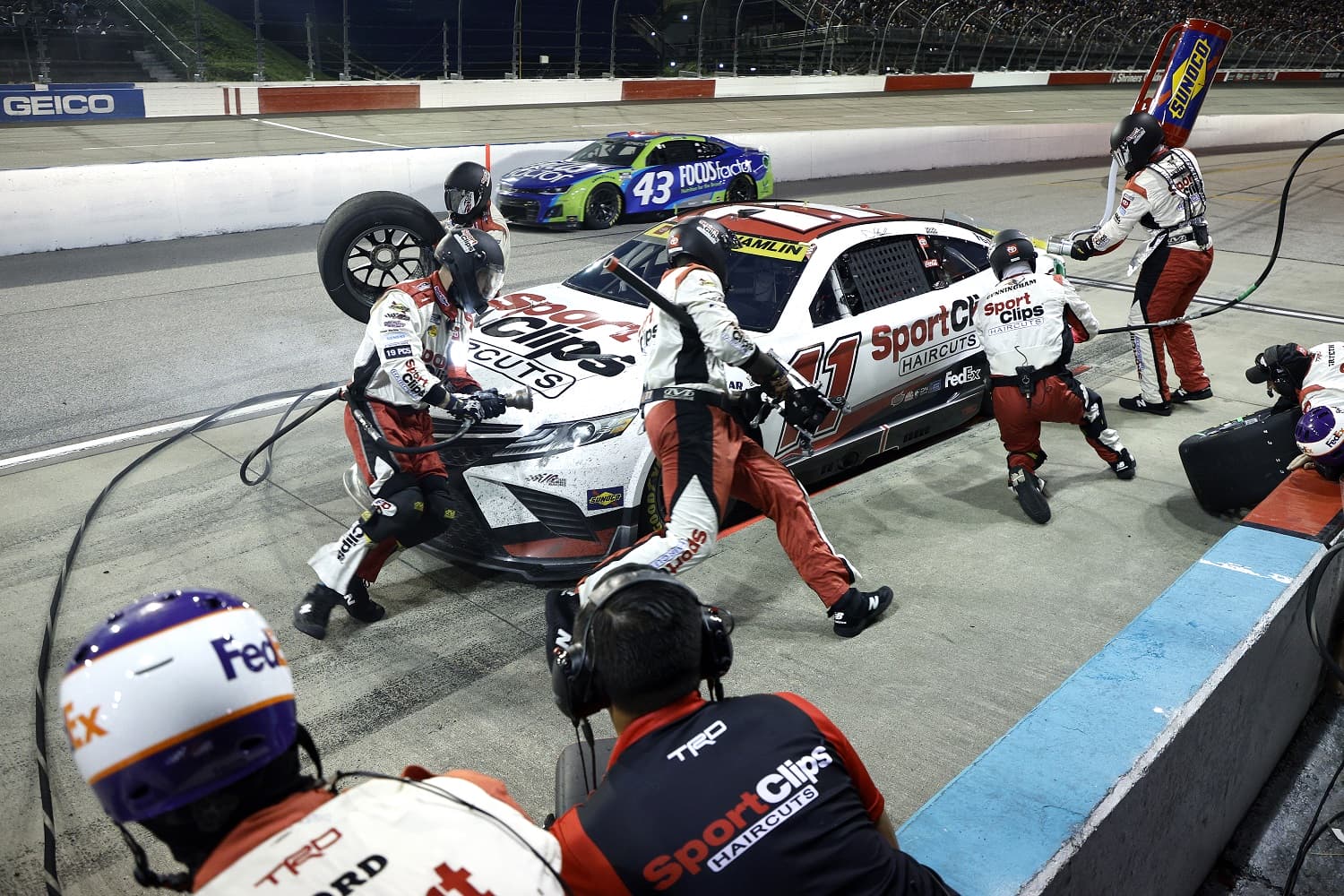 Winning NASCAR races is about speed, both on the track and in the pits. When Kyle Larson's crew got him out of the pits in 11.8 seconds for the team's fastest four-tire stop of the 2021 championship season, it highlighted how critical execution is. Every tenth of a second lost in the pits translates to 1.5 car lengths on an intermediate track or superspeedway.
As such, speed and strength matter. It explains why many of the men handling the tire changes and fueling excelled in sports like football and wrestling in high school or college. Crew chiefs learned long ago that it's easier to teach mechanic skills to a superb athlete than it is to make an athlete out of a master mechanic.
"All these teams have realized that these guys, they're athletes," driver Aric Almirola told the Los Angeles Times before the 2023 Busch Light Clash. "We ask them to jump off the wall, go around the car, change the tires, come around change the other tires, put 18 gallons of gas in and oh, by the way, jack up that 3,400-pound stock car. And do that in nine seconds. Man, that takes an athlete."
Drivers in a relatively uneventful Cup Series race might combine for 200 pit stops.  Of those, 97% might consist of the routine tasks that tire carriers, fuelers, and jackmen perform hundreds of times each season. It's the other 3% of stops that might require going beyond, whether it's to tear off sheet metal or to lend a hand on a broken toe link.
With jackmen, tire changers, and car chiefs always vulnerable to suspensions on short notice, no one on the pit crew has the luxury of focusing solely on their specialty.
The Next Gen can has led to some changes in standard pit stops
NASCAR introduced the Next Gen car last season. Though there were significant changes throughout the car, one of the most noticeable was scrapping the 15-inch tires mounted on metal rims with the standard five lug nuts. Now, there are 18-inch tires mounted on aluminum wheels and fastened with a single lug nut, and they're about 50 pounds apiece and bulky to carry.
It led to Joe Gibbs Racing developing a new choreography in which the crew goes around the front of the car to change right-side tires and then reverses direction to handle the left side, all the while staying out of the way of the gas man. That's become crucial because hitting four lug nuts instead of 20 shaves an efficient stop from 12 seconds to under 10, and the fueler needs every possible tenth of a second to empty the can.
It means a tire changer who previously handled the rear of the car is now responsible for the right-rear and left-front tires.
It's also meant an end to the one-size-fits-all crew that used to handle the Craftsman Truck Series on Friday, the Xfinity Series on Saturday, and the Cup Series on Sunday. Teams quickly started going to different men crew members handling the air gun on Sundays because the single lug nut locks onto the wheel differently, requiring a bit of specialization.
How much NASCAR pit crew members make
While the NASCAR Chronicle website estimated that salaries for members of a pit crew range from $30,000 to $100,000, there are caveats to consider. The jackman's only responsibility is to lift the 3,400-pound car, but he can easily work on all three national NASCAR series in the same weekend if necessary and is able to come in at higher than the $30,000 figure. Ditto for the guy handling 100-pound fuel drums.
Tire carriers and changers may start out near the low end when they're fresh out of school, but they also pick up additional responsibilities like cutting away sheet metal after wrecks and dealing with toe links or other suspension components. Those guys can also work their way up to better-paying teams because they have measurables: A $15 stopwatch will show how certain guys consistently get to their spots and complete their responsibilities one- or two-tenths faster than others.
Finally, there are the mechanics. They may go months at a time without going over the wall during a race, but they are responsible for just about every setting and calibration from the moment the car is loaded onto the hauler in North Carolina to when it passes inspection at the track.
During races, they take feedback from the driver and crew chief and stand ready to get under the hood if the car develops issues with pumps, belts, or hoses. Their level of expertise, which includes a thorough knowledge of the rule book, is where six-figure salaries start to kick in.
The salaries for all of the above increase with experience, and there are also performance bonuses to consider on race day and at the end of the season. Everyone is likely to find something extra in their paycheck for a top-10 finish, and the better-financed teams wouldn't blink at matching the week's salary after a victory.
Got a question or observation about racing? Sportscasting's John Moriello does a mailbag column each Friday. Write to him at [email protected].