NASCAR Premier Series Driver Denny Hamlin Suffers Hard Rookie Lessons at Martinsville, Seeks to Utilize Experience in Round of 8 Elimination Race
NASCAR premier series driver Denny Hamlin enjoyed a landmark rookie season.
Named the then-Sprint Cup Series' rookie of the year in 2006, Hamlin became the first first-year driver to qualify for the playoff chase. In today's terminology, the Cup Series driver qualified for the Championship 4.
Along the way, however, there was Martinsville Speedway.
The rookie had dues to pay.
NASCAR premier series driver Denny Hamlin prepared to run a smart race
Entering the Xfinity 500 at Martinsville's .0526-mile track on Oct. 31, Hamlin is 32 points above the Round of 8 cutoff line.
If Hamlin wins, he automatically qualifies for the Championship 4 at Phoenix Raceway on Nov. 7. But if he's forced into a points scenario, Hamlin is prepared to run a smart race.
At least a more mature effort, unlike his rookie experience when a cut tire forced his car to crash rear-first into the wall.
"I was caught up in an incident," Hamlin said during a wdbj7.com interview on Oct. 28.
The culprit who caused the crash might be lost in time to Hamlin. Maybe it was a young Jimmie Johnson. Perhaps it was Tony Stewart. Regardless, Hamlin recalled the lesson he learned from listening to a peer and watching a true professional.
A driver, possibly Johnson, told him how one race he settled his machine behind Jeff Gordon and just followed the 93-win legend around the half-mile track.
It proved to be an epiphany.
"Oh, well, that's how you're supposed to do it," Hamlin said. "From that point on, he just kind of (got) it.
"My situation was probably pretty similar to that."
Hamlin remains 'confident in our chances' to qualify for the Championship 4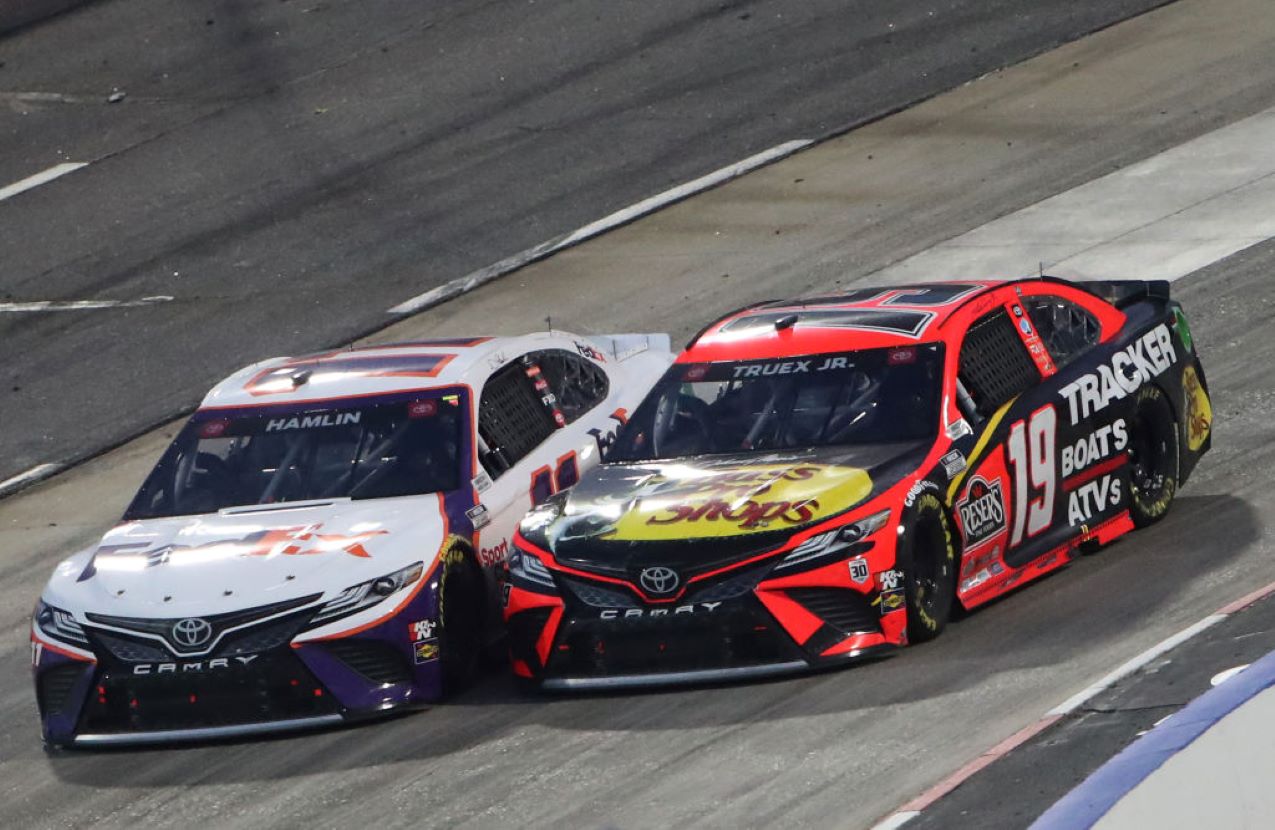 Hamlin learned his Martinsville lessons well. In 31 career starts, he leads all active drivers with five wins and 16 top-five finishes. During last April's spring race, he led 276 laps.
Ranked third for the upcoming Round of 8 elimination race, Hamlin is two points behind No. 2 Chase Elliott.
Series leader Ryan Larson, who has captured three straight races for the second time this season, matching the mark the last set by Dale Earnhardt Sr. in 1987, is the lone final four qualifier.
Hamlin said he was confident entering the Halloween weekend event.
"I'm confident in our chances at Martinsville," Hamlin said, according to a press release. "We've been very strong at these types of racetracks, and I'll think we'll have a really good FedEx Toyota when we go there.."
Hamlin maps out track strategy to get points, look for win
Hamlin declined to detail his strategy for NASCAR's shortest track but did suggest he was seeking points as much as a possible checkered flag.
"I think we should be OK. But, of course, you just never know what can happen," Hamlin said. "I just need to make sure I get some stage points and don't give it away early, and I think we'll be alright to advance."
Playing it safe is an OK start, but he knows if there is a chance to win, "we want to battle for the win because if in the battle for a win, we'll be fine no matter where we finish."
Lessons learned.