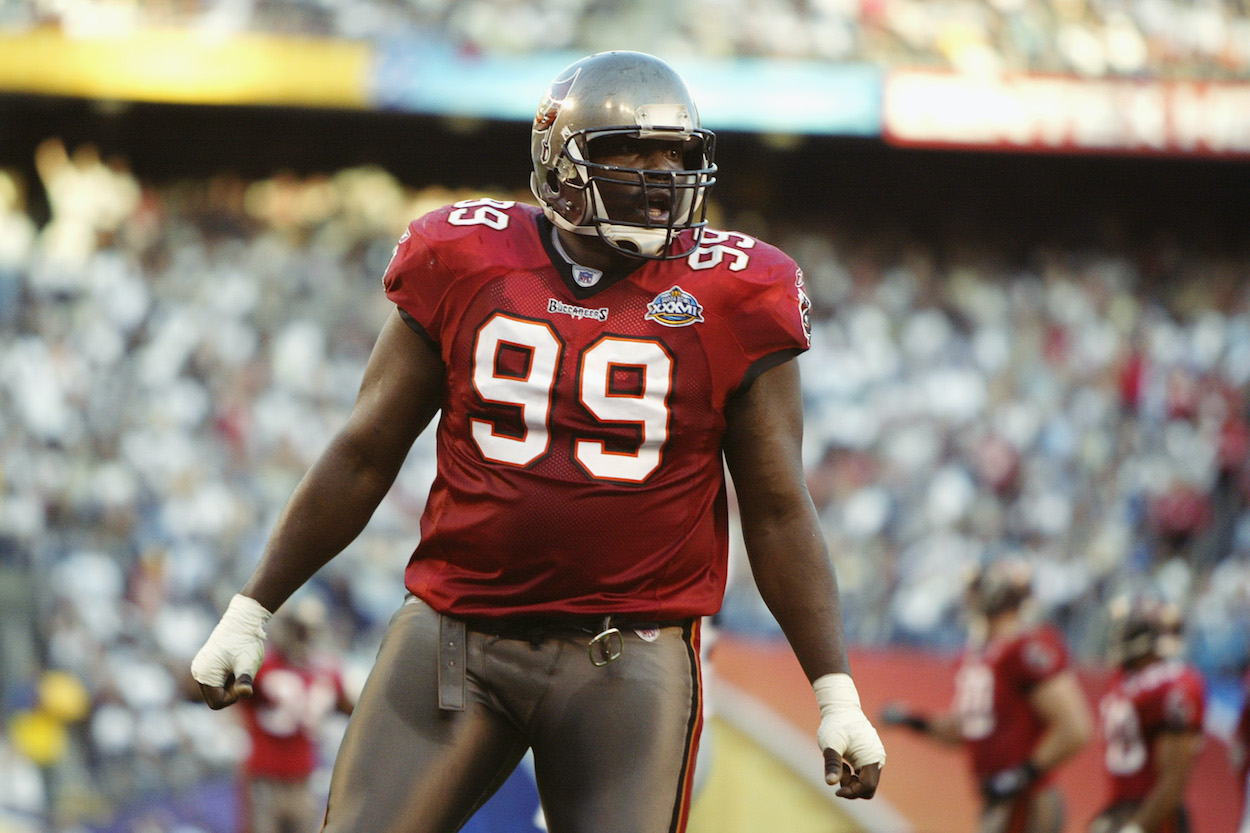 NASCAR President and Former NFL Executive Steve Phelps Might Have Thrown Warren Sapp Under the Bus for Selfish Behavior and a Million-Dollar Mistake
NASCAR President Steve Phelps worked at the NFL for 14 years and recently shared a story in which he might have thrown Warren Sapp under the bus for a million-dollar mistake.
NASCAR President Steve Phelps has endured controversy in his tenure with the organization. Before joining NASCAR, he worked 14 years at the NFL. On a recent episode of the I Am Athlete-NASCAR podcast, Phelps detailed his time working in marketing with the NFL, including one particular story in which, without confirming as much, he might have thrown Hall of Famer Warren Sapp under the bus for some selfish behavior.
Steve Phelps part of decision to remove confederate flag
Steve Phelps became president of NASCAR in 2018, just the fifth person to hold the position since the organization's founding. History will show he was in charge during one of its most tumultuous times in 2020, when the sports world shut down due to a pandemic, and social justice issues became a major conversation in the United States following the death of George Floyd.
Phelps played a big role in that discussion and spearheaded a group that decided it was time for the Southern-based organization to take a stand, which included banning the confederate flag from all races. He also delivered an emotional message to drivers just a week after Floyd's death and before the race at Atlanta.  
"Our country is in pain, and people are justifiably angry, demanding to be heard," Phelps said over the radio to the drivers, which was broadcast to the national television audience. "The Black community and all people of color have suffered in our country, and it has taken far too long for us to hear their demands for change. Our sport must do better. Our country must do better. The time is now to listen, to understand, and to stand against racism and racial injustice."
Steve Phelps might have thrown Warren Sapp under the bus
Before his time at NASCAR, Phelps spent 14 years working his way up through the marketing ranks at the NFL. During that time, he served as a marketing manager who worked with different sponsor brands like Miller, Budweiser, and Visa. 
Phelps recently appeared on the I Am Athlete-NASCAR podcast with co-hosts and former NFL players Brandon Marshall, Channing Crowder, and Fred Taylor, where he talked about what it was like working with certain players. He remembered one particular instance when a player didn't want to stick around for a full-day commercial shoot. 
"One of our sponsors was Visa and they went and shot — I can't tell you who the player is — they had a million-dollar commercial shoot for Visa," Phelps began. "They got one player in the spot. And the one player showed up about an hour late, and it was an all-day shoot. He shoots for about 60 to 90 minutes. He gets to about lunch because he's supposed to start around eight or nine, and he just starts leaving. I was like, 'What's up?' 'You know what? I'm going fishing,'" Phelps said the player told him. "At a million-dollar shot. I'm going fishing."
After Marshall asked who the player was, he guessed Brett Favre and Taylor guessed Randy Moss.
"It wasn't Randy Moss," Phelps said. "He was a Buc." With that clue, all three players seemed to know who it was. 
"Big Sapp," Crowder said laughing. 
"Warren Sapp," Marshall echoed with a big laugh of his own. "That sounds like him."  
Phelps neither confirmed nor denied their suspicions.
[Correction: An earlier version of this article incorrectly indicated that Phelps named Sapp as the player in question and featured material about Sapp's on- and off-field history that was not germane to the story.]
Like Sportscasting on Facebook. Follow us on Twitter @sportscasting19.