NASCAR President Steve Phelps Promises to 'Take Calculated Risks' and Move Cup Series in 'Bold' New Directions in 2022 with Next Gen Car, Expanding Footprint
NASCAR President Steve Phelps is looking forward to the future.  
With emerging stars like 2021 Cup Series champion Kyle Larson redeeming his image, franchises like Hendrick Motorsports developing a new driving dynasty, and Next Gen cars on the competitive horizon, Phelps eagerly waits for his plans to play out over the next several years.  
The president promises to "take calculated risks" and to turn the key on "bold" initiatives coming out of the coronavirus (COVID-19) pandemic.  
NASCAR President Steve Phelps: 'Frankly, we are a stronger sport today'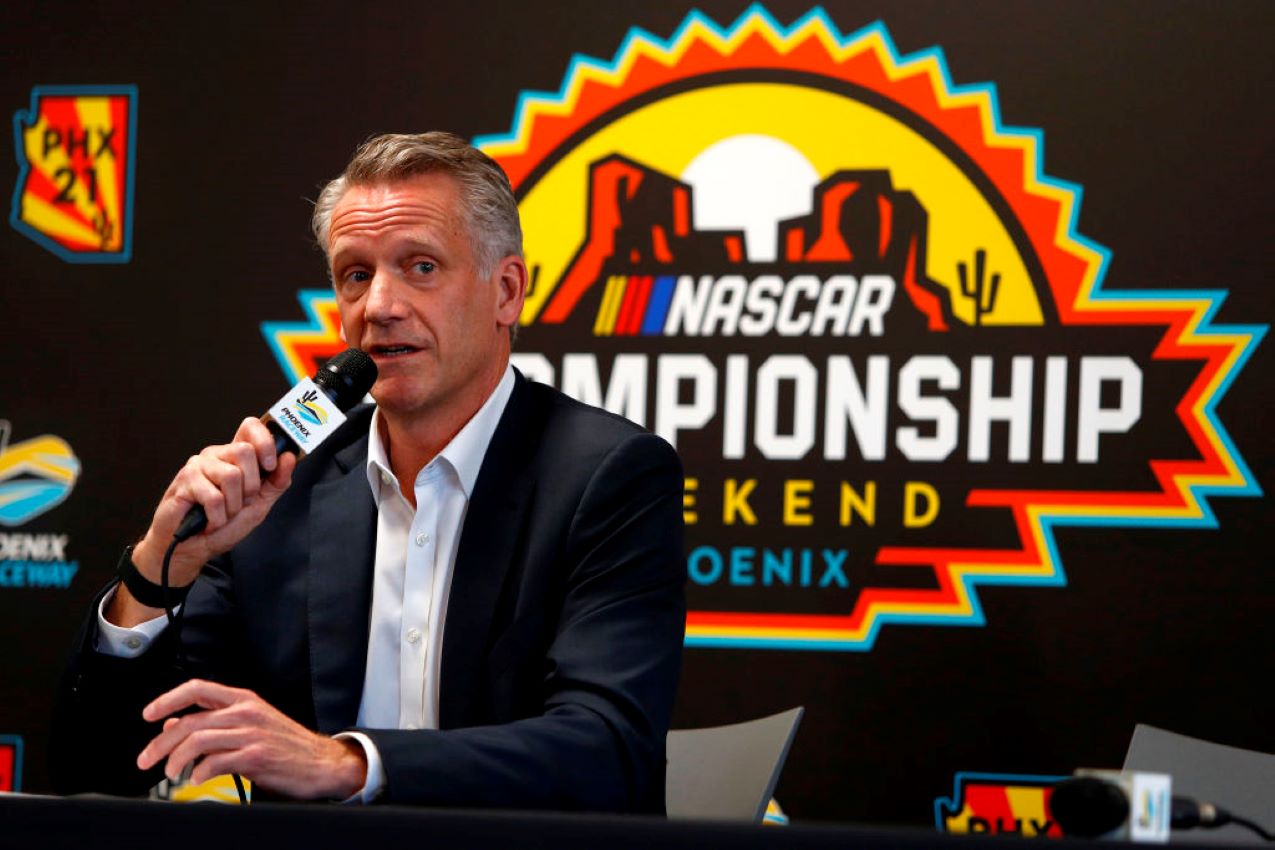 Holding court during the Championship 4 festivities at Phoenix Raceway on Nov. 5, Phelps presented his state-of-NASCAR address.  
"Last year wasn't an easy year, but we persevered," Phelps said, reported by motorsport.com. "Frankly, we are a stronger sport today than we were pre-pandemic. I would argue with anyone who would say otherwise."  
Next Gen cars were an important topic of discussion.  
"The Next Gen car is an important part of the future of where NASCAR is going to go," Phelps said. "It really hits on a lot of different important things for this sport. Whether you're talking about relevance; you're talking about styling, you're talking about bringing this car to a place that, frankly, the existing car can't bring us to.   
"The technology in the car, the data that's going to spin off that car. (It is) all designed to enhance the fan experience. That's what I think is going to happen here."  
New champion Larson could develop into a NASCAR Cup Series ambassador  
While COVID-19 restrictions played havoc with staging professional sporting events last year, NASCAR's three national series found a way to fulfill its scheduling obligations. They did so with limited fans and an abundance of team restrictions.  
The 2021 season wrapped up Nov. 7, with Larson claiming his first Cup title. In his first season with Hendrick Motorsports, Larson rebounded from a troubling incident in 2020. During a streamed iRacing event, he uttered a racial slur. Larson was suspended and then fired by Chip Ganassi Racing. NASCAR also instructed Larson to undergo sensitivity training. He spoke often recently of the lessons he learned.
 As the circuit's lone Asian-American driver, Larson could prove to be an ambassador to the sport if he continues to win and steer clear of additional controversy.  
Phelps said the Cup Series would continue to run events at various venues next season and beyond. Dirt racing likely will remain on the schedule, along with increased stops at road courses.  
"I think the schedule variation is critical for the success of this sport," Phelps said.  
Phelps hints at more changes coming to NASCAR in 2022 and '23  
For the next season, Phelps remained optimistic in expanding NASCAR's footprint. The two new venues include the Los Angeles Coliseum and the World Wide Technology Raceway unveiling near St. Louis. 
"As we look to the schedule in 2022, going to the LA Coliseum to kick off our debut with our Next Gen car as a proof point frankly to we're going to be bold in what we're doing, whether it's the schedule or the car, all of it – we're going to take calculated risks," the president said.  
Phelps eagerly waits for the future, at least the near future.  
"I don't know what the '23 schedule is going to look like," Phelps said, "but I know it's not going to look like the '22 schedule."