NASCAR Race Day: 11 Things You Should Take to the Track — and 4 Things to Leave at Home
For motorsports fans, one of the most thrilling experiences is attending a NASCAR race. Nothing can compare to watching 40 cars roar around the track at speeds of nearly 200 mph. But to make the most of your day at the track, you'll want to bring along several items. Here are the top 11 things you should take with you on NASCAR race day — and four things you should leave at home.
What should you take to a NASCAR race?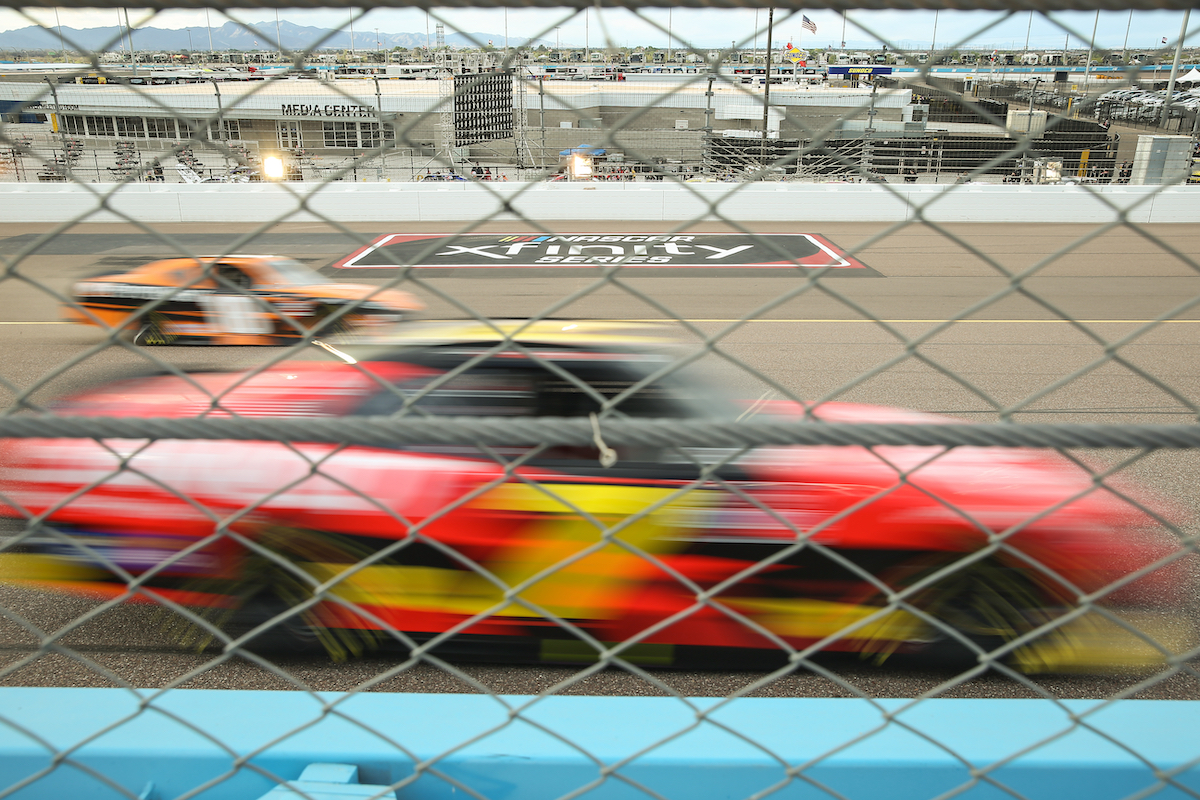 Because many NASCAR events take place during warmer-weather months, you could have a long list of items you want to take with you. The problem is, the more you lug around, the more uncomfortable you might be. So here are 11 must-haves in case you were considering leaving some items behind to lighten your load.
Food/snacks: Concessions are not cheap, and lines can grow long. Take a bag of snacks (cookies, crackers, or dried fruit) to tide you over.
Small radio or scanner: When you visit a superspeedeway, such as the 2.5-mile oval at Daytona International Speedway, expect to lose sight of the cars. That can make it difficult to keep up with where your favorite driver's position, what caused an accident, etc. A small radio can help you fill in the blanks if you miss some action.
Water bottles: Hydration is important during long race-day events. The stands can get blazing-hot on summer days and cause some spectators to experience heat-related health concerns. Bringing your own water can help you avoid missing part of the race because of the heat.
Binoculars: Although not always required, binoculars are often good to have on hand because they'll allow you to view other parts of the track. This may be less of a concern if you're visiting a short track such as the one at Knoxville Raceway, whose oval is only a half-mile long.
Seat cushions: Some race events last one and half to three hours, but the length depends on what happens during the race. Frequent crashes by aggressive drivers, sudden rain showers, and other events can delay the race, leaving you sitting longer than anticipated. For your comfort, a seat cushion is a good idea because bleachers aren't known for comfort.
Towels: A towel can protect bare legs so your skin doesn't end up touching hot metal bleachers on a 90-degree day when you're wearing shorts. Towels may also take the place of seat cushions.
Sunscreen: No one wants to feel the consequences of sitting for three hours in the sun without protection. Slather on suncreen before you leave, and pack some in case you sweat it off.
Raincoat or poncho: Showers can happen unexpedtedly. According to Dummies, umbrellas are not allowed in NASCAR stands because they block other spectators' view. A raincoat or poncho will ensure everyone else can see clearly while you stay dry.
Earplugs: NASCAR races can be exceptionally loud, exposing people to around 96 decibels of noise during a race. This is much higher than the safe limit of 85 decibels. So take and wear earplugs or other hearing protection.
Camera: To capture memories on race day (and show proof you were there), having a camera with a good zoom is a bonus. It can also double for binoculars to show you what's going on at the other side of the track.
The right clothing: Dress for the weather. Wearing layers is the best strategy for making your time at the track more enjoyable.
What should you leave at home?
Some stadiums can hold over 100,000 spectators, so you cannot bring certain things to the track due to limited space and speedway and NASCAR rules.
For instance, not only should you leave umbrellas at home, but weapons are also a no-no.
Coolers larger than 14 x 14 x 14 inches and glass containers are two other items to leave behind. Stainless steel tumblers, plastic bottles, and paper or plastic cups for your drink are fine.
Enjoy your NASCAR race day
And last, bring your patience. It'll go a long way to experiencing a race with thousands of other fans, some of whom have waited a lifetime to attend a NASCAR event.
By choosing the right items to take to the track, you'll ensure you have everything you need to enjoy your day to the fullest.
RELATED: NASCAR's Newest Fan and NFL Star Alvin Kamara Provides Hilarious Commentary During Races