NASCAR Race Day: What Should You Wear to the Track?
Seeing a NASCAR race in person is an exhilarating experience. The grit, the roar, the grandstands, and the press of other people turn an incredible race into an unforgettable memory you'll be hoping to repeat every year. Of course, right now the press of other fans is little less (and tickets are a little more scarce) with social distancing concerns in the stands. But if you're one of the lucky thousands able to attend NASCAR live this year (or are planning ahead to your first big race in the future), now is the perfect time to pack your bag and plan what you should wear to the NASCAR race track.
What should you wear to the NASCAR track?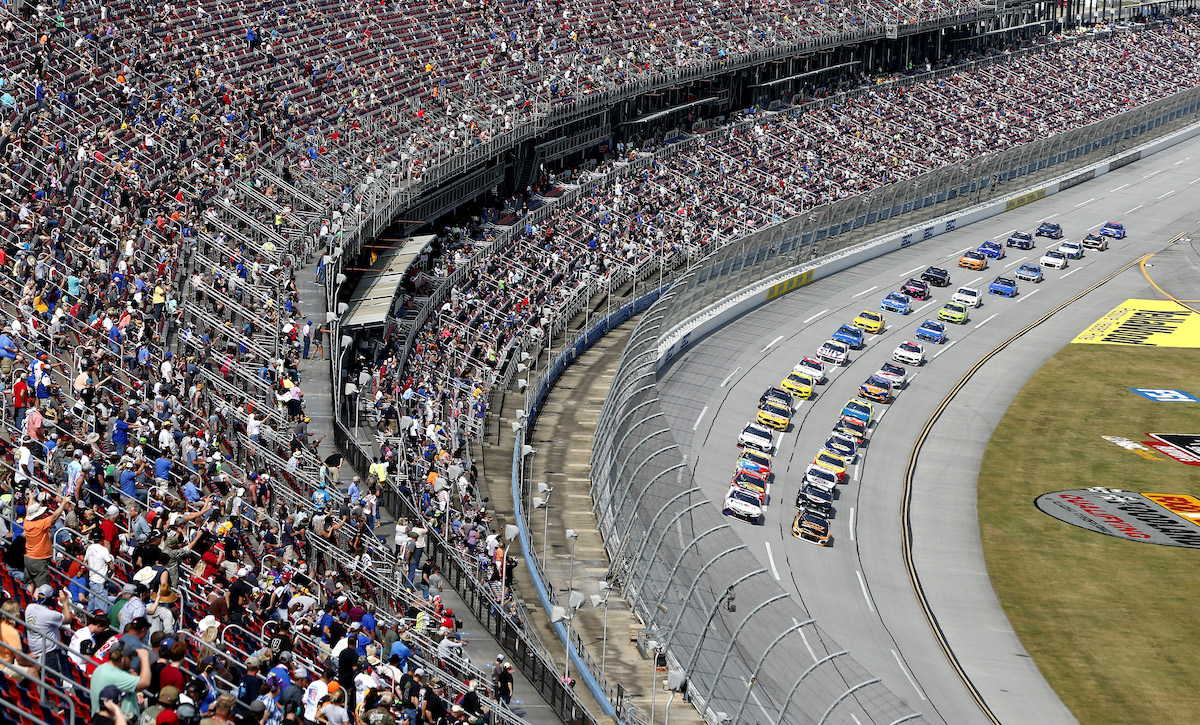 So what should you wear to the NASCAR track? Dressing for a day at the races doesn't need to be a fashion show. In fact, experienced NASCAR fans will tell you not to bring anything you don't want stained and possibly rained on. Races are an intense experience, with soda and hot dogs on every side. Plan to dress in practical, comfortable clothes.
The right shoes are a must
Start with the shoes. Pick shoes you can be mobile in. You'll be climbing up and down bleachers, jumping up to cheer, and dodging other fans along the way. Wear sneakers or boots. If you wear sandals, choose a sporty sandal that holds on with support and traction, Your feet will thank you later.
Consider long pants for hot bleachers
Anyone who's been to the races will tell you that the bleachers can get hot so wear long pants with your NASCAR outfit. This will save you from knee scorches (and worse) and ensures you're equipped to brave the crowds and the stands all day.
Pick a comfortable shirt for the weather
What should you wear for a shirt? Anything you want! You can wear anything from tank tops to dress shirts, whatever makes you feel best. Mostly, you'll see other fans in T-shirts in every possible color with the occasional printed overshirt.
Plan for the weather when deciding what you should wear to the NASCAR track
Don't forget to check the weather. A good NASCAR race experience lasts five to six hours in the stands, which means the weather can change during that time. Check the weather forecast and pack your outerwear accordingly. Umbrellas block view and often aren't allowed in these stands, so bring rain ponchos for everyone if bad weather is more than 30% possible in the forecast for your NASCAR day.
Remember, cheering for your favorite drivers in the stands is messy work — so you'll probably want a stash of beach towels in the car, even with packed ponchos.
Don't forget the sunscreen
As for sunshine, pack shades, sunscreen, broad hats, and overshirts, says AltDriver You may have warm weather outfits in mind, but six hours of sun is enough to scorch anyone to a crisp. Protect yourself and your friends from the sun by planning ahead. Matching ball caps can be a great way to go as a team, or bring a wide-brimmed hat to keep your ears from burning. Sunscreen is essential if you want to hangout in shorts and tank tops, while a breezy white overshirt is the perfect way to keep the sun off and stay cool, as long as there's a light wind.
Sunglasses are especially useful on sunny race days. Pick polarized lenses to help you better see the race itself. A little misting hand-fan isn't a bad idea either.
What not to wear at NASCAR: the two dress-code don'ts
Last but not least, is what not to wear. No matter how glamorous you feel at the track, leave the high heels at home. The grandstands are not built for single-point heels and you'd be better off in a pair of fashion sneakers. For men and women, never (ever) wear white pants at NASCAR. Not unless you want to take a map of the entire track home on your back bumper.
RELATED: NASCAR Announces Another Noticeable Change to Cars and Fans Might Not Hate It