NASCAR's 'Let's Go Brandon' Brown Writes He Wants Out of Politics, Starting New Chant, 'Let Brandon Go'
Brandon Brown does not see himself as a political pawn. The NASCAR Xfinity Series driver does not want to lead political discussions or be a footnote on the right wing's view of the current Democratic administration. 
Brown wants to focus on the 2022 NASCAR season, not continue to be the subject of anti-President Joe Biden slogans.
He wants to start a new non-political chant: "Let Brandon go."
His name is Brandon Brown: 'Yes, that Brandon … the NASCAR driver … and unlikely meme'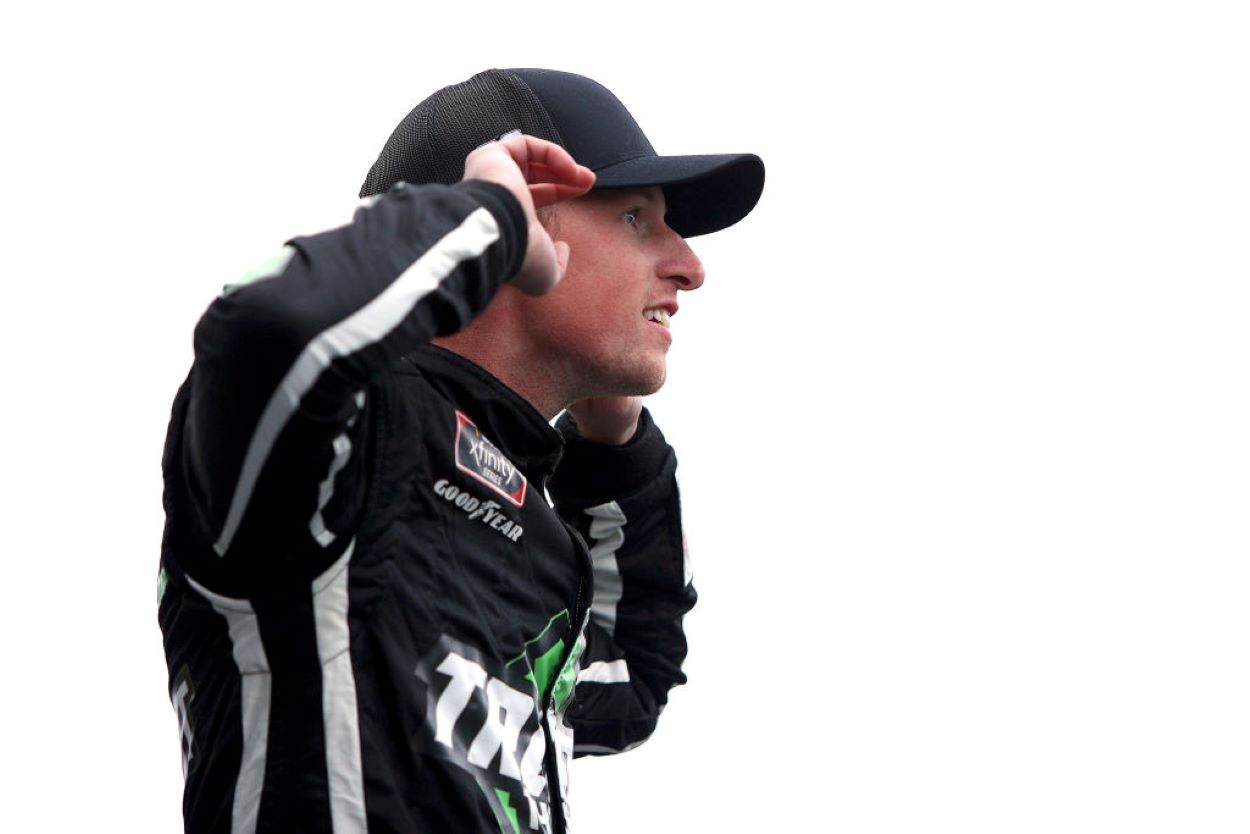 In an open letter, Brown penned his thoughts:
"My name is Brandon. Brandon Brown, to be specific. Yes, that Brandon," Brown wrote for Newsweek. "I am Brandon, the NASCAR driver, and unlikely meme. A 28-year-old who now finds himself in the middle of the American political conversation. As a pro driver, I never expected to be in the passenger seat of my own viral moment." 
In the moments after Brown captured the Sparks 300 at Talladega Superspeedway on Oct. 2, NBC Sports reporter Kelli Stavast interviewed Brown after his first Xfinity win as fans started chanting, "F*** Joe Biden." Attempting to cover up for the actual words, Stavast mentioned on-air, the fans said, "Let's go, Brandon." 
Instantly, a meme started to spread. 
One, the subject wants to distance himself from – fast. 
"It was a hell of a moment for me, my family, my team, and my sponsors," Brown wrote. "It's cliché, but it is a moment I had dreamt about my entire life." 
But now, Brown's victory is being used as a platform to sell merchandise.
Brown: 'My job is to run the next lap faster than the last one'
"In a post-race interview after the win," Brown wrote. "I accidentally became one of the most famous drivers in NASCAR. Thousands of fans could be heard chanting what the reporter (incorrectly) said was "Let's go, Brandon!" and a meme was born. Since that race, my name has been chanted in literally hundreds of stadiums across the country, spanning nearly every conceivable sport (and then some).  
"I've heard my name chanted in bars, at events, in the course of everyday life, and even in the chambers of Congress." 
Enough is enough. 
Brown is conscious that many individuals who chant, "Let's go Brandon" are doing so out of ignorance. Most do not know where the pollical calling card originated. 
"I am fully aware that the millions of Americans chanting my name know little about me or about my winning the Talladega race that day …," Brown wrote. "My job is to run the next lap faster than the last one. Politics has never been that interesting to me."
Brown writes he dislikes 'being caught up in something that has little to do with me'
But that is precisely the racing lane Brown finds himself. Over the past two months after the deserved Talladega win, Brown was told by those close to him to remain silent, and maybe it will go away. 
Well, it hasn't and holiday merchandise continues to be a hot seller. 
"So, I kept quiet," he wrote. "I turned down more press requests than I imagined someone could ever get – especially someone just starting his NASCAR career. I was afraid of being canceled by my sponsors, or by the media, for being caught up in something that has little to do with me." 
Let's start a new chant: "Let Brandon go."