Michael Waltrip: 'The Worse Day of My Life' Developed During His 'Best Day' in NASCAR
NASCAR's Michael Waltrip raced side-by-side with Dale Earnhardt Sr. before beginning to pull away.  
The fateful last lap of the 2001 Daytona 500 commenced. Waltrip and Dale Earnhardt Jr. ran 1-2, while the elder Earnhardt elected to fall back and block for his son and winless friend. 
"The Intimidator" curiously decided not to challenge for the checkered flag. Uncharacteristically, he gave himself up.
Michael Waltrip outraces Dale Earnhardt Sr., ends long winless skid, but loses much more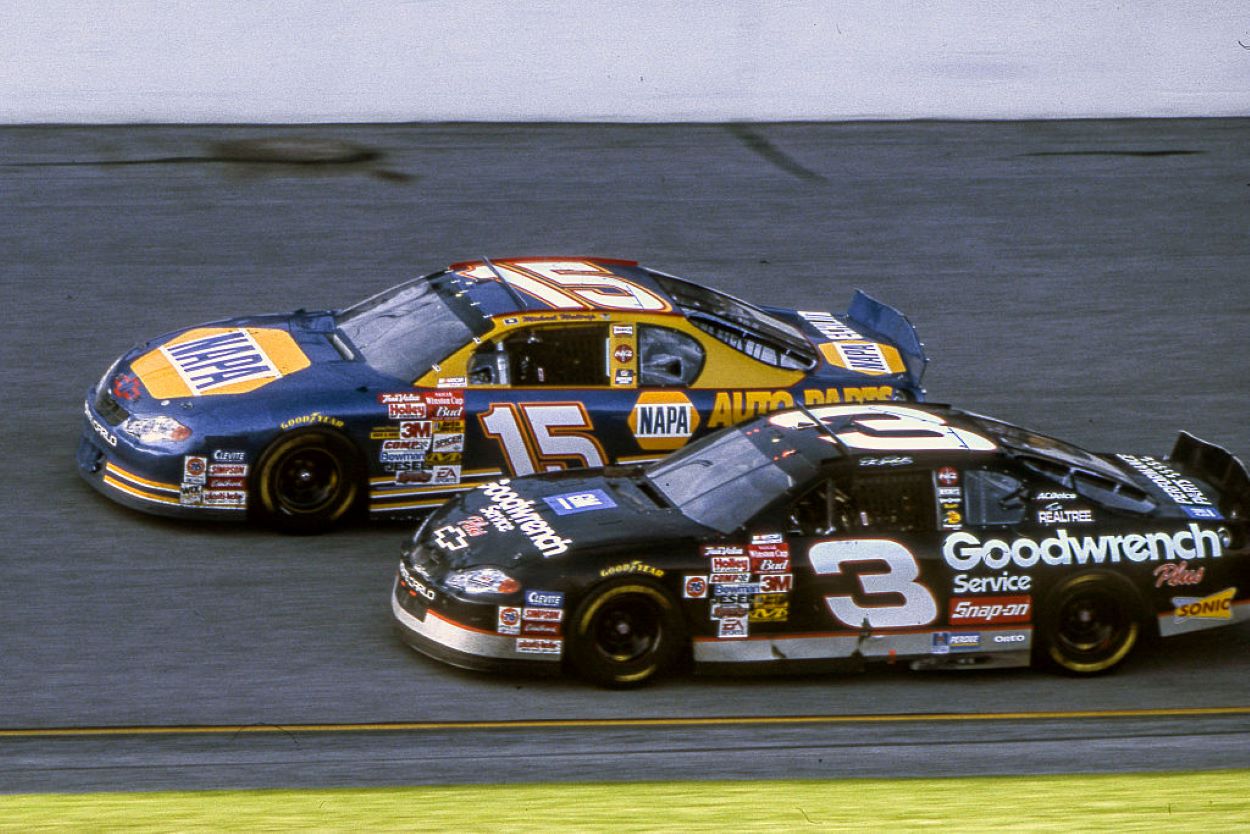 A respected but hard-luck racer, Waltrip held off Earnhardt Jr. and joyfully crossed the finish line first for the first time in 462 Winston Cup starts.
Earnhardt Sr. must have wanted it for Waltrip. Why else would he have held back after Waltrip initially overtook him to retain the lead? Moments before taking the checkered flag, Earnhardt's No. 3 Chevrolet was stuck by Sterling Marlin, Ken Schrader, and the Turn 4 retaining wall.
Earnhardt was more than a friend to "Mikey," as he often was referred. He was his team's owner and a profound racing mentor. At the moment Waltrip realized his most significant professional joy, unbeknownst to him at the time, tragedy enveloped the track.
Dale Earnhardt Sr. died instantly from injuries he sustained during the accident. As Waltrip's celebration carried over to Victory Lane, all he knew was his friend had been involved in what appeared to be a minor collision.
Mikey's victory celebration turns sullen when he finally hears the news
The 462-race winless streak is considered one of the longest in all professional sports. And for it to end during the fabled Daytona 500, one could understand the pure joy Waltrip displayed standing under a shower of red, white, and blue confetti. He yearned to shake his mentor's hand.
Waltrip's mood started to dampen after Victory Lane, but he was still unaware of the rumors the seven-time Winston Cup champion was found unresponsive by medical personnel when they reached the scene.
Waltrip endured a few media sessions. He looked around for Earnhardt. Still no sign of him. No word. If there was one peer Waltrip wanted to see, it was Earnhardt, but it never came.
About an hour after taking the checkered flag, Waltrip finally learned the truth. Earnhardt died from a skull fracture he suffered when his head snapped violently forward upon impact with the wall.
The best day of his NASCAR career suddenly turned to "the worse day of my life," Waltrip told Autoweek. "It went from the best day to the worst, just like that."
Waltrip: 'If I could change history or change life …' 
So moved was Waltrip by the event, his autobiography, "In the Blink of an Eye: Dale, Daytona, and the Day that Changed Everything," rehashes his emotions from that day. His ultimate triumph, and tragic loss. All in a matter of seconds. In 2019, a motion picture was released, "Blink of an Eye." It received a Tomatometer score of 67 percent.
There is little doubt Waltrip would have traded his winless streak for a collision-free ending to the '01 Daytona 500.
Why did Earnhardt hold back?
Why? 
"I think everything happens for a reason," Waltrip told Autoweek. "If I could change history or change life, the hug I would have gotten from Dale after the race that day would have been the best hug I've ever had in my life." 
If only his best day in NASCAR could have remained his best day. 
Like Sportscasting on Facebook. Follow us on Twitter @sportscasting19.