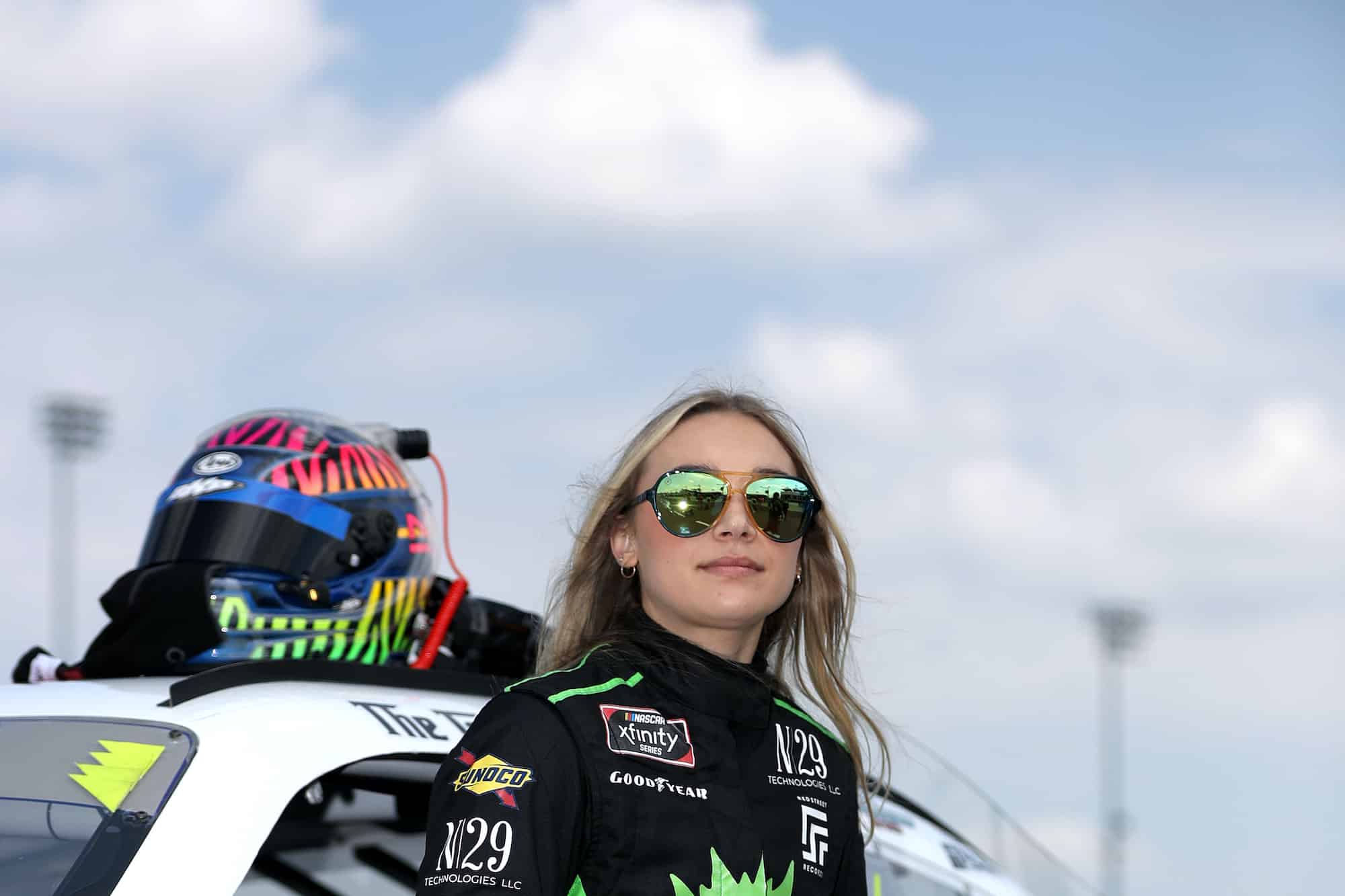 Angry Natalie Decker Doesn't Hold Back and Fires Shot at NASCAR on Social Media for Its Treatment of Women Before Deleting Post
Natalie Decker let everyone know what she thinks about how NASCAR treats women when she fired a shot over the weekend on TikTok.
Natalie Decker has sporadically competed in NASCAR since 2019, running races in both the Truck and Xfinity Series. Unfortunately, she's never raced a full season due to funding. Last year, she was among several female drivers featured when Busch Light announced it was launching an initiative that would commit $10 million to sponsor women competing in the sport.
This weekend and just weeks before the start of the 2023 season, the 25-year-old, obviously frustrated with her situation, shared her thoughts on TikTok, blasting the sport for not supporting women. She has since deleted the post.
Natalie Decker has struggled in NASCAR
Natalie Decker started racing go-karts at nine and moved up to stock cars when she was 12. She joined NASCAR's Drive for Diversity program in 2015 and debuted in the ARCA series in 2017, where she scored a pair of top-10 finishes in six races. 
She raced full-time with ARCA in 2018, recorded nine top-10 finishes (a pair of top 5s), and had a solid season, finishing seventh in the points standings. A year later, she made her debut in the Truck Series with DGR-Crosley on a limited schedule. It was undoubtedly a challenge, as she didn't earn any top 10s but accumulated nine DNFs in 19 races. 
In 2020, with Niece Motorsports, Decker earned her best NASCAR finish, a fifth place in the season opener at Daytona, which was also the highest finishing female in Truck series history. The rest of the season was much like the first with four more DNFs in her 14 races, and the best finish outside of Daytona, 21st at both Las Vegas and Kansas.  
Over the last two seasons, she split time between Trucks and Xfinity for a combined total of six races (one in Truck). She failed to qualify in three of them and her best finish was 27th at Atlanta in Xfinity last year.
Decker fires shot at NASCAR in video before deleting
There's no denying Decker's results have not been great. But, as the case is with many drivers, there's always the question of whether her results would be better if given the opportunity to compete in better equipment. Any hope of her getting another chance behind the wheel of any car or truck likely took a hit over the weekend when the driver took to social media and shared a video on TikTok that she would later regret. 
"POV: you sacrificed and worked your whole life to compete in this sport that feeds you and the public bulls*** that they support women," Decker wrote in a caption. 
Unsurprisingly, there was a huge response, with many pointing out her performance on the track. She later deleted the post.   
Complete change of perspective from a year ago
What's interesting is Decker's remarks come less than a year after she was singing the praises, not of NASCAR, but of Busch Light, when the brand announced its Busch Light Accelerate Her Program at the 2022 Daytona 500. The initiative is a $10-million commitment from the beer company to sponsor every woman racer, 21 and older, and is designed to help women reach the top series of NASCAR by providing more track time, media exposure, and training.
"Busch really is showing us females that are a part of the program and future females that there's comfort. And there's people there that believe in you, and they want you to succeed," Decker told Forbes. "That is a great feeling right now going into this season because it was missing. And now Busch is providing that for us females."
With her latest comments, did Decker feel like the beer maker wasn't holding up its end of the deal? Or is there something else? Regardless, the driver is clearly unhappy with how she and other women are being treated and spoke out about it. And unfortunately, while she might have had good intentions of shining a light on the situation, her approach certainly isn't going to make NASCAR officials happy or be appealing to potential sponsors.