Nate Diaz and Dustin Poirier Hilariously Target One Another on Twitter as Fight Speculation Brews
Nate Diaz and Dustin Poirier each have their own beef with Conor McGregor. However, the two UFC stars might be targeting a fight with one another.
Poirier is the No. 1 lightweight contender in the UFC and might soon have a date with the champion, Charles Oliveira. Yet, The Diamond previously passed up a shot at the belt for a trilogy fight and money bout with McGregor. Might he do it again for a fight with Nate Diaz?
Nate Diaz fires a subtle shot at Dustin Poirier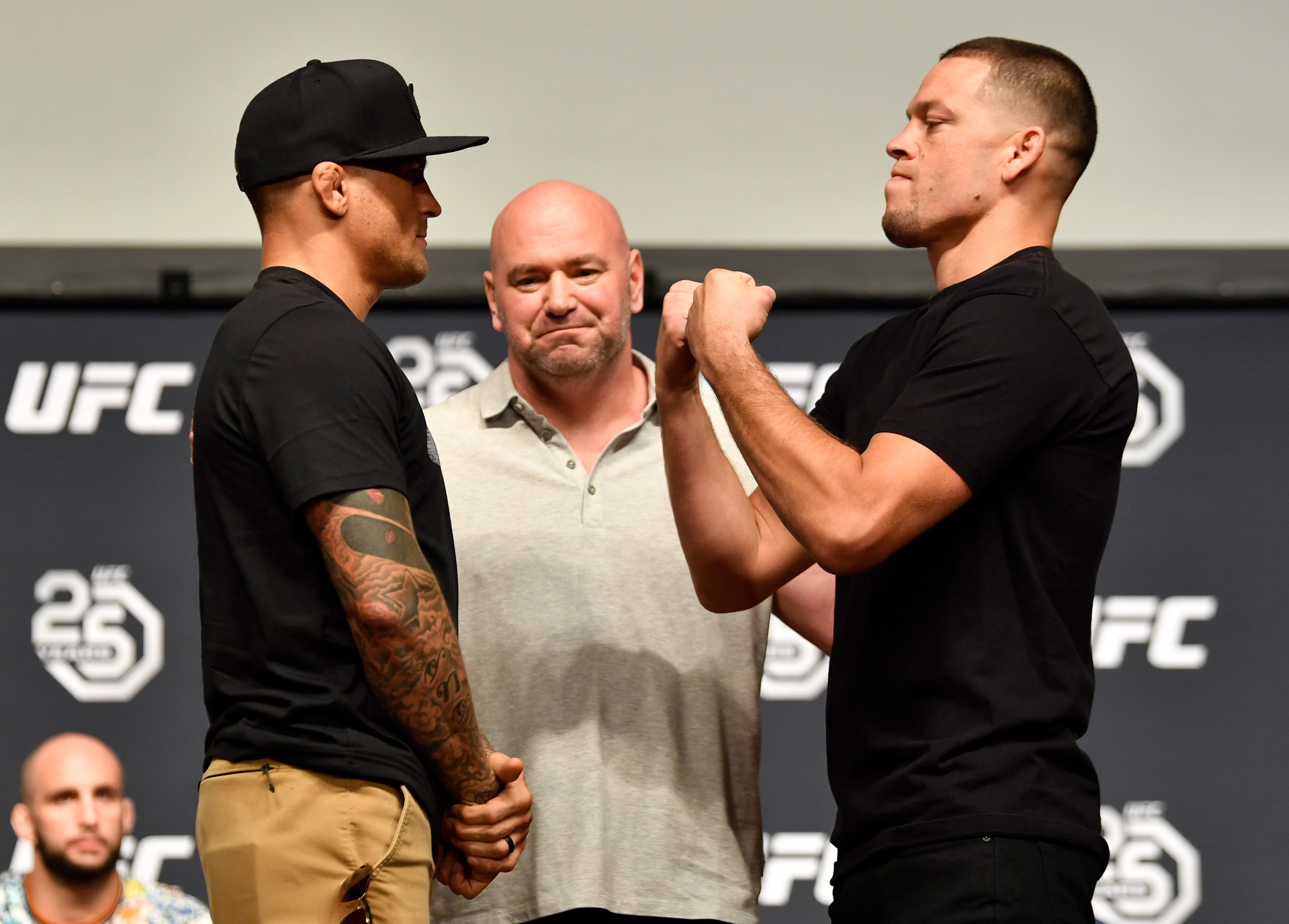 Much like Conor McGregor, Nate Diaz is not afraid to speak his mind on Twitter. He did just that close to a month after the Notorious One suffered a second straight loss at the hands of Poirier.
Diaz initially targeted McGregor using a backstage video from the second fight between the UFC superstars back in 2016, in which McGregor lauds Diaz's toughness. In a since-deleted tweet, the Stockton, California native said, "You should've already learned from this," per SB Nation.
Having addressed McGregor, Diaz turned his attention to Poirier. Another since-deleted tweet showed Poirier in the hospital following hip surgery with the caption "Don't trip though, I'll show you how to do it," per SB Nation. It sure seems like Diaz is angling for a fight with Poirier.
Despite possibly having the chance to win the first undisputed belt of his career, Poirier appears enticed by the idea of scrapping with Diaz.
Poirier gave Diaz the simplest of replies and hints at wanting the fight
Diaz might have deleted the tweets, but not before they caught Poirier's eye.
On Wednesday, the Diamond had a very simple retort, merely tweeting out "Nathan?" and leaving fans to speculate what the message meant. The fact he felt obligated to call Diaz by name would appear to suggest he's open to fighting the UFC veteran.
Poirier is in a very intriguing position right now. He had a claim to fight for the lightweight title when former champion Khabib Nurmagomedov vacated the belt but instead chose the bigger purse in a third fight with McGregor. The Lafayette, Louisiana native is again the logical choice to fight for the belt and face Oliveira in his first title defense, but there is no telling that's what Poirier wants to do.
The 32-year-old is a bit unpredictable. He might have the supreme confidence to beat Diaz and stack some cash while still having the chance to fight for the title immediately thereafter.
Then again, this could be about settling unfinished business.
Diaz-Poirer was scheduled once before
Nate Diaz and Dustin Poirier were scheduled to fight once before.
Both men featured prominently during the UFC 25th Anniversary press conference and were slated to fight at UFC 230 in November 2018. Poirier's hip surgery was thought to be the cause of the cancellation. However, The Diamond said he only elected to resolve the hip issue because Diaz's negotiations with the UFC had stalled.
The two ultimately went their separate ways.
Poirier picked himself back up after failing to unify the lightweight strap against Nurmagomedov, going on a three-fight win streak that included back-to-back wins over Conor McGregor. Diaz has lost consecutive bouts, though he came shockingly close to finishing top welterweight contender Leon Edwards at UFC 263 after getting battered for the better part of four rounds.
It seems likely Poirier would want another shot at the lightweight title, especially with Michael Chandler and Justin Gaethje fighting in what could be a title eliminator. Yet, the possibility of a money fight with Diaz might have piqued his interest.