Nate Diaz Is Running a Full Triathlon Every Day to Prepare for UFC 263 Against Leon Edwards
There aren't many UFC fighters as notoriously athletic as Nate Diaz. Not only does he talk a lot of trash against his opponents, but he's also been able to back it up with his impressive skills in the octagon. To prepare for UFC 263, Diaz has taken his training regime to the next level.
Nate Diaz's UFC resume
Diaz joined the UFC in 2007. While he has been a fan favorite for a long time, he rarely got his due in the organization. Regardless, whenever he fought, he put on a show. The number of bonuses he received demonstrated this. That being said, after going on a three-fight win streak, including a dominant win against Donald Cerrone, Diaz got a title shot in 2011. However, he lost, and it seemed like he was back to where he started.
But in 2015, he beat Michael Johnson in dominant fashion. Then, Diaz heard that Conor McGregor's opponent got injured, and he gave a legendary post-fight speech where he called out McGregor. The rest was history, as the Irishman accepted the challenge and Diaz, to the surprise of everyone, choked McGregor out in the second round.
With that win, Diaz quickly became one of the most popular UFC fighters. While his record afterward wasn't as successful, his stardom remains. His most recent fight was against Jorge Masvidal for the BMF belt. While Masvidal won, it didn't discourage Diaz, who is now set to face Leon Edwards at UFC 263.
How Diaz is training for UFC 263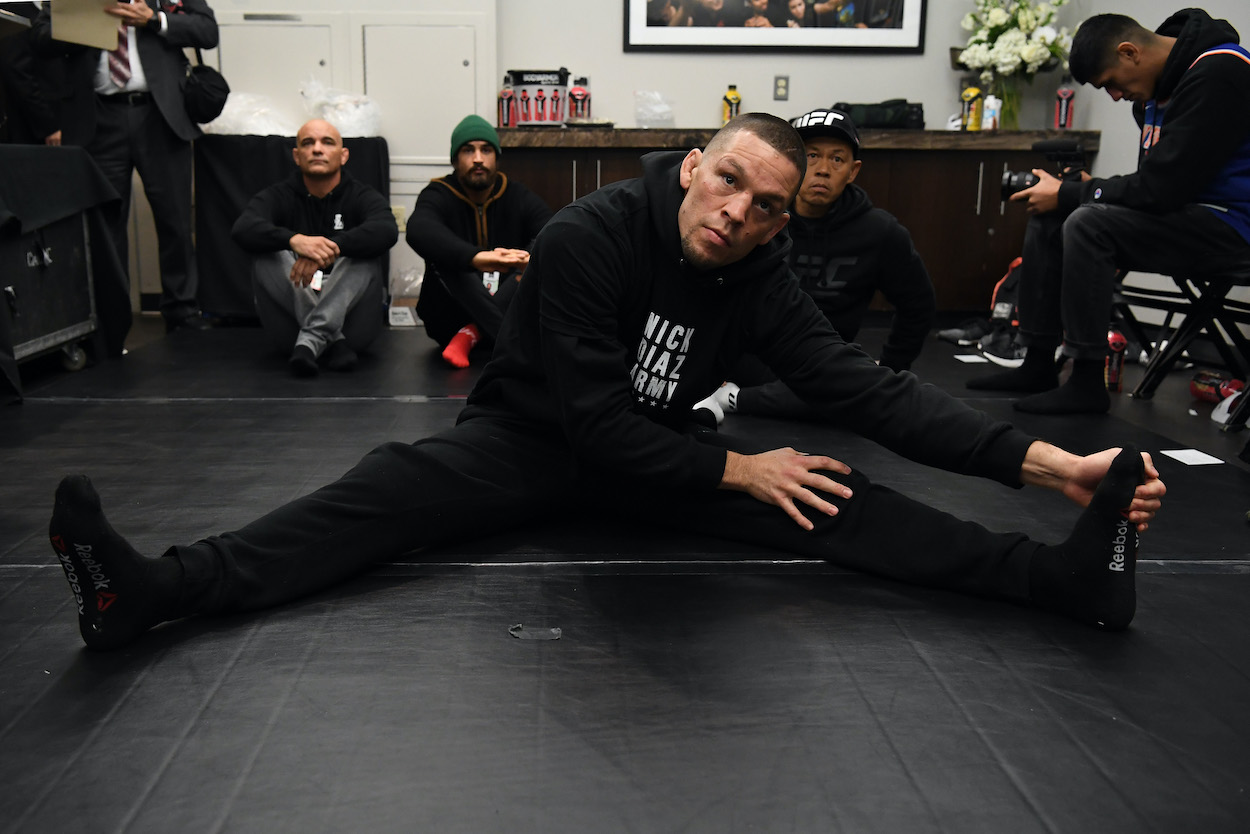 Diaz's long career in the UFC is only overshadowed by his long history of competing in triathlons, according to Balance The Grind. He's been competing in triathlons since he was 18, and even when he trains for his UFC fights, he's also training for his triathlon competitions. 
Diaz trains six days a week — usually does two or three workouts per day. The first workout is a triathlon, which includes swimming, running, and/or cycling a long distance. The second workout focuses on his fighting skills, such as boxing, wrestling, or jiu-jitsu. Furthermore, two days of the week, Diaz completes a weightlifting workout. Finally, on some days, he'll practice yoga as well.
This strenuous routine is fueled by his diet, which is mostly vegan. While Diaz occasionally eats eggs and fish, he largely sticks to a vegan diet, and he's done this as long as he's competed in triathlons. As Balance The Grind reports, Diaz said, "I hear a lot of criticism from people saying you need meat to be strong and for recovery, and it's a bunch of bullsh*t."
What's next for Nate Diaz
As Balance The Grind reports, Diaz's future is heavily tied to his passion for triathlons. The 36-year-old said, "Nowadays I like to think I fight so I can afford to pay for some good races." Fortunately, his next matchup will not only provide a lot of money but also a tough challenge. Diaz hasn't fought in well over a year; Edwards is arguably one fight away from a title shot. 
Edwards, who's been undefeated since 2015, is on an eight-fight win streak, and he's the favorite to beat Diaz. However, Diaz has been the underdog before, and he could surprise everyone like he did when he choked out McGregor. If Diaz wins, then he will surely be in line for a title shot.